treocentral.com >> Stories >> Business
Palm Sells 2 Million Centros
Overview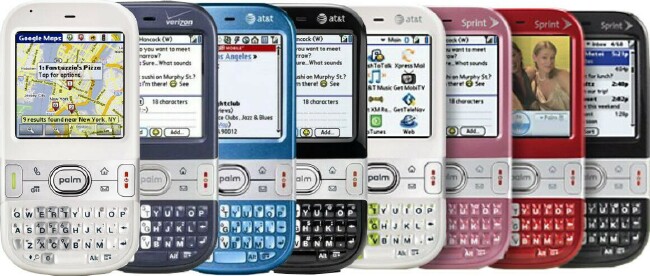 Palm announced today that it has sold its two-millionth Centro, confirming the $99 product's growing momentum with traditional mobile phone users wanting to move up to a phone that offers more functionality. Palm is now offering the Centro in more than 25 countries in North America, South America, Europe and Asia Pacific.
I'm the proud owner of 2 Centros, the Obsidian Black and the Electric Blue. I love my Centros! They are the perfect size and do everything I want them to do. I can certainly understand why this smartphone is selling so well.
Back in June, Brodie Keast, Palm's senior vice president of marketing, had told the NYTimes that Palm expected to sell 2 million Centros sometime in 2008. Well, here we are just a little over a month later and Palm has indeed sold 2 million Centros.
Recent data released by AdMob, the largest advertising network on the mobile web, reports that the Centro leapt onto the list of mobile phones worldwide in May as the No. 8 device, and moved up in June to No. 7. AdMob cites the growth of inexpensive phones, such as Palm Centro, as a primary driver in mobile Internet usage.
"Consumers are ready to do more on their mobile phone, and Centro has struck a chord around the world," said Brodie Keast, senior vice president of marketing for Palm, Inc. "Centro has everything a person needs to stay connected with everyone who is important to them -- and at a price point and size that make smartphones more attractive to a much wider audience."
According to the AdMob report, Palm also showed strong growth among smartphone manufacturers, ranking No. 2 in the United States in mobile advertising reach, and No. 3 worldwide.
We reported back in March that Palm had sold one million Centros. It took Palm 6 months to sell their first million Centros and it's taken them about 4-5 months to sell their second million. Not bad Palm! Not bad at all! ;-).
The Centro is sold on all the major carriers except for T-Mobile. There are some great colors to choose from through each carrier. The most recent color addition was the Electric Blue which is sold through AT&T. Palm recently announced an unlocked version of the Centro which is White with grey number keys like the Centro sold in Asia.
Palm's Offical Blog also reported on the 2 millionth Centro being sold:
Guess we shouldn't be too surprised. PC Magazine recently named Centro one of the top 20 gadgets under $100, and eWeek just posted a piece showcasing the Centro's ease of use. It's also the only touch screen smartphone with a full keyboard that's available on the top three U.S. carriers (AT&T, Sprint and Verizon Wireless) as well as in an unlocked version.
How weird! I had just finished reading that eWeek article just before seeing the Palm Blog post. The eWeek article is very interesting and is worth checking out. Pretty cool how much easier it is to use the Centro's keyboard than the BlackBerry's. I'm not dissing BB though because I love those devices too.
Congratulations Palm!!! Hmmm, I wonder when we'll see 3 million Centros being sold? The way they're selling like hotcakes, I bet it won't be long! ;-)
Copyright 1999-2016 TreoCentral. All rights reserved : Terms of Use : Privacy Policy

TREO and TreoCentral are trademarks or registered trademarks of palm, Inc. in the United States and other countries;
the TreoCentral mark and domain name are used under license from palm, Inc.
The views expressed on this website are solely those of the proprietor, or
contributors to the site, and do not necessarily reflect the views of palm, Inc.
Read Merciful by Casey Adolfsson