treocentral.com >> Products & Reviews >> Software
Centroid
Overview
Like GSP, GSM (Global System for Mobile communication) can be used for many purposes; one of which is employed by a fairly new program I found, Centroid. Centroid was formerly known as TreoSpot, and is a handy utility by TreoTown. Read on for information on this handy utility!
---
What is Centroid?
Centroid is a location-based reminder and phone settings utility specifically designed for Palm Centro GSM smartphones. This means the program uses the GSM cellular network, which the Centro connects to when searching for cells in the immediate vicinity. The location of the cell tower is stored and future events are triggered when your Centro and Centroid detect you are in that particular location. Being 1 of only a few TreoCentral writers whose Centros utilize GSM, I was asked to review Centroid.
---
Setup
Once I downloaded Centroid, I installed it via Hot Sync and followed the available users manual and, after a bit of tweaking, was off and running. A few of the available settings screens are shown below.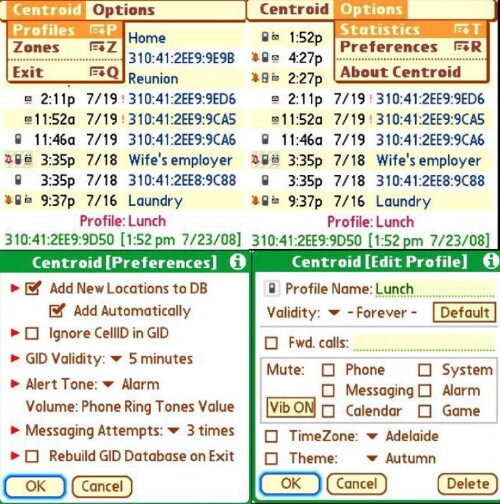 ---
Features of Centroid
Below are the features of Centroid:
Automatic collection of GIDs.
Merge GIDs and specify your own Zones.
Change phone settings when you arrive at a particular location. (e.g., forward calls to your home land-line when you arrive there).
You can set the Theme, TimeZone (experimental), Mute Phone and System Sounds and Call-Forwarding.
Alert at a particular location (e.g., set-up an alert to purchase groceries on the way back from work, when you are near your favourite store).
Send messages automatically when you enter or leave a location.
Timed phone settings profile cancellation.
True one-handed operation.
Tiny PRC (~ 84 KB).
The feature to change the phone settings is especially nice. I really like being able to have all my calls forwarded to my home phone whenever I'm at the house.
---
Using Centroid
When I downloaded Centroid and began to configure it for use, I wrote the author about a feature of the program and he quickly replied - great communication. In fact, he PM'd me letting me know a new version was out which utilized messaging. I was already in the process of finalizing my review, but thought the messaging was significant enough to merit a redo of my review.
There's the obvious and typically used example of usage for Centroid shown below - the reminder to pick up bread on your way home, which is received if you pass by a store and have Centroid set to send you a reminder.
Below, I set a reminder to feed my two Shelties as I get home. When I arrive at my house, I receive the pictured text message reminding me to feed Spike and Wolfie - nice!
My favorite usage for the new text messaging feature, however, is shown below. I set Centroid to SEND a text message to my wife should I happen to be 'in the neighborhood' at a certain time of the day. By neighborhood, I mean near where she works hehe. By having Centroid message her "wanna do lunch?", I can initiate a lunch date with her if she's available! She receives the message and calls me if she can stop what she's doing and meet me for lunch - awesome! The best part is, it's automatic and I can envision times when I'd be busy and miss an opportunity to spend time with my wife if Centroid weren't on duty, working for me!
Everyone is feeling the pain of the high gas prices right now. We have a couple of gas stations near us who are battling it out to see who can have the lowest prices. Keep up the battle guys because the cheaper the better. I've got the location of those two gas stations programed into Centroid so that when I go by them, I'm reminded to get gas. The last time I passed by the gas stations, there were too many cars lined up, so I drove on by and waited until the lines were smaller.
---
Conclusion
Centroid does require a bit of setting up and took me a bit to tweak it to my liking, but the author was great about working with me and has a nice manual available should you need a hand configuring Centroid - so, it's not that scary and it's worth it in the end!
If you use a Palm Centro GSM smartphone, download this great program and start using it.. today!
Criteria

Rating

Design
4
Usability
3
Setup
4
Cost/Benefit
5
Overall
(not an average)

Pros
Location-based reminders

Can be automated

Currently no charge for program

Cons
Initial setup was a bit tedious (but great afterwards)
Copyright 1999-2016 TreoCentral. All rights reserved : Terms of Use : Privacy Policy

TREO and TreoCentral are trademarks or registered trademarks of palm, Inc. in the United States and other countries;
the TreoCentral mark and domain name are used under license from palm, Inc.
The views expressed on this website are solely those of the proprietor, or
contributors to the site, and do not necessarily reflect the views of palm, Inc.
Read Merciful by Casey Adolfsson