treocentral.com >> Products & Reviews >> Accessories
Nutshell Treo
Overview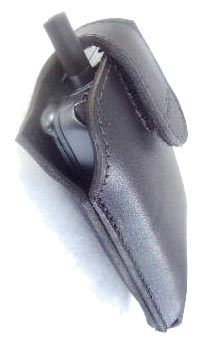 In my long search for a case that actually works better than my pocket I have consistently run into one nasty problem: sitting in a chair.

The problem with most belt cases is that they stick out, you've got to constantly readjust them on your belt in order to be comfortable. Sometimes it's a pain. Okay, for me and my idiosyncrasies, it's always a pain. Maybe it's because I am made up of 95% bone, 4.9% muscle, and .1% body fat.

The Nutshell Treo case is probably the first case to seriously overcome this little problem. It has become my day-to-day case.

The Nutshell comes in two varieties: Belt Clip and Belt Loop.

The Clip version (which I didn't review) isn't one of those nub & clip designs, but a straight-up traditional clip. It looks as though it hugs your body well.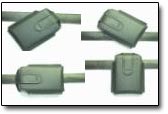 But I wanted that case as close as possible, so I went for the Loop design. The design is neat, it connects the "loop," a piece of leather, at the four corners of the case. This means that you can slide your belt loop in one of two ways: horizontal and vertical. In other words, you can have the Treo holstered horizontally to your belt! The downside to the Loop design is that you can't quickly remove the holster from your belt.

The case is made of leather, black or brown. While it's certainly not Vaja-quality, it's nice enough for day-to-day. The inside of the case is nice and soft, T.A.N. calls it "ultra-suede." It's not far off. You won't be scratching your Treo in this case. The only real issue I have is that the leather on the bottom and on the loop does seem a bit thin, it ought to hold but it ought to be a bit thicker.

The case is very snug at first, and you'll find getting the Treo out of it a little tough at first. But it stretches just a little after a few days use, so it's not a big problem.

The Top of the Case >>



Copyright 1999-2016 TreoCentral. All rights reserved : Terms of Use : Privacy Policy

TREO and TreoCentral are trademarks or registered trademarks of palm, Inc. in the United States and other countries;
the TreoCentral mark and domain name are used under license from palm, Inc.
The views expressed on this website are solely those of the proprietor, or
contributors to the site, and do not necessarily reflect the views of palm, Inc.
Read Merciful by Casey Adolfsson