treocentral.com >> Products & Reviews >> Software
CarryDVD for Palm OS
Overview
I've loved DVDs since the first time I ever saw one in action, which nwas at a local Office Max store, playing on a PC. I'd never seen such clarity before! I knew then I HAD to have a DVD player for myself. I even bought my first DVD before I had even bought a player – Terminator 2 Judgment Day!
Like many of you, I've been tinkering with watching my DVDs on my mobile device for quite some time. Back in the day, we had to use one program to 'rip' the DVD movie to our computers – then use another 3rd party program to transcode the resulting file(s) to a format compatible with our mobile devices. Man, was that ever a headache!
Having had enough of the headache of this time-consuming process, I checked into a program that could do it ALL – and found CarryDVD version 4.8. With CarryDVD you can backup your favorite DVDs and copy them easily onto your PDA or Pocket PC. With excellent compression, you can easily fit the resulting movies onto whatever memory card your device uses! Let check it out!
---
Setup
I downloaded the Palm OS version of CarryDVD 4.8 trial from the TreoCentral Store, installed it to my computer and was eager to begin! The trial version lets you test drive the program, but will only convert the first 5 minutes of any DVD – but, that's enough to decide if you like the program or not. Nothing is installed onto your mobile device, as all the work is done on your (I'd hope) more powerful personal computer Grin.
Once installed and running, the only other thing you'll need is the DVD you wish to rip for your mobile device and a whatever type of storage card your particular device uses.
---
CarryDVD in action
The interface for CarryDVD is rather plain and I'd prefer a more contrasting color layout, but the program does what it is intended to do, it rips a DVD for use on your mobile device.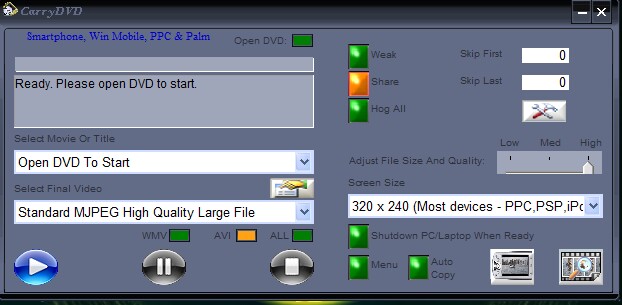 Insert your DVD and click the Open DVD button to begin. Once the DVD is ready, you next choose the format you wish to rip the resulting file to. There are 3 available formats, each with 3 preset quality settings plus a 4th setting (expert) which lets you personalize the resulting file. The 3 available formats are Standard MJPEG, Palm/Win VP7 and Palm/Win XviD. Whichever format you choose, the quality won't look nearly as good as when played on anything but the small screen of your mobile device, but I would choose the highest available quality. I will say that I was surprised that the videos looked as good as they did full screen!
I chose a DVD of my cat trying to catch a squirrel that likes to pester him when he sleeps at the base of a large tree in our front yard. The run time of the DVD is 6 minutes and 53 seconds, so ripping it to any format is quick. There is an option to preview the movie as it is ripped, but I closed it in the hopes that this will speed up the conversion process.
I decided to let CarryDVD rip the file to each of the 9 preset formats and quality settings. The one setting I did change from default was the 15 frames per second which I changed in all instances to the original rate of the DVD I ripped. For my first conversion, I chose the Standard MJPEG High Quality and the resulting file has a bit rate of 32kbps, has a resolution of 320 pixels by 240 pixels and is 36.8MB in size. The Medium Quality has the same bit rate and resolution, but the file size is reduced to 13.9MB. The Low Quality requires only 4.80MB of storage space. While the low quality is noticeably of lower quality, I believe the medium quality would suffice on most mobile devices if storage space was an issue – as there wasn't a noticeable difference between medium and high in my opinion. Pictured below are a screen shot of each of the 3 quality settings for MJPEG codec.
Before I could use the XviD option, I had to download the XviD codec, but the program offered a link from which I obtained the necessary codec. As for the XviD rips, the sizes are much smaller in comparison to the MJPEG versions. Oddly enough, though, the quality of the video seemed about equal to, in fact better than, the MJPEG files of significantly larger sizes. I guess a lot can be said for the XviD compression! The sizes from High to Low were: 10.6MB, 6.21MB and 1.84MB. I've included the 3 screen shots for the quality settings for the XviD codec below.
Finally, we have the VP7 files. The file sizes here are pretty consistent, with the low and medium quality both resulting in a 2.62MB file, while the Max setting yielded an almost identical sized 2.63MB. All of the files looked similar in quality and, again, I was impressed with the compression accomplished vs file quality. Again, I've shown the 3 quality settings screen shots below - you really can't tell much difference in my opinion in any of the available codec/quality settings - so all should do unless you find a favorite.
Once the DVD is ripped, the program brings up a screen which lets you copy/move your file to your mobile device, but I just copy the resulting file to my desktop and manually copy it to my memory card when I'm ready to use it. This way, I can rip all the DVDs I intend to do at once, then copy them all to my 4GB storage card for my Centro.
---
CarryDVD's Many, Many Features
CarryDVD is a work in progress, and as such, has many improvements over the prior versions. I'll touch on some of these features, as the list is quite extensive hehe. Here are a few of what I consider to be the key features in CarryDVD.
Some main features:
Video Part Editing – Ever hate having to watch the FBI warning on your purchased DVDs? I do! With CarryDVD, edit those out!
Interactive Video Cropping - Stop guessing how your final video will look! CarryDVD shows you in real time!
Quick preview to see how the video turns out (requires DirectX 9 which is most probably already on your machine anyway)
Brightness boost
Multiple Speed allocation that has the potential to half compression times by using your computer to the full when idle!
Use the hard drive to emulate a DVD drive for faster copying speeds! (Auto or manual)
Copy directly to device for PocketPC\Windows Mobile\Smartphone
Copy directly to memory stick on your PC
Special built in CarrySmarts that detect if the previous task did not complete successfully. This is nice if your computer were to crash during a conversion!
Split the output files into separate smaller pieces so that you can fit them into more than one memory stick
The following features are new in version 4.8:
Automatically buffers to disk ... 400% faster and requires less space than a DVD disk!
Pick and choose what your kids watch or time-shift your favorite TV show (requires a TV/Tuner card)
Better support for faster and much more high quality encoding if you have the space for it on your memory stick
Free to adjust screen size
---
Ripping a commercial DVD - Multiplicity
In case you're wondering about commercial DVDs, I let CarryDVD rip the movie Multiplicity, which is 117 minutes in length. The actual size on DVD is 3902MB and the resulting ripped file is 997.294MB and it took CarryDVD an 1 hour, 5 minutes and 27 seconds to rip to my hard drive. While the movie's resolution is 320x240, it actually looks quite impressive when played fullscreen. I have screenshots of both the 320x240 and the file playing fullscreen pictured below. Very impressive!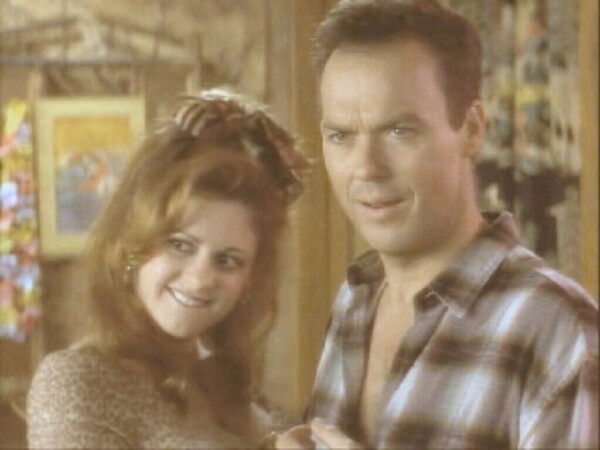 ---
A sample run-through of CarryDVD in action
I videotaped myself ripping a small portion of the DVD of my cat and a squirrel and have it below for you to view. In the first video, I'm ripping the short section of the cat and squirrel. I explain step by step what I'm doing as I do the sample run-through.
This next video is the small portion of the DVD of our cat chasing the squirrel that I ripped above. This is a small bit of what goes on quite often, hehe! At times, there are up to 4 squirrels who like to see just how close they can get to my cat and not get caught! I believe he has caught a squirrel before because he has an injury to his ear that is swollen and tender and keeps this ear tucked down constantly now, poor thing. Check out the video! Note - I meant I rip at 20 frames per second, not files per second and the bitrate is in kilobits, not kilobytes - thanks Grin.
---
Conclusion and Final Thoughts
I should mention that CarryDVD touts the ability to capture from a TV tuner card if you have one installed on your system. I don't have the tuner, so I can't attest as to how well this function works - but, judging from the job it does with DVDs, I have no doubt it'd do a superior job.
CarryDVD isn't a pretty program. There are options to change the colors and such. However, I am referring to the simplistic, yet functional interface of CarryDVD. I believe the program is designed as a simple looking program designed with the intuitive user in mind – someone who is adept and can maneuver around a user interface with relative ease. Others may require quite some time figuring out what does what unless they delve into the available help menu.
Overall, though, I'm pretty happy with CarryDVD, as it does what I bought it for – it rips a DVD using a chosen codec, which I can later copy to my mobile device and watch anytime I want! Sure, there are things that could be improved on.. bells and whistles that could spice up the program, but – these could just as easily slow the program down and that's something I do NOT want in ANY program I use!!
I say "If you want a program that will rip your DVDs for use on your mobile device, CarryDVD should be cosidered." CarryDVD is also available for WM Treos.
Another note: As the author says "This software is designed and intended for the sole purpose of backing up while reducing in size privately owned DVDs to another medium for private viewing only.".
To avoid copyright issues, I used the DVD "I" made of my own cat, hehe.
Criteria

Rating

User Interface
3
Features
4
Usability
5
Cost/Benefit
4
Overall
(not an average)

Pros
Fast ripping of DVDs

Built-in error recovery which allows you to continue should something unexcepted happen

Ability to split the resulting files onto multiple memory cards if needed

You can control the quality and size of the output files

Cons
Some users may prefer a prettier user interface (not I)

Have not tested on a slower system, but have read it may bog a slower system down
Copyright 1999-2016 TreoCentral. All rights reserved : Terms of Use : Privacy Policy

TREO and TreoCentral are trademarks or registered trademarks of palm, Inc. in the United States and other countries;
the TreoCentral mark and domain name are used under license from palm, Inc.
The views expressed on this website are solely those of the proprietor, or
contributors to the site, and do not necessarily reflect the views of palm, Inc.
Read Merciful by Casey Adolfsson