treocentral.com >> Stories >> Software
Tip o' the Week: MiniTones
Overview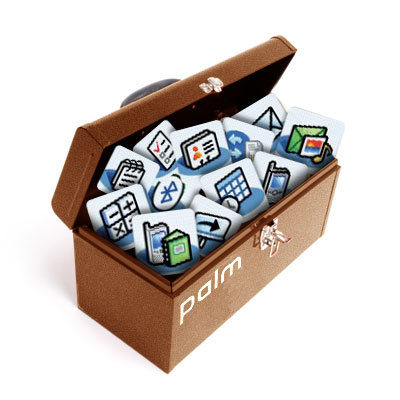 Regardless of the phone I'm using; whether it be my Treo 750, Palm Centro, or one of those other "brand X" phones; I love me some free apps. What do I love even more than free apps? Really GOOD and USEFUL free apps! This week's Tip is about an old friend: MiniTones. I'll introduce you to this free app and tell you how it works on your Palm OS Treo!
MiniTones, by Nicolas Pabion, is available here at the TreoCentral Store for free. As far as I can tell, it should work on just about any Palm OS Treo device. It worked for me previously on my good 'ol Treo 650, also on a Treo 680, and now on my "black beauty" Palm Centro. It's a very small app at roughly 55k, so it should fit nicely in your main memory. MiniTones allows you to select a MP3 file (that you must install on your device yourself) and add it to your ringtone list in Sounds.
For MiniTones to work properly, your MP3 files must reside in main memory. Fortunately, one of my favorite features of MiniTones is the ability to trim, or edit, the song you want to use as a ringtone. Just add the MP3 file (or files) to your device, start up MiniTones, and it will scan your phone and card for mp3 files. Then, just check the box by the files you want to use as ringtones and the app will "import" the MP3 file for use and editing.
To edit a song so you can use just a small portion of it for your ringtone, just tap Add Selected, scan the information on the Add Tone dialog box, and then take notice of the Add, Skip, Trim, and Cancel buttons along the bottom of your screen. Selecting "Trim" allows you to edit and select just a specific part of your chosen song to make your ringtone. Once you've made your perfect ringtone, just "Add" it and it will now be included in your ringtone list on your phone. The added benefit of customizing the size of your ringtone is it will take up less memory on your phone; all MiniTones ringtones must reside in the main memory of your phone, NOT a storage card.
If you're tired of the stock ringtones on your PalmOS Treo or Centro, download MiniTones today and start using snippets of your favorite MP3 files. Thanks to Nicolas Pabion for bringing such a fun and useful (not to mention FREE!) app to our community!
That's it for this week's Tip. If you are a developer with some helpful and/or fun software or if you have a Tip that you wish to pass on to the rest of the community, just email me at: [email protected] Tune in next week for another Tip!
Disclaimer: Tip o' the Week makes no guarantee, express or implied, that any tip found herein will be new or particularly useful to the reader (and I'm not certain, but I think MiniTones does not recognize Michael Bolton or Whitesnake MP3 files. Pity).
Copyright 1999-2016 TreoCentral. All rights reserved : Terms of Use : Privacy Policy

TREO and TreoCentral are trademarks or registered trademarks of palm, Inc. in the United States and other countries;
the TreoCentral mark and domain name are used under license from palm, Inc.
The views expressed on this website are solely those of the proprietor, or
contributors to the site, and do not necessarily reflect the views of palm, Inc.
Read Merciful by Casey Adolfsson