treocentral.com >> Stories >> Software
Treo Software Roundup - v090508
Palm OS
Welcome to this week's Treo Software Roundup. We've got lots of software to look at so let's round'em up and get started!
Palm OS New:
Brixster v1.0
Brixster, by Bapsoft, LLC, is an engaging puzzle game that will have you playing time and time again. Can you arrange the blocks to clear rows and reveal the hidden picture? It takes clever thought and planning to master this unique puzzle game!
Features:
Superb graphics and animation
Multiple colorful pictures
Cool sound effects!
Highly addictive game play
Auto-save feature allows you to return to a puzzle at a later time.
Sounds like a Tetris type game, but the hidden picture you reveal is a neat twist!
Get it here for $14.95.
---
Golden Tee Golf (Palm OS) v1.0.6
Golden Tee® Golf, by In-Fusio Inc, the most played coin-op video game franchise in U.S. history comes to mobile with Golden Tee® Golf Mobile Edge. Enhanced game play is the star! The ball truly reacts to the terrain. It rolls down steep slopes and bounces off rock ledges as in the coin-op game. Use the quick-play controls to curve around hills, "backspin" on greens and "roll" for extra distance on the fairways. More extras: 4 all-new challenging golf courses, quick-play putting and driving games, Daily and All-Time leaderboards, golfer customization and "great moments" replays.
Features:
the most played coin-op video game franchise in U.S.
Quick-play controls
leaderboards
replays
I remember playing this game at the arcade and let me tell you, I LOVED the arcade version! If the mobile version is anything close to the arcade version, this game will rock!!
Get it here for $14.99!
---
Active Student Organizer v3.1
Active Student Organizer, by ieosoft, is a compact and powerful and colorful student organizer specially designed for every student. It provides all-in-one solution from schedule, tests, homework, projects, sports, activities, subjects, library, events and misc. All information you need to access is handle by this user friendly program. Some of the dates are even auto-generated and auto-sorted; make your student life easier and well organized.
Features:
Library: all books are sorted by date. So, you will immediately be informed which book you need to return first. Date borrowed will be generated automatically - no need to key in the date. (Can also be modified to provide more flexibility). When you press the Library button, you can easily view all the books you've borrowed from the library. The books are sorted by date. By tapping on the items on the frame, you can edit the selected item or created a new item. The date you borrow the book will be generated automatically.
Beam function enables you to exchange information with your classmate using the beam function. No more copy/duplicate, just beam it!
Flexible schedule. Yes, a flexible schedule which you can set based on your need during school day, holiday or special events. For example: First, you install the TimeTable1.pdb file into the palm device, then you tap on the Schedule, Monday. You can tap on the > symbol to see others schedule for the same day.
Get it here for $8.50.
---
FileFind v4.0
Ever had problems finding that pesky file hidden deep in the folder structure of your memory card? Ever wanted to know where the big fat files are sitting? Ever wanted to find out where a program wrote that stupid file to?
Tamoggemon FileFind for Palm OS, by Tamoggemon Software, is the solution for all your problems. Find files easily - look for name, content, size or attributes easily. You enter the attributes, and FileFind presents you a list of files found.
Windows Find - on your Palm OS handheld!
Features:
Find files and folders by name
Find files by type
Find files by content
Find files by size
Find files by date
Find system, read-only and other "special" files
OMG! I don't know about you, but I've 'lost' files on my mobile device and this program sounds like it might be just the thing to find them!
Get it here for $9.95!
---
Palm OS Updated:
Butler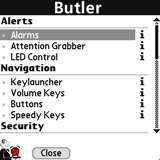 Butler 5.00, by Hobbyist Software, is out now!
Butler - is the assistant who thinks of everything. Alarms, Attention Grabber, Navigation, Launching, LED, Keyguard and Much More.
Butler contains 7 sets of utilities yet costs less than most single applications. Please note that Butler is only written for the Palm Treo.
Butler has come a very long way since its initial release in November 2003. The latest release has kept the new features flowing.
Features:
Alarms - Repeating alarms with ringtones or MP3 (No need to buy an MP3 Player)
Alerts - Nags you like a pager to make sure you don't miss anything
Security - Remote lock allows you do lock or delete your Treo via SMS if it's stolen
Navigation - Launch apps or calls from anywhere by holding down a key
LED - Turn it off at night!
Keyguard - That shows you the time and doesn't block the screen!
Volume Keys- To scroll the page, or switch through your last opened applications.
Housekeeping - Keeps your system in shape to reduce damaging resets!
More than a dozen utilites that make your Treo work better and harder.
100% Guarantee: If for any reason you don't think Butler is fantastic - I will give you a 100% refund.
New in Version 5.00:
New 'flash screen' function for alarms
New interface for accessing the growing number of features
Added auto-off options page to let you control how/when your device turns off
Added Speedy keys options page to let you navigate and even type faster!
Option to select apps which will disable the keyguard.
Added sliding keyguard option.
Keyguard completely rebuilt to offer transparrent drawing over the main screen (It looks beautiful!).
Loads of status icons for the keyguard.
Added Lefty preference page to set the global 'Lefty' setting and a Lefty slider for the keyguard.
22/Aug/08 added support for 4Cast weather in keyguard.
Plus Dozens of tweaks to support new devices, tidy up the code and optimise everyday Butler usage!
Rob works hard to release quality products and is constantly striving to improve them! Support him today!
Get it here for $14.95!
---
RescoNeeews! for PalmOS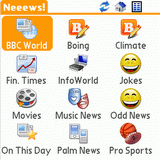 Resco has updated its RescoNeeews! for PalmOS to version 2.40.
Say you're waiting for a doctor. Would you rather read today's news or browse an ancient magazine?
Resco Neeews! can create your personal mobile newspapers: - By selecting among renowned periodicals or blogs - By searching the web for feeds on a given topic (e.g. for "PDA news") - By using news aggregators (e.g. all "PDA news" offered by Google News) - By using your own RSS feeds
Ready newspaper can be regularly updated (fresh news every morning) and added to the Palm Launcher as a new application. You can even get notification about incoming news!
Listening to audio news (podcasts): Resco Neeews! can stream podcasts (listening during the download - saves both time and money) and is able to resume interrupted podcasts.
Features:
500 predefined feeds
Best periodicals such as CNN, NY Times etc. or influential blogs such as Daily Kos etc.
Subscription to news by keyword such as "NBA NHL", "California weather" etc.
Premium services: del.icio.us, Google News, Live Windows, Technorati, Digg, TailRank etc.
Search for images or podcasts using Blogdigger
Images:

Wonderful Flickr image feeds on almost any topic.
Save As for images (Do you want to keep a nice image?)

Search for feeds on any web site (If you know Resco web address, Neeews! will find Resco feeds)
Feed sharing (using OPML format)
Feed synchronization with BlogLines
Non-blocking update (reading of news during the download)
Use of the web compression: skweezer, mlvb, google (saves your money)
Zip installer includes external icon set and PDF manual
Too true about the old magazines at the doctors office, hehe. I have an anticpated long wait during a scheduled surgery for a relative soon and this sounds like just the ticket to help pass the time!
Get it here for $19.95.
---
mySchedule NFL 2008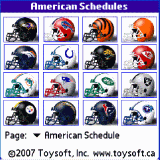 Toysoft Development, Inc., has released its mySchedule NFL 2008!
mySchedule NFL is the ultimate scheduler for the National Football League 2008 season. mySchedule includes all 32 team's regular schedules, AFC and NFC standings, all 32 team rosters. In addition mySchedule includes DirecTV listing and export schedule to Datebook/Calendar. Weekly NFL scoring and score summaries. Weekly updated scores.
Features:
Support high resolution.
AFC and NFC team break down.
AFC and NFC team standings.
Team Roster for all 32 teams.
TV listings of all games.
Support 4 time zones for the schedule.
Selectable weeks for the schedule.
Weekly scoring and scoring summaries.
Weekly game match up summaries.
Colorful icons.
Registered users get Standing, Roster and scoring updates for the entire season.
Just in time for the regular season which starts this week! Go Panthers! Yep, I live in NC.
Get it here for $14.95!
---
Another Great Looking Initiate Skin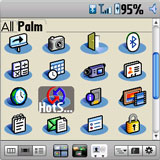 Another new skin for Initiate.
The new skin builder is helping the skins to come. If you have a Mac, then give it a try! It's really easy to build skins now, or to tweak some of the old ones.
This is André's first skin - I hope there will be more! Inspired by Mac OS - It has lovely crisp icons. It looks great!
Get it here. It's free!
WM Software >>
Copyright 1999-2016 TreoCentral. All rights reserved : Terms of Use : Privacy Policy

TREO and TreoCentral are trademarks or registered trademarks of palm, Inc. in the United States and other countries;
the TreoCentral mark and domain name are used under license from palm, Inc.
The views expressed on this website are solely those of the proprietor, or
contributors to the site, and do not necessarily reflect the views of palm, Inc.
Read Merciful by Casey Adolfsson