treocentral.com >> Products & Reviews >> Accessories
BlueAnt M1 Bluetooth Speakers
Overview
Let me just start by saying that the BlueAnt M1 Bluetooth Speaker system might just be the coolest thing I own. As a big fan of the music/mp3 capabilities of my Centro (especially when combined with the coolest PalmOS application ever, Softick Audio Gateway), I have been looking for a product like this for years. There are several other portable Bluetooth speaker systems on the market, but as far as I've seen and heard, nothing compares to this BlueAnt unit. Take this puppy to a party, fire up that Audio Gateway and impress your friends big time.
The BlueAnt website lists the following features of the M1:
Bluetooth v2.0
Crystal Clear Thumping Sound
World's most powerful portable speaker at 28 Watt RMS
Compatible with any Bluetooth A2DP device, phone, PDA, PC or Mac
Wireless, Portable, Re-Chargeable
Jack input - Plug in your mp3 player or iPod (cable included)
Built-in Subwoofer with bass boost enhance button
Supports Bluetooth A2DP for music and AVRCP for remote control
Automatic re-connection to Bluetooth devices
AC adapter and carry case included
2 Year Warranty
---
Design
Everything about the M1 screams quality. The first thing you'll notice about the unit is its weight. It's a lot heavier than it looks and is very sturdy in its construction. Not that it matters all that much, but for some reason I'm always impressed by heavier gadgets. Maybe that's just me. I won't be attempting this any time soon, but it certainly feels as if it could survive a drop or two.
The controls on the front of the unit are very nicely placed and more than accessible. There are buttons for power, play/pause, previous and next track, and one to activate the bass-boost function. There's also a nice knob for volume control, which I prefer to buttons. It's just nicer to have that knob to turn, as opposed to buttons you have to press repeatedly to increase or lower the volume. The controls also have a cool backlight to them, which makes it possible to see the buttons in the dark. The lettering on the buttons isn't lit, so you'll have to know which of the buttons performs which function ahead of time, but once you are familiar with the unit you will be able to access the controls in the dark.

Another note: you don't have to have a Bluetooth-enabled device to enjoy music with the M1. There's also a line-in connection on the back, so you can use the included 3.5mm cord to hook up any device that has a headphone jack. Even an iPod or iPhone will work. (No A2DP, snicker, snicker…)
There is also a built-in, rechargeable battery, so no need to worry about running to the store to grab some D-cells on the way to the party. BlueAnt claims 3 to 4 hours of listening pleasure at a "high" volume, up to 10 hours at "low" volume, and an astounding 1,500 hours standby time. I'm not exactly the raging party animal I was in college, and in my testing I tended to keep the unit at a moderately low volume. I usually got more than 4 but definitely less than 10 hours of use between charges. Battery life was never an issue.

The M1 comes packaged with a fantastic neoprene carry/storage case, which is very functional in its own right. The case opens and folds down on the front side, so you can actually use the unit while it's still in the case. There is a covered cut-out flap in the back of the case for access to the power and line-in connections and a mesh-covered hole for the built-in subwoofer's vent. There's also an elastic strap on one end of the case for carrying the unit from party to party.
---
Sound
The BlueAnt website describes the M1 as "one of the most powerful portable Bluetooth speakers in the world." The specs mention 28 watts RMS, which means absolutely nothing to me. What I can tell you, however, is that this thing is loud. Like, real loud. I took the M1 to a party a couple weeks back, with close to 30 people on a large, open-air, hotel roof deck and had to keep the volume relatively low so the M1 didn't drown out any and all conversation or disturb any of the hotel's guests. I was very impressed. For a unit of this size, the M1 can certainly keep a party entertained.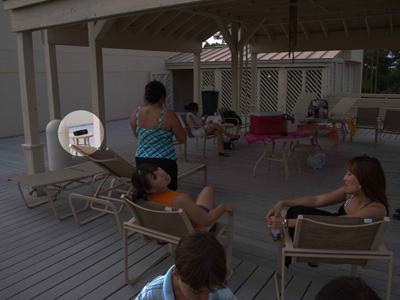 The quality of the sound is also a treat. Highs and lows are both very accurate. The highs you would probably expect, but the bass representation provided by the built-in subwoofer was very surprising. Most portable speakers of this size can't reproduce bass at all, and while the M1 isn't exactly going to shake the room, you definitely hear the lower frequencies fairly well. For a portable unit, any bass at all is nice. The M1 definitely gets it done. It also includes a bass boost function, which, depending on what you're streaming from, you may or may not want to use. With my Centro, I use Pocket Tunes more than any of my other mp3 software (I also have Kinoma Player EX 4 and TCPMP installed), mainly because of its awesome graphic equalizer. With the EQ, you can tweak your sound settings to get the best possible sound out of whatever speaker you're using, so it's up to you whether or not to use the built-in bass boost. You can definitely hear the difference when it's on though. And when you crank up the volume past a certain level, the M1 automatically lowers the bass boost to prevent distortion. Nice.
This unit is also magnetically-shielded, which is crucial for using it with a GSM-enabled phone (Hello, Altec Lansing iMT1!! Yes, that was a shot at you, after disappointing me tremendously in this regard a couple years ago). No horrendous "brrrrrrrrrrrrrt, brrt brrt brrt brrt brrt brrt brrt brrrrrrrrrrrrrt brrrrrrrrrrrrrt" sounds here. If you're reading this, you probably know exactly what I'm referring to.
---
Conclusion
In all reality, this review could have consisted of 3 words: whoa, get one. Not exactly sure if that would have been what Jennifer and Dieter are looking for though as far as quality reviews go, so I figured I would expound a little. In all seriousness though, I can't recommend this product enough. If you have any interest at all in such a thing, get one of these. You'll be glad you did. It is a little on the pricey side at $159.95 (MSRP $199.99), but as soon as you get it you'll see why. BlueAnt really got the job done.
Criteria

Rating

Design
5
Usability
5
Sound Quality
5
Cost/Benefit
5
Overall
(not an average)

Pros
Awesome sound quality and volume

Fantastic construcion/buld quality

Great battery life

Cons
I really cannot think of any!!
Copyright 1999-2016 TreoCentral. All rights reserved : Terms of Use : Privacy Policy

TREO and TreoCentral are trademarks or registered trademarks of palm, Inc. in the United States and other countries;
the TreoCentral mark and domain name are used under license from palm, Inc.
The views expressed on this website are solely those of the proprietor, or
contributors to the site, and do not necessarily reflect the views of palm, Inc.
Read Merciful by Casey Adolfsson