treocentral.com >> Products & Reviews >> Software
Ready for Some Football? Handy Scheduler Lets You Know Who's Playing When...
Overview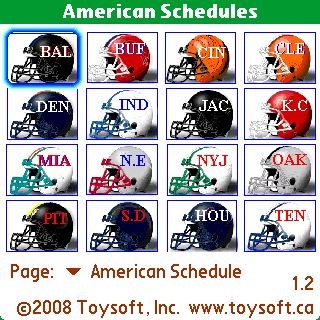 In June, I was less than thrilled with mySchedule™ MLB by Canadian company ToySoft (SRP $10). Part of the problem with that program had to do with how fluid a baseball season is. You've got 30 teams playing 162 games over a six-month period. You've got all kinds of weather related postponements (i.e. the Chicago Cubs just played the Houston Astros in Milwaukee when Hurricane Ike thwarted the planned home stand in Houston). To really stay on top of MLB while on the go, you need to bite the bullet and invest in a data plan. Mobile websites like MLB.com, Yahoo! and ESPN all adequately provide the type of up-to-date information a true fan of the game craves.
That being said, I recently checked out mySchedule MLB's sibling, mySchedule NFL by Canadian company ToySoft (SRP $14.95). I'll admit I was hopeful because the NFL is less complex (i.e. there are only 16 games over a four-month period). Surely our Canadian buddies could get this right. And with the exception of Hurricane Ike, football "plays on" no matter what the weather is.
So would this "ultimate scheduler" be able to prove it's worth?
---
The Test Drive Begins:
Just like it's sibling, Downloading and installing it was a snap. The program is small enough that I installed it directly onto my Centro instead of the memory card. When you load it, the screen defaults to the AFC (American Football Conference), though mySchedule calls it "American Schedules." What you see is a 4x4 display of helmets in alphabetical order of AFC teams (Baltimore on the upper left and Tennessee on the lower right).
Just to play with the defaults, I used my Centro's D-Pad to highlight the helmet for the Oakland Raiders (Note: There must be a licensing issue because none of the team's logos show up. I tapped on gray helmet with red OAK type).
What came up was an at-a-glance view of the match-up (following the traditional home team is listed last), the date/time and what TV channel will show the game (Hey, that's helpful!).
Toysoft smartly put a Time Zone drop down menu on this screen, so you can make sure you are getting the correct game time for where you live.
So that's it for this screen. Games are listed through December 28.
---
Wait! There's More!
I noticed that just below the schedule there was a box that had American Schedules written in it with a down arrow to the left. I hit it with my D-Pad and a menu with 7 options appeared: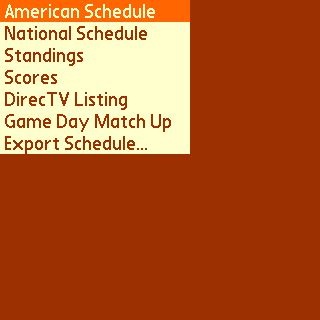 Curious, I backed up (hitting OK) to return to the home (landing) page. Yes, these options also appear below the helmets.
Let's finish the Raider path…
So I hopped back to the Raider schedule and looked below the box I just described, to find another "handy" menu to the left of the Time Zone one. Called "Weeks," when tapped this one will give you the league schedule by week from the Raider page.
For example, I hit the number "3" for third week, and got a listing of games with Raiders listed on top. This was a complete list of games for both American and National conferences.
So far, so good…
---
The Players Button
Curious, I tapped a button that said Players to see what would happen… Looks like I should have a roster listing that shows: Player Name, POS (for position) and Height. But the data was missing. Humm…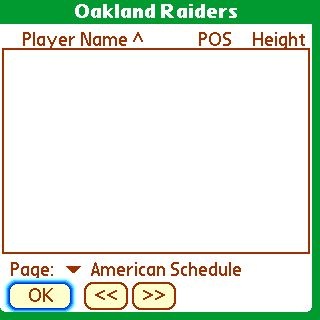 A quick review of my emails brought up a message from Toysoft:
enclosed are the rosters. unzip the file and install the team(s) you want to main memory.
Toysoft, Inc.
www.toysoft.ca
So I had to go through the HotSync process again to get the OAK roster loaded.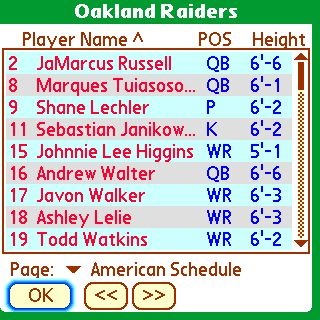 Understand that this roster is static and doesn't take into account changes made due to injuries, etc. Curious, I went through the HotSync process one more time and loaded the Cincinnati Bengals – and sure enough, it didn't know about Chad "Ocho Cinco" Johnson's name change. But I digress...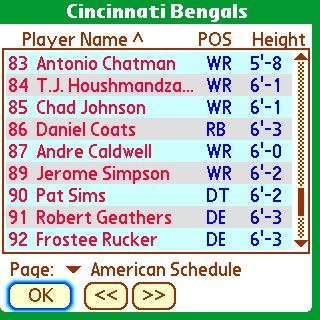 ---
Updated Scores & Standings
Toysoft claimed that this program offered "Weekly NFL scoring and score summaries, and Weekly updated scores." I was wondering how they did that. Alas, rather than using Over-the-Air (OTA) capabilities of the Centro/Treo, Toysoft sends you files every week via email.
From: Toysoft Inc Support Date: Tue, Sep 16, 2008 at 2:02 AM Subject: nfl week 2 scores and standings To: Undisclosed-Recipient
see enclosed
Toysoft, Inc. www.toysoft.ca
Attached are the following files: NFL2008Standing.pdb and NFL2008Score1.pdb. Looks like I've got to HotSync again!?! I'd say if there's one benefit to using mySchedule NFL 2008, it makes me back up my Centro (since that's a default part of the HotSync process).
---
Some Cool Things of Note
There are a couple of cool things I'd like to point out. If you are a subscriber to DirecTV, then you'll probably enjoy knowing which channel your favorite match up is being shown. Since I'm a Comcast subscriber, I couldn't test it.
The other feature, Export Schedule, allows you to add the game to your calendar ("DateBook using the PT time zone").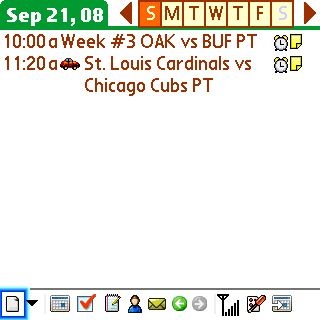 Warning… if you do this, the default alarm is set to 1-hour before game time. You might want to change it to like… five minutes before kick-off.
---
Conclusion:
I have to say that my feelings about mySchedule NFL 2008 are nearly identical to what I conveyed about its sibling. I really, REALLY, wanted to like it. But it is making me work too hard and the price is too high ($14.95). The way I see it, this should be a sponsored product that is given away (perhaps beamed) to fans. Then the limitations wouldn't seem so glaring.
Also, what's so hard about using OTA for updates? Other software developers have been doing it for years.
On the plus side, the NFL version of "the ultimate scheduler" seems to bug-less, so they got something right.
If you don't have a data plan, but love the NFL and want the convenience of having your favorite team's schedule "handily" available on your Centro or Treo, you might want to splurge for this program. Or if you've invested in DirecTV's NFL SUNDAY TICKET, which will run you $289.95, and want to stay on top of things, the $14.95 may seem like a drop in the bucket.
However for the rest of us, in this economy, that money is best spent elsewhere.
Criteria

Rating

Design
2
User Interface
2
Usability
2
Cost/Benefit
2
Overall
(not an average)

Pros
Compact way to know who is playing when.

See weekly match ups at a glance

No data plan required

Cons
Limited capabilities

Weekly updates require Hotsync

On the pricey side (buy a newspaper!)
Copyright 1999-2016 TreoCentral. All rights reserved : Terms of Use : Privacy Policy

TREO and TreoCentral are trademarks or registered trademarks of palm, Inc. in the United States and other countries;
the TreoCentral mark and domain name are used under license from palm, Inc.
The views expressed on this website are solely those of the proprietor, or
contributors to the site, and do not necessarily reflect the views of palm, Inc.
Read Merciful by Casey Adolfsson