treocentral.com >> Stories >> Commentary
Centro Spotting and Goodbye to My Black Centro
Overview
As I've mentioned many times, it's always fun to spot someone on a television show or movie using a Palm smartphone. I recently watched the first episode of season 4 of "The New Adventures of Old Christine" and saw Barb, who is played by Wanda Sykes, using a Black Palm Centro.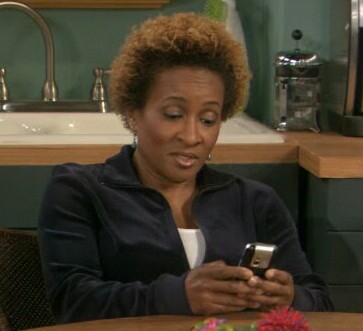 Looked like Barb was doing some texting on her Centro when Christine proposed to her. Proposed? *Gasp* Yep, you heard me correctly. Barb needs to remarry so she can stay in the U.S., and Christine, her best friend, wants to help her stay in the country by marrying her.
Notice that Barb switches to the good ole "one-handed" use of her Centro in the pic below. Very nice seeing the Centro on this CBS program. And especially nice showing someone using the device one-handed, showing how easy it is to use the Centro in this manner.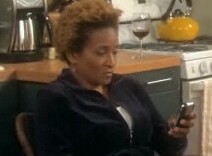 I found the video clip of the show so I could get some screen shots of the Centro being used. I thought it was sort of funny that the short ad that preceded the video clip was a BlackBerry ad. ;-)
I recently gave my Black Centro to my sister. She has a Treo 680 but I thought that she might enjoy using the latest Palm OS smartphone. Plus, it was nice keeping the good ole Centro in the family! Since I now have the Electric Blue Centro, I figured I could live without the Black one. So I gave the Black Centro to big Sis.
When Nita was up visiting recently, I asked her how she was liking the Centro. She said that she "loves" it. I asked her what she thought about it compared to her Treo 680. She said that it was so much better in terms of size. She said that whenever she would be talking on the 680, her face would press buttons accidentally and mess up her phone calls. That was very annoying for her. With the Centro, she said that she hasn't had any problems with her face pressing any buttons.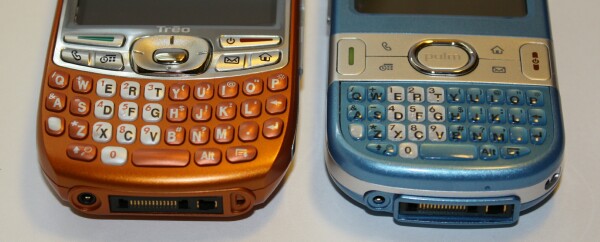 Notice in the pic above how the buttons on the Treo 680 protrude much more than the buttons on the Centro. The Centro buttons around the 5-way navigator are all flush compared to the buttons around the 680's 5-way navigator. It's obvious why a person's face could accidentally press those buttons on the 680 while on a call.
My sister also thinks that the Centro is "cute", and so do I! She loves the design. She also likes the microSD card slot and how it's sort of hidden on the side of the Centro.
One thing my sister really loves about the Centro is the keyboard's rubbery keys. Like me, she appreciates that tackiness of the keys that keeps your fingernails from sliding off.
I doubt if that Treo 680 will get anymore use unless my sister decides to pass the phone down to my niece. For now, my niece has a cute little, pink phone that she loves. You should see that girl texting on it. I've never seen anyone's fingers moving so fast on a cell phone's keyboard. Teenagers! Ya gotta love 'em! ;-)
I'm still loving my Centro and use it as my main phone. I did recently buy a Treo Pro, but I haven't had time to get completely acquainted with that device yet. Even when I do get the hang of it, the Treo Pro won't take the place of my Centro because I prefer the Palm OS. I don't exactly dislike WM, I just like Palm OS better because of its simplicity.
Copyright 1999-2016 TreoCentral. All rights reserved : Terms of Use : Privacy Policy

TREO and TreoCentral are trademarks or registered trademarks of palm, Inc. in the United States and other countries;
the TreoCentral mark and domain name are used under license from palm, Inc.
The views expressed on this website are solely those of the proprietor, or
contributors to the site, and do not necessarily reflect the views of palm, Inc.
Read Merciful by Casey Adolfsson