treocentral.com >> Stories >> Commentary
Dell Has Treo Pro for $475
Overview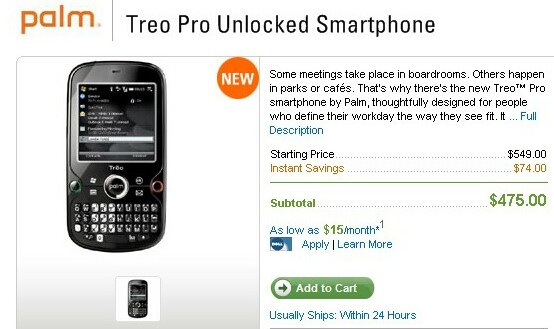 I read over the weekend via Treonauts that Dell is offering the Palm Treo Pro for $475 (before tax). Andrew posted this a couple of days ago, so I wasn't sure if Dell was still offering the Treo Pro at that price. I just now checked, and they are. So you can save $74 off Palm's official retail price. Not bad.
I was sort of surprised to see that Dell was selling the Pro. I wasn't aware that they sold smartphones. I looked at the other smartphones that they're selling, and they have mostly Nokias.
Whenever I think of Dell, I just think of "computers". A lot of my family members have Dell computers; PC desktops and laptops. I guess I'll have to keep an eye on Dell's other offerings from now on.
I see that Amazon.com is also selling the Tre Pro. Their price is $521.99. Buy.com is selling the Treo Pro for $499.99 with Free shipping. Now how would you like to shell out for the Treo Pro over at Cellhut? Hmmm, it's only $999.99. And just think, you're saving $200 because the retail price is $1,199.99. Anyone want to jump on that deal? I thought not.
I'm sure we'll most likely be seeing some more interesting prices on the Treo Pro soon. Maybe someone will sell it cheaper than Dell.
Copyright 1999-2016 TreoCentral. All rights reserved : Terms of Use : Privacy Policy

TREO and TreoCentral are trademarks or registered trademarks of palm, Inc. in the United States and other countries;
the TreoCentral mark and domain name are used under license from palm, Inc.
The views expressed on this website are solely those of the proprietor, or
contributors to the site, and do not necessarily reflect the views of palm, Inc.
Read Merciful by Casey Adolfsson