treocentral.com >> Stories >> Business
Sprint First to Launch WebCapTel(R) On the Go, a New and Free Mobile Solution for Hard of Hearing Customers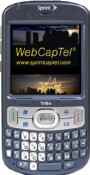 Sprint announced today the availability of Sprint WebCapTel(R) On the Go, a new, free mobile Web-based service that allows hard of hearing customers to read word-for-word captions on Windows Mobile 6 Web browsers, like the HTC Diamond, HTC Mogul, Palm Treo 800w and the MOTO Q9c by Motorola. In addition, the service is also compatible with the Safari 2.0 Web browser. Spint WebCapTel On the Go is expected to help an estimated 30 million Americans with hearing loss. Way to go Sprint! I think that's great!From the press release:
"Sprint is committed to equal access to all individuals," said Mike Ligas, director of Sprint Relay. "As such, we pride ourselves on offering the newest technology to hard of hearing individuals. This new solution offers the hard of hearing community mobility by being able to read real-time Web-based captions on Windows-enabled mobile devices."
The way that Sprint WebCapTel On the Go works is that users can make calls using two phones. A user can read captions on a wireless phone and listen and speak on a second phone. Prior to making a call, the user would log onto www.sprintcaptel.com on one mobile device to read text captions of what the other party is saying. You can go to www.sprintrelaystore.com for more information on Sprint's wireless devices and select plans.
According to the press release, Sprint WebCapTel On the Go is an extension of Sprint's existing WebCapTel service, which also provides captions during phone calls, but requires a computer with an Internet browser of Internet Explorer 7.0, Firefox 3.0 or Safari 2.0 on which to display the captions. This new and free service is available almost anywhere as long as the wireless device is equipped with Windows Mobile 6 or an Apple Safari Web browser. Sprint WebCapTel On the Go changes spoken words and sounds heard on a telephone into words to read.
You can read more about Sprint WebCapTel On the Go here. You can sign up for free here.
Copyright 1999-2016 TreoCentral. All rights reserved : Terms of Use : Privacy Policy

TREO and TreoCentral are trademarks or registered trademarks of palm, Inc. in the United States and other countries;
the TreoCentral mark and domain name are used under license from palm, Inc.
The views expressed on this website are solely those of the proprietor, or
contributors to the site, and do not necessarily reflect the views of palm, Inc.
Read Merciful by Casey Adolfsson