treocentral.com >> Products & Reviews >> Accessories
Nite Ize Clip Case Plus
Overview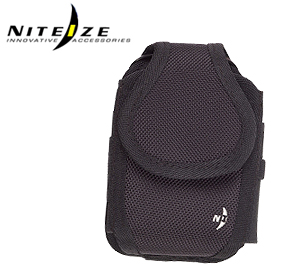 Are you like me? Do you have the need to carry your mobile device and LOTS of other 'things' with you each day? Then the Nite Ize Clip Case Plus may be just what you're looking for!
Description from the treocentral store:
This is like the "swiss army knife" of holster cases for Treo (and Centro). It has multiple pockets and accessory loops.
It features the "Nite Ize Tooth Ferry," a universal wireless headset holder. And speaking of the "Nite Ize Tooth Ferry", fellow writer Jay Gross reviewed a separate Tooth Ferry case awhile back.
The easy to remove "flex-clip" fits belts, waistbands, straps and more.
Features include:
Universal mobile solution - one holster for all your items
Weather resistant security cover
Nite Ize Tooth Ferry Universal headset holder
Strong flex-clip fits belts, waistbands, straps, pockets and more
Easy to remove clip - finger-tab release
I recently tested the Clip Case Plus. Read on for the full review..
---
Design
The Nite Ize Clip Case Plus is made of black nylon which is VERY durable. In fact, I can't imagine this material ever tearing or wearing out. There are two available closure types available, Velcro and magnetic. I chose the Velcro closure for my review, but the store also offers the magnetic closure case, which is blue with black trim. Let me tell you, you will NOT have to worry about this case accidentally coming open and your mobile device falling out! The Velcro is a sturdy 1" by 2" square and there is a distinctive 'rip' when you open the case, signifying a very secure latch. I haven't tried the magnetic closure, but have read that it, too, is highly trustworthy.
Nite Ize also claims the case is weather-resistant, though I don't really care to test this out - unless I just happen to get stuck out in the rain or snow. I did test another of their cases, the Nite Ize Backbone Case, and I did get caught in the rain while wearing it. My Centro was perfectly dry and unharmed when I arrived home! You can check out my review of the Backbone Case here.

The Clip Case Plus incorporates a 4-way belt clip that securely locks into each position, so you won't have to worry about the case slipping or accidentally rotating and items falling out - not that that's a problem with the tight elastic bands available for your MANY extras. On the outside of the case, there are places to carry at least two items, such as a small flashlight, pens/pencils and, of course, your trusty Bluetooth headset!
Inside, the Clip Case Plus offers ample room for my Centro! Though small, the Centro still feels securely held into place in its 'groove'. There are also pockets for your credit cards, driver's license, etc. - both behind your phone and in a slot in front of your phone. To the right of my Centro, there is also a nice spot for carrying a sharpie or something of a similar size.
---
Usage
My description of the design of the case basically describes the real-world usage, but I'll touch on my actual experience just to further expand on how great this case really is.
Having actually carried my Centro in my pocket from time to time, I felt so much more at ease knowing my trusty phone is securely held into place by my hip, rather than bouncing around against coins and the likes in my pocket. Let me also reiterate that the 4-way clip feels VERY secure. While it features a simple finger-tab release from your belt, I can't even imagine this clip ever coming loose from the case itself - so I have no fear of my Centro ever falling from my side, unless my belt were to break, LoL.
I like that the case offers the ability to carry my credit cards, driver's license and other similarly sized cards as well. While it may take a bit of time to dig my phone out of the secure fit of the case, Nite Ize also included the Tooth Ferry on the side of the case, which is perfect for toting your Bluetooth headset, which is just a finger's reach away at any time! I've also come to appreciate the convenience of carrying a small flashlight with me, as I dropped my headset after a phone call one night and was able to quickly locate it, thanks to having had a trusty flashlight at my hip! The space behind my headset is also perfect for carrying my thumb drive!
---
Conclusion
I read that someone was speculating that some of the larger Treo models may not fit the case. With Centro in tow, there is room enough at its side for a sharpie pen, which is about the thickness of my pinky finger - so there's roughly 3 inches of room from side to side for your phone. As for the inside height, after inserting my Centro, which is roughly 4 inches tall, there's room for another half an inch at least. So I'll say the case would accommodate a device roughly 4.5 to 5 inches tall, as there is plenty of room for adjustment between the large Velcro area and the flap that latches to the Velcro. I can't speak from experience for all of the listed devices, but the description in the TreoCentral Store says the case will fit the following devices: Centro, Treo Pro, Treo 800w, Treo 755p, Treo 750, Treo 700p, Treo 700wx, Treo 700w, Treo 680, Treo 650, Treo 600.
I can only speak for myself, but I would recommend the Nite Ize Clip Case Plus to everyone, and at only $14.95, everyone should buy one today!
Update: After using the case for about a month and a half, the Tooth Ferry suddenly tore as I was inserting my Jabra BT8040 headset. The headset is a bit thick, but it surprised me when the Tooth Ferry popped apart. This is the first time I've had a case of this material and quality tear on me - so I don't suspect this would be typical of this brand and make of case. I'm very hard on my cases.
Criteria

Rating

Design
5
Usability
5
Features
5
Durability
3
Overall
(not an average)

Pros
Made of highly durable materials

Pockets, strabs and clasp are all secure

Several pockets/bands to secure all your items

Well-constructed belt clip holds case in place

Relatively inexpensive

Cons
None, as it does what it is designed to do - and does it well
Copyright 1999-2016 TreoCentral. All rights reserved : Terms of Use : Privacy Policy

TREO and TreoCentral are trademarks or registered trademarks of palm, Inc. in the United States and other countries;
the TreoCentral mark and domain name are used under license from palm, Inc.
The views expressed on this website are solely those of the proprietor, or
contributors to the site, and do not necessarily reflect the views of palm, Inc.
Read Merciful by Casey Adolfsson