treocentral.com >> Products & Reviews >> Accessories
Redfly Mobile Companion for Treo Pro
Overview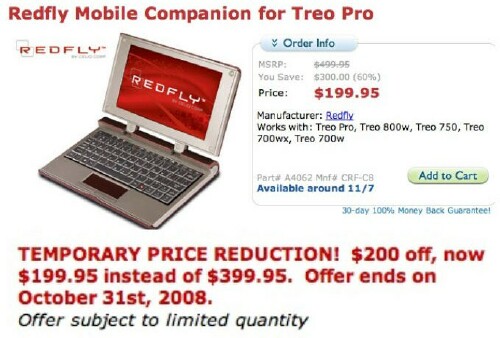 I couldn't resist. I have seen pictures, video, and reviews of the Redfly online and when the price dropped for a limited time, I had to have one. I thought it would complement my shiny new Treo Pro. Since it's on sale for $199.99 through October 31st (hurry!), it was easy pickings for me. I remember all the mixed reactions to the Palm Foleo, a could-have-been mobile companion, and now I had my chance to have a mobile companion in my hands and put it through its paces. How does the Redfly perform? Is it truly a viable and useful companion for your smartphone? Read on to find out!

---
What's in the Box
The Redfly Mobile Companion from Celio Corp is available now at the TreoCentral Store for a sale price of $199.99. Inside the box is a power adapter, a soft case to provide some protection for the Redfly, and the Redfly itself. The Redfly has a burgundy-colored soft-touch finish coating the entire exterior with the exception of the each side end. On the right end is a large power button, power indicator and charging indicator. The back of the Redfly consists of the charging receptacle, two USB ports, and a VGA port.
Underneath the Redfly are four rubber "feet" for the Redfly to rest on. Here you will also find the model number, serial number, and Mac address. The Redfly does not have a latch closure, but instead opens with a little resistance, just enough to keep the screen closed when you want it closed, yet when opened, you can adjust the screen to your desired viewing angle and expect it to stay there. The build quality is actually quite impressive. Considering the normal price of the Redfly is closer to $500.00, the build quality is much closer to that price range than the current sale price of $199.99.
The Redfly measures 1 x 6 x 9 inches and weighs in at only 2 pounds. Perhaps a poor size comparison, if you have a VHS tape lying around, the Redfly is not much bigger and is about the same thickness. It has an 8-inch diagonal wide-screen display (800 x 480 resolution), and has an 8.3 inch 80-key QWERTY keyboard and touchpad. The battery life is rated for up to 8 hours, making the Redfly a great travel companion that is easy on the juice. In fact, you can use the Redfly to charge your Treo Pro via USB, always keeping your Treo Pro topped off when on the road (or plane). The USB ports can also be used for flash drives, keyboard or mouse. The VGA port can be used for a projector or display if you need to give a presentation.
---
A REDFLY / Treo Pro Companionship

In my case, I use the Redfly with my Treo Pro. It was very easy to set up the pairing between my Redfly and Treo Pro. The software required on the Treo can be downloaded over the air from Celio Corp's website. Once the software was downloaded, I was ready to connect my Treo Pro to my Redfly for the first time.
I connected my Treo Pro to my Redfly with a USB cable first, and my Treo Pro automatically detected the connection to the Redfly and switched the phone's display and keyboard functions to the Redfly. Setting up a bluetooth connection to the Redfly is easy. I just had to activate bluetooth on my Treo Pro, connect my Pro with my Redfly via USB cable (the same cable provided with the Treo Pro), then press the Redfly logo key on the Redfly keyboard to open the Redfly's "Settings" window. Selecting the bluetooth tab at the top. The Redfly's bluetooth address appears in the "Currently Connected" window, so I just had to click "Authorize" so the Redfly's address appears in the Authorized list. Then, I just had to click "OK" and press the bluetooth key (F12) on my Redfly. Following these steps, my Treo Pro and Redfly were then paired and ready for action.
---
Why Pair the REDFLY With My Treo Pro?
The beauty of the Redfly is its simplicity. The Redfly is without memory, processor, or hard drive. It stores nothing, saves nothing - it is an extension of your mobile device, thus my Treo Pro is the "brains" of the operation. The Redfly powers up instantly, no waiting required. Once paired via bluetooth, I just make sure my Treo Pro's bluetooth is turned on, then I open up the Redfly, press the power button on the side, and then press the F12 key, pairing my two devices in mere seconds. If my Redfly is lost or stolen, there is ZERO data on the device. All of my personal data is stored on my Treo Pro, so the only inconvenience to me would be laying out more cash to buy another Redfly.
Our mobile phones have become so powerful that they can rival the business functionality of a laptop - email, internet browsing, mobile Excel, Word, PowerPoint, or PDF, all in the palm of your hand. My Treo Pro can do all of the business heavy-lifting that my much larger laptop can do, but the obvious limitation is the size of my Treo Pro's keyboard and screen. Who wants to work on a spreadsheet, respond to and draft numerous emails, or present PowerPoint on a 2 x 2 inch screen? As lovely as the Treo Pro's screen is, a laptop is better suited for the big jobs. With that said, laptops can be cumbersome to travel with, and palmtop or sub-notebooks can be expensive and you run the risk of your data falling into the wrong hands if it's lost or stolen.
The Redfly fits into a nice niché for mobile computing. With my Treo Pro safely in my side carry case, I can use my Redfly to view my email, documents, spreadsheets, and browser on an 8-inch screen. The Redfly adapts well from the tiny Treo Pro display to the much larger 8-inch display. Email is now full screen with a full (albeit cramped) keyboard to type with. Internet browsing is far less painful when you can view web pages on a much larger screen. The touchpad with left and right click capability is a pleasure to work with. I can use my Redfly to tap into the mobile computing power of my Treo Pro, be more productive with a larger screen and keyboard, and leave my laptop safely at home. If I lose or damage anything, I'd rather it be my inexpensive Redfly than my MacBook Pro!
If you are a frequent traveler and would rather leave your laptop at home, the Redfly is an excellent alternative. With an 8-hour battery life and its compact size, it is perfect for sitting nicely on the fold-down tray during your flight. If you are meeting with a client and have a spreadsheet or PowerPoint presentation, just use the VGA port to connect to a projector or larger display, or just use the Redfly's display to make your presentation. I like the charging feature - that my Redfly's 8-hour battery can also keep my Treo Pro's battery charged up and ready for action.
I often like to browse the internet, write, and email from the comfort of bed while watching t.v. Usually I have to endure the heat generated from my laptop, or use a "lap desk" to rest my laptop. My Redfly is perfect for my nocturnal computing. With my Treo Pro on the nightstand, I can rest the Redfly on my lap and get to work. Without a CPU or fans of any kind, I don't have to worry about a 4-alarm fire breaking out and it's a much more comfortable experience.
---
Conclusion
For me, the Redfly and my Treo Pro is a perfect marriage. The excellent portability, build quality, and simplicity of the Redfly makes it a no-brainer for me to own at the current sale price of $199.99. I admit that I would have to think twice if I had to pay $499, and would be tempted to look at some of the entry-level sub-notebooks in that price range. However, if you want a true mobile companion that unleashes the power of your Treo Pro (or other compatible Windows Mobile device), then you should seriously consider the Redfly. Having instant on, instant pairing, 80-key QWERTY keyboard, touchpad, 8-inch screen, and 8 hours of battery life, it's hard to pass up. I recommend that if you want a good companion to make your Treo Pro experience a more productive one, then pick up a Redfly from TreoCentral while you can for the low price of $199.99 - it's worth it.
Criteria

Rating

Design
5
Features
5
Usability
4
Cost/Benefit
5
Overall
(not an average)

Pros
Compact design and quality build.

8-inch screen and 80-key QWERTY keyboard.

Touchpad for easy navigation

8-hour battery life, also charges your device.

Additional ports for flash drives, keyboard or mouse, and VGA out.

Cons
Small keyboard, can feel cramped for those with larger hands.

Soft-touch paint has a distinct odor but not too bad, but it is there.
Copyright 1999-2016 TreoCentral. All rights reserved : Terms of Use : Privacy Policy

TREO and TreoCentral are trademarks or registered trademarks of palm, Inc. in the United States and other countries;
the TreoCentral mark and domain name are used under license from palm, Inc.
The views expressed on this website are solely those of the proprietor, or
contributors to the site, and do not necessarily reflect the views of palm, Inc.
Read Merciful by Casey Adolfsson