treocentral.com >> Stories >> Software
Microsoft Quietly Patches Serious WM 6.1 E-mail Bug
Overview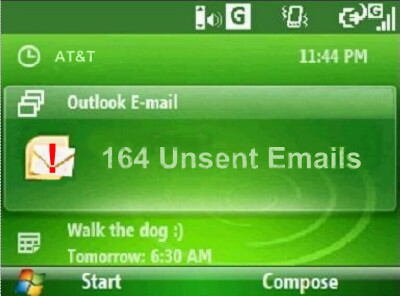 Our sister site WMExperts is reporting that Microsoft has released a patch for a Windows Mobile 6.1 Email bug. With this nasty little bug, the email database could become corrupt and cause messages in your outbox to stay there for good. What a crazy bug! Since I still haven't attempted to use email on my Treo Pro, I of course haven't come across this bug yet.
Phil Nickinson over at WMExperts says that fellow WM Expert George Ponder got the word out by bringing attention to a post over at Smartphone Thoughts that explains the bug.
Evidently with this bug on your WM 6.1 device, when you send an email, your phone attempts to use the specified SMTP server name. Phil gives the example that on his AT&T phone, the server name is CWMX.com. If that server name isn't available, WM 6.1 looks for an alternate SMTP server. But since there isn't an alternate server listed, when your phone can't connect with the first server, the email gets kicked into a perpetual outbox loop. According to Phil, even when your phone reconnects later, that email is still stuck, unsent.
I guess lots of people have this bug on their 6.1 phone and maybe didn't notice all the unsent emails and have been wondering why some of their family, friends and co-workers haven't responded to their emails. Thanks to the crappy bug, they never received those emails.
Below is part of Microsoft's readme file:
This behavior is associated with a feature that is introduced in Windows Mobile 6.1. The feature allows for mobile operators to specify an alternate SMTP server name that is used if e-mail messages cannot be sent by using the user-specified SMTP server name. If the mobile operator does not specify an alternate SMTP server name and if the Windows Mobile 6.1-based device does not connect, the e-mail account is corrupted and cannot send e-mail messages.
Luckily, there is a fix for the bug. You can get the download at Microsoft's Windows Mobile 6.1 POP and IMAP Send Mail Patch page. You can install the download from your desktop PC or directly onto your phone as a cab file. Once downloaded, your phone will immediately reset and you'll be good to go. Phil notes that if you do a hard-reset on your phone, you'll probably have to re-apply the patch.

The bug applies to both IMAP and POP mail, but not Exchange mail or SMS/MMS text messages. It affects both touchscreen and non-touchscreen phones. Ed Hansberry over at Smartphone Thoughts says that he doesn't understand why the Microsoft site states that patch file is supported on WM 6.0 as well as 6.1, because his understanding is that the bug is the result of a new feature in WM 6.1. Does make you wonder. And Phil brings up the question of why none of the wireless carriers have made notice of this bug yet.
Once you've downloaded the patch and your phone has reset, anything that was stuck in your outbox will get sent. Make sure you delete any emails that you have second thoughts on sending. Could be that some of you out there got lucky with the bug and an email that you wished you'd never attempted to send actually never did get sent. ;-)
You can download the patch here.
Copyright 1999-2016 TreoCentral. All rights reserved : Terms of Use : Privacy Policy

TREO and TreoCentral are trademarks or registered trademarks of palm, Inc. in the United States and other countries;
the TreoCentral mark and domain name are used under license from palm, Inc.
The views expressed on this website are solely those of the proprietor, or
contributors to the site, and do not necessarily reflect the views of palm, Inc.
Read Merciful by Casey Adolfsson