treocentral.com >> Stories >> Hardware
Round Robin: TiPb Treo Pro Video Preview
Overview
So this week it's Rene's turn to take the Treo Pro for a spin. Rene is no stranger to Palm devices as he's owned and loved quite a few of them before he transitioned to Apple's first generation iPhone.
Like Kevin at CrackBerry.com, Rene also had a little trouble realizing that you can't get the Treo Pro's screen to come to life by pressing on the Center button as you can on the BB Bold and the iPhone.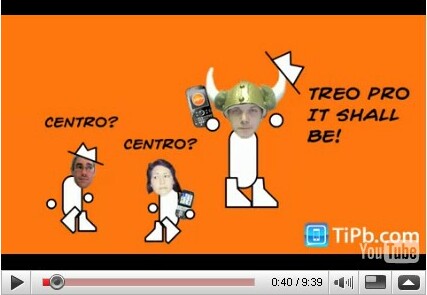 Rene's video is really fun to watch, especially in the beginning where he does a paraody of Zero Punctuation I've always enjoyed Rene's graphics over at TiPb, and this little animated section was really super sweet!
Rene is very pleased with the Treo Pro's flush screen and says that he's been waiting for it forever. He's not to happy with the square aspect of the screen though.
Head on over to TiPb and watch Rene's great video preview! And let him know what you think. Each day that you post on any of the official Round Robin threads, you'll be entered into the contest.
And be sure to head over to our forums and chime in on Rene's video and enter the contest! You'll be getting in on the chance to win a Treo Pro! You can read the Round Robin contest rules here.
Copyright 1999-2016 TreoCentral. All rights reserved : Terms of Use : Privacy Policy

TREO and TreoCentral are trademarks or registered trademarks of palm, Inc. in the United States and other countries;
the TreoCentral mark and domain name are used under license from palm, Inc.
The views expressed on this website are solely those of the proprietor, or
contributors to the site, and do not necessarily reflect the views of palm, Inc.
Read Merciful by Casey Adolfsson