treocentral.com >> Stories >> Rumors
Treo 600 shown in Dallas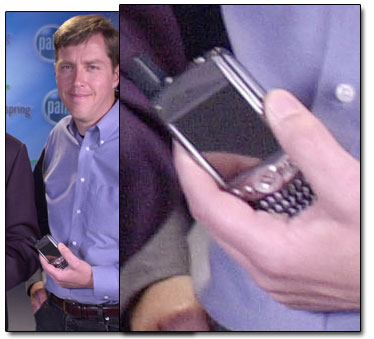 Handspring earlier this week demonstrated the Treo 600 at a Sprint PCS User forum in Dallas.

Today we got the first picture of the device - that is Jeff Hawkins holding it in his hand in the press release photo from the acquisition news. Thanks to treopolis for spotting the Treo.

TreoCentral reader Nrosser first reported seeing the new treo, and since his report several other readers have seen the device and provided additional information.

The preliminary spec sheet

Features:
Camera located on back of the unit (flash and pixel count unknown)
SD slot (SDIO compatible) located on the top.
TFT STN Screen (SuperTwist). Smaller brighter screen, offers better visibility in sunlight. The resolution is estimated to be 160x160, similar to today's Treo models.
ARM processor (Initial reports state 133 Mhz)
OS5
32MB
Speaker phone with speakers on both sides of the device
Battery - either 1600 or 1800 mAh (non-removable). The current Treo 300 has an 850 mAh battery which gives 2.5 hours talk time. 4.5-5 hours talk time (craigdts), with an external 4 hour battery pack an option.
CDMA only (Sprint the only carrier) However, this post on Yahoo's message boards shares a conversation somebody had with Alan Bush of Handsprings investor relations claims that while vague, leaned toward yes when asked if Orange (European GSM provider) would sell a similar model.
JavaScript enabled browser.
Physical Attributes:
Many thanks to craigdts for providing this sketch! Note, the corners are actually rounded, not sharp as shown. Again, it is just a well drawn rough sketch. Click to see a larger sketch. (544 KB).
New Candy Bar style. The length (bottom to top) according to the latest reports is the same as Treo 300, and the width is the size of the Treo 300's screen. The height has also been reduced. No flip lid.
Smaller thumb board located at the bottom. The keys are domed, to make them easier to hit. The numerical keys are on the left side, rather than on the right.
A D-pad and the usual 4 app buttons are located above the thumb board, in the middle of the device..
No Jog Dial - in its place we find volume control.
Antenna stub on upper left
Case grey metallic plastic (gun-metal blue?), not metal
Same Hot Sync port as previous Treo models
According to representatives at the show, the Treo 600 is scheduled for an September/October release date
More info to come as we get it. Check this thread for active discussions.



Copyright 1999-2016 TreoCentral. All rights reserved : Terms of Use : Privacy Policy

TREO and TreoCentral are trademarks or registered trademarks of palm, Inc. in the United States and other countries;
the TreoCentral mark and domain name are used under license from palm, Inc.
The views expressed on this website are solely those of the proprietor, or
contributors to the site, and do not necessarily reflect the views of palm, Inc.
Read Merciful by Casey Adolfsson