treocentral.com >> Stories >> Rumors
New Palm Smartphone to be a 'Vertical Slider,' More Details
Overview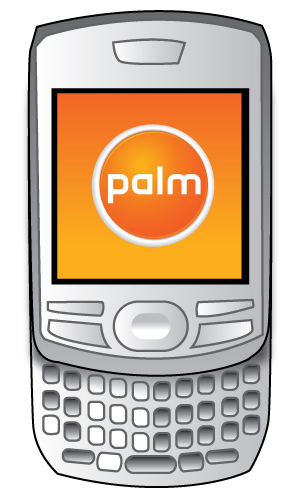 We've read a story at CrunchGear that confirms a report we received at TreoCentral: the form factor for the new Palm smartphone will be a 'Vertical Slider.'
For those not fluent in Smartphone-speak, that means that the new device will feature a very large touchscreen and a QWERTY keyboard that slides out from behind it. The 'vertical' part means that it slides down in portrait mode, meaning that the keyboard will still be easy to use one-handed -- an important benefit to longtime Treo users
CrunchGear's mock up, pictured at right, looks very little like the device that we at TreoCentral ultimately expect. However, we do believe that CrunchGear is right in saying:
The new operating system is described as "amazing" and there will be a full software bazaar on launch. It will have media playback functions along with standard Palm
Additionally, we expect that the device will use a flush, capacitive touchscreen (like the iPhone) instead of resistive (like all Treos) and feature some pretty snazzy transitions and animations and packs quite a lot of 'wow factor.'
TreoCentral will be live at the Palm announcement this Thursday, so stay tuned!
Discuss this story in our forums
Copyright 1999-2016 TreoCentral. All rights reserved : Terms of Use : Privacy Policy

TREO and TreoCentral are trademarks or registered trademarks of palm, Inc. in the United States and other countries;
the TreoCentral mark and domain name are used under license from palm, Inc.
The views expressed on this website are solely those of the proprietor, or
contributors to the site, and do not necessarily reflect the views of palm, Inc.
Read Merciful by Casey Adolfsson