treocentral.com >> Stories >> Commentary
MobiTV to add Interactivity?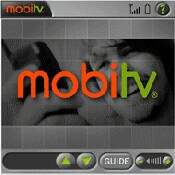 MobiTV Makes Moves to Stay Ahead of the Pack
Per a story by Carolyn Schuk at BroadcastEngineering.com, it looks like mobile and broadband TV provider MobiTV is working on a platform that will let viewers interact directly with content. This move makes sense as more and more options for viewing programming become available on the "third screen." MobiTV is well established and definitely needs to find ways to stay ahead of the pack that's closing in on them.
What's being described as a "new model of viewer engagement," was unveiled last week at the National Association of Television Program Executives (NATPE) conference, which took place in Las Vegas. In partnership with Intel and Lionsgate film studio, MobiTV introduced its newest use of unique possibilities offered by mobile TV: using the return channel on a handset or mobile Internet device to let viewers interact directly with content. The demo took clips from AMC's "Mad Men" series and showed how someone would interact with the content and the advertising.
That last point is huge. For the last several years, companies have been circling around the third screen trying to figure out what the advertising model would be.
Jack Hallahan, MobiTV VP of advertising and branding, noted that this platform would be ideal for episodic television, like Mad Men and The Sopranos (note: or perhaps Lost, except that it would probably melt down the handset—AL), "While you're watching, you can click on a character and get back stories and plotlines." He also said, "when Sterling-Cooper lands the Heineken account, you not only see a Heineken ad, you can interact with it - for example, find out about the company's history or the calorie content of Heineken Light."
It will be interesting to see which platforms will get this capability first. Though MobiTV has been super supportive of Palm, my bet is that the iPhone and BlackBerry will get first dibs. The Pre could squeeze in there if it takes off.
Copyright 1999-2016 TreoCentral. All rights reserved : Terms of Use : Privacy Policy

TREO and TreoCentral are trademarks or registered trademarks of palm, Inc. in the United States and other countries;
the TreoCentral mark and domain name are used under license from palm, Inc.
The views expressed on this website are solely those of the proprietor, or
contributors to the site, and do not necessarily reflect the views of palm, Inc.
Read Merciful by Casey Adolfsson