treocentral.com >> Stories >> Rumors
Sprint EOL Document Reveals Treo 755p to be Replaced by Palm Pre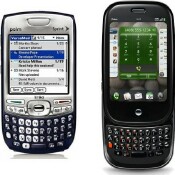 As we just reported over at our sister site PreCentral, the Boy Genius Report has scooped up some juicy news this morning. Seems that there is a Sprint EOL list that reveals the Palm Pre's target launch date, along with the Treo 755p's targeted EOL.
Yep, BGR couldn't post the actual list, but one of their ninjas got them an internal document that shows some good stuff. Some EOL devices are listed, but so are some replacements that we've been anxiously waiting for, specifically the Palm Pre.
The document shows that the Palm Treo 755p (blue) will be replaced by the Palm Pre. The target in-stock date of the Pre is March 15th. According to BRG:
...the EOL dates represent the target death of the EOL handset (in the warehouse, existing store inventory will still be sold) and the target in stock-date at Sprint's warehouses for its replacement.
Also listed in the Sprint EOL document is the Palm 800w to go EOL in April and to be replaced by the Treo Pro. Hmmm, the Treo Pro's target in-stock date is 2/15, but we already knew that, plus we now know that there were problems that caused those "in stock" Pros to go back for some repairs.
Anyway, let's hope that this 3/15 target date for the Palm Pre is for real so we can stop all the guessing.
Head over to BGR to see more EOL listings.
Update: Miles brought to my attention that the EOL document also shows the Centro (berry) to go EOL in June. Also shown for EOL are the (green) Centro and the Palm Centro Refresh (black). Both these EOL's are targeted for July.
Copyright 1999-2016 TreoCentral. All rights reserved : Terms of Use : Privacy Policy

TREO and TreoCentral are trademarks or registered trademarks of palm, Inc. in the United States and other countries;
the TreoCentral mark and domain name are used under license from palm, Inc.
The views expressed on this website are solely those of the proprietor, or
contributors to the site, and do not necessarily reflect the views of palm, Inc.
Read Merciful by Casey Adolfsson