treocentral.com >> Stories >> Software
Treo Software Roundup - v020609
Palm OS
Welcome back to another week with new and updated software for both Palm OS and Pocket PC! This week for Palm OS new we have Bubble Shuffe, Documents To Go Premium Edition, Ringtones for Business, Vehicle Accidents and IT Manager! For Palm OS updated software we have Agendus for Palm OS Professional Edition, Beyond Contacts, eQuickRecipes Deluxe and Utilities Bundle. As for Pocket PC software, this week for new software we have XXLarge 3D Icons: Expansion Set for Pocket Informant PocketBreeze Agenda Fusion, Living Planet: 170 Premium VGA Today Themes for WM6 and ActivePrint Traveler. In Pocket PC updated software, we have Panoramic Calc Pro, MobileController Professional Edition, Chess Genius and Just Tones.
Palm OS New:
Bubble Shuffle
Bubble Shuffle is a new word game from Astraware(R) - the Handmark(R) Games StudioTM featuring ever-friendly, fishy host, Wordsworth Smartygills. Bubble ShuffleTM follows on from Bubble Babble in the 'Bubble' word game series.
Bubble Shuffle is a simple undersea-themed word-building game that challenges players to create words from a given set of bubble letters. Perfect for adults and children, the game begins with 4 letters to work from and increases over multiple levels to 7 letters. To progress from level to level players must create at least one word from all of the letters. Players can shuffle the bubbles as many times as they want, to help them find more words.
The game features 4 fun game modes - 2 timed, and 2 more relaxing untimed games, each with a variation on the basic gameplay. Wordsworth Smartygills guides you through how to play, and can provide hints and clues throughout the game just by tapping him. Bubble Shuffle includes 4 levels of difficulty, and advanced anagram-anglers are rewarded for finding more unusual and esoteric words, with the option of requiring rare words from the inbuilt extended dictionary!
Players can earn a collection of colorful seahorse pets for Wordsworth by various achievements, from reaching new difficulty levels to the challenge of finding all of the possible words within the time limit.
Bubble Shuffle is available for Palm OS(R), Windows Mobile(R), iPhoneTM and iPod(R) touch.
You can get the Palm OS version here for $9.95.
---
Documents To Go Premium Edition 11.0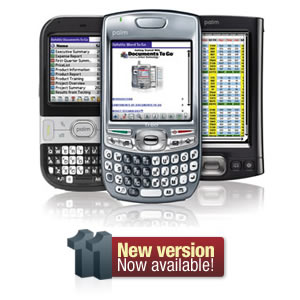 New! Documents To Go Premium Edition version 11, by DataViz, is better than ever! Some of the new features include the ability to view tracked changes in word processing files, apply and view Styles in word processing files, and view border & wrapped text in spreadsheets! Also, we are now providing 10 starter templates for word processing and spreadsheet documents to make it easier to create new files on your device.
Just Like Office on Your Desktop: Whether it's a file from your PC or an e-mail attachment, Documents To Go allows you to use these files the same way you do on your desktop computer. It's that easy. Now you can have your forecasts, contracts, product manuals, part numbers, budget charts, purchase orders, directions, to-do lists, sales presentations, bank statements, school work, manuscripts, or any other kind of document at your fingertips!
100% Document Fidelity: Documents To Go is built upon InTact Technology which ensures 100% fidelity of your files after they are edited on the handheld. No other mobile Office program incorporates this cutting edge technology. Feel confident that your original desktop documents will not drop any graphics or formatting once edited on the handheld.
Easily Sync Files! Documents To Go includes an intuitive desktop application to make it easy to synchronize and categorize files back and forth between your handheld and PC.
Documents To Go is one of those "Must-Haves" for your PDA or smartphone. Never again get stuck on the road with a file you can't open, edit, send off or simply synchronize with your PC.
Features:
View, edit, and create Word 2007, Excel 2007 files and PowerPoint 2007 files
View PDF files and attachments.
Ensure 100% file fidelity with our proprietary InTact Technology.
Intuitive Docs To Go program on the PC makes it easy to link files and categorize them before syncing with your handheld.
Make last minute changes or add new slides to your PowerPoint presentations.
Easily organize and view your camera pictures and graphics from within Documents To Go.
Includes a built-in spell checker for Microsoft Word documents.
Integrated file explorer now lets you easily browse to files on your device or expansion card.
View and edit footnotes & endnotes in word processing files.
View and edit comments and text boxes in word processing files.
Edit PowerPoint presentations.
Additional zoom levels added for viewing presentations and pictures.
View faxes sent as PDF attachments.
Multiple zoom levels including Fit To Screen, Fit To Width & percentage zoom.
Full screen support including landscape view for applicable devices.
New "Manage Applications" option to quickly and easily move all Documents To Go applications to your expansion card.
View, edit and create Excel-like charts.
Save, categorize & synchronize files directly to expansion cards.
Synchronize one handheld with multiple computers such as your home and work computer.
No learning curve! Similar look & feel of the Office programs on your PC.
This sounds like a VERY complete program! The ability to take your documents with you and even edit them on your handheld without the fear of losing graphics or the formatting you've worked hard to do could be a lifesaver! With the ability to handle Word 2007, Excel 2007 and PowerPoint 2007 files, as well as the ability to view PDF files and attachments and Excel-like charts - there's not much you can't do with Documents to Go Premium Edition!!
Get it here for $49.99!!
---
Ringtones for Business v1.1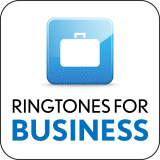 Ringtones for Business, by RCP Tones, are ringtones with class! All of our ringtones are unique, original, and optimized to sound great on mobile phone speakers. This collection contains different MP3 ringtones including classic business rings, "business casual" ringers, double- repeating tones, peaceful meditative rings, and a series of interesting, melodic "wheel" ringtones.
Features:
High-quality sound design
Fine-tuned for mobile phones
Ringtones suitable for a business environment
Affordable prices
No hidden fees
Minimum Requirements:
MP3 enabled mobile phone.
Ever seen a 'business person' get a phone call and their ringtone is out of this world crazy? That doesn't appear very business-like to me! For those of you who want some serious, but high-quality ringtones, this may be just what you're looking for!
Get it here for $8.99!
---
Vehicle Accidents v1.0
Vehicle Accidents, by Handcase, is a suite of 7 tools integrated in to one interface for insuring and professional of insurances. It offers tools to register and to organize vehicle accidents (trucks, bus, vans, automobiles and motorcycles) with screens presenting each type of vehicle where they can be registered in each image (vehicle) the points of the strokes. It offers tools for reports and a description of each accident.
Features:
7 tools
Mark accident tool
Minimum Requirements:
Get it here for $19.00!
---
IT Manager v1.0
IT Manager, by Handcase, is a suite of 6 tools integrated into a single interface to organize the work of managers of IT. You can organize all the work of resource management technology area by the company, and offers controls that range from the update until the purchase of hardware through the contracting of services. It also offers organization of requests from other areas to services, maintenance and anything that involves the organization of services for the area of IT with other areas of the company. It offers tools Requests, Manager, Updates, Reports, Departments and Costs.
Features:
6 tools
Requests
Updates
Reports
Costs
Minimum Requirements:
Get it here for $18.00!
---
Palm OS Updated:
Agendus for Palm OS Professional Edition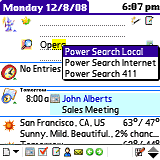 The folks at iambic have done it again. They've updated their already awesome Agendus for Palm OS Professional Edition to version 13.02!
The New Agendus 13: Accelerating Activity-Related Information Flow So You Get More Done today, tomorrow and beyond! Your everyday life is anything but ordinary. It's dynamic. It has its share of chaotic moments. And no matter how much you try to plan ahead, demands on your time never seem to let up. Keeping all those plates spinning and communication flowing, especially while on the go, can be quite the challenge. Though seemingly daunting, all this (and more!) is what Agendus, our award-winning personal information manager (PIM) was born to address.
And now, with the release of Version 13, Agendus has become even more finely tuned to accelerate activity-related information flow in a way that makes sense intuitively, can be tailored to meet your particular needs and is fun to use.
Seamless Integration – Agendus Automatically Connects the Dots.
What made the Agendus such a favorite since Day 1 is how it works seamlessly with the native Palm OS database. There are no plug-ins required and you can be up and running quickly with no duplication of effort.
Furthermore, the Agendus PIM functions (Contacts, Meetings, Tasks, Memos, etc.) are tightly integrated and feed into each other. This is what really makes Agendus a powerful personal productivity assistant.
By building the interrelatedness of the various functions into the program, Agendus is able to provide you with useful features like detailed contact histories, personal project management, journaling, and the ability to attach Contacts and files (PDFs, images and documents) to Calls, Tasks, Meetings and more.
Agendus is available in 3 different editions, to better match your specific needs: Premier, Professional and Standard.
An Intuitive Design that's Easy to Use and Adaptable.
Agendus has an intuitive interface and a multitude of customization options, so you can easily set it up to look (and work) the way you want. There are numerous views to choose from. You can add colors, icons and photos. You can also crop photos and edit icons from within Agendus.
New for you! There are over a dozen major new features in Version 13, including timesavers like "Smart Agenda" for creating Tasks, Meetings and Memos on-the-fly, and fully editable Meeting and Task templates.
It now provides a better snapshot of what's going on that includes Contacts, Meetings, Tasks so you get a more complete picture.
With Agendus Version 13, those who carry a Palm Centro or Treo can get more done before, during and after the activities that drive their day.
We invite you to test drive Agendus for Palm OS, Version 13 today!
Features: Agendus is literally loaded with features, which makes it nearly impossible to list them all here - but here are some of the great features!
New Contact View Photo Dialer Mode: shows contact pictures & name, and allows for one tap dialing
New Calendar View Journal Mode: allowing to manage, preview, sort, and filter journal related entries
New Daily Journal Card: shows today's journal, supporting completion, contact linking, and agenda walkthrough
New Personal Project Manager functionality: allowing to create mini-projects and associate them meetings, tasks, memos
Introduced the ability to add multiple Contacts to Tasks: Through Agendus now Tasks having multiple contacts linked allow for acting upon the "task attendees" with operations such as send email, sms, driving directions, etc.
Added support for attaching items to Events, Tasks, Contact and Meetings: all PIM items now expose facilities allowing to link documents, images, etc. to them
Added the ability to create "Alarms" as items independent from other PIM elements. Alarms are then visible in all calendar related views.
Added "take action on completion" functionality when completing a meeting or tasks through a serie of automated follow-up actions
Today View: added Stock Quotes slot and related facilities, including dialog where to manage the portfolio and check shares' values.
Power Search 411: added support for reverse phone numbers lookup
Added hyperlinking to the text in the location field when formatted as a URL, email address or phone number
Meeting Reschedule: now prompts user for time of rescheduled meeting
After closing a contact card now the selection is returned the row for that name in the contact view
Contact History: Added Quick View Options & Contact Detail button
Added preference allowing to personalize font size in Contact History
Contact History: now shows journal entries if the contact is part of a journal item
Contact List View: Improved tap/hold (dpad/hold menu) & Dial functionality now allows to select on the fly which number to dial
Added support to Native Tasks Redos as occurrs in latest devices for setting Redo Tasks to Weekly, Monthly & Yearly like Repeats
Task Sorting: Added option to set items in descending or ascending chronological order
Added option to show completed tasks only in the task view list mode but not in the other views
Task View Hierarchy Mode: Added "Expand All" button allowing to quickly expand or collapse the whole hierarchy
Rollover Tasks: Added a preference to Task Defaults to make all New Tasks Rollover
Task View: improved grouping by contact by not showing the contact on each item since already known based on the grouping criteria
Task "After Completion" preferences now support logging to journal, delete & ask, Redo, and convert to meeting
Power Search: Added Edit Menu so users can transfer text to/from clipboard
Added option to turn on/off toolbar tooltips
Added facility allowing the user to specify the default time zone for new meetings
Added preference allowing users to define phone number formatting
Added Autolearn Facility in Event Edit Dialog to intelligently decide where to place the cursor upon entering the dialog based on past usage
Vivid Agenda now allows to apply categories as part of its ruleset
Vivid Agenda: added support for personalizing text matches, supporting "contains", "exact" and "starts with"
Events set to repeat every 12 months now also appear when List filter is set to Annual Events
Added ability to recognize first character as a shortcut in dropdown lists to immediately jump to that item in the list
Agenda Walkthrough now allows per module on/off capability
Memo Card View: added support for hyperlinking
and MANY, MANY more features!
Agendus has been winning awards for years, since 1996 in fact! Check out what all the fuss is about and give this great program a try!
Get the Professional Edition here for $39.95!!
---
Beyond Contacts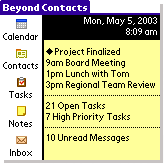 DataViz has updated its Beyond Contacts to version 3.0083!
Beyond Contacts provides everything you need in one package to manage your Outlook data for Calendar, Contacts, Tasks and Notes on your handheld, down to the very last detail!
This powerful application goes beyond just synchronization by providing the same look and feel of Outlook on your handheld, plus it brings all your Outlook data from multiple addresses and categories to meeting attendees and location. You can also access your Inbox messages on your handheld, making it easy to catch up on e-mail when out of the office!
Features:
Support for MORE Outlook Fields & Data Than Any Other Solution. Always have the most accurate and up-to-date info including:

All 3 e-mail addresses
All 19 phone numbers
Multiple categories
Birthdays and Anniversaries
All 3 mailing addresses
Plus much more!
Integrated Outlook-like Applications
Beyond Contacts installs its own Outlook-like applications that are seamlessly integrated on the handheld. So there's no confusing setup process or custom field-mapping!
Outlook-style Navigation - Quickly move to and from Calendar, Contacts, Tasks, Notes plus your Inbox by using helpful navigation tools including shortcuts, folders and categories.
Synchronize Your Inbox E-mail - Sync your Inbox messages to your handheld; use any downtime to catch up with your e-mail correspondence.
Multi-PC Synchronization Support - Synchronize your Outlook Calendar, Contacts, Tasks and Notes on a work and home computer when you have Outlook installed on both PCs!
New compatibility with the built-in Contacts/Address Book makes Beyond Contacts an even better Outlook companion.
Find Contacts Faster - Includes a new enhanced lookup feature that filters through your contacts quickly and accurately.
It certainly sounds like Beyond Contacts brings most or all of the features of Outlook to your handheld! With support for 3 E-mail address and apparently up to 19 phone numbers, you can keep in touch with the most important of your contacts while on the go! The multi-PC synchornization support would also be a nice thing to have, as those of us who are familiar with the lack of suck support in some programs will appreciate!
Get it here for $29.99 and take your E-mail with you!!
---
eQuickRecipes Deluxe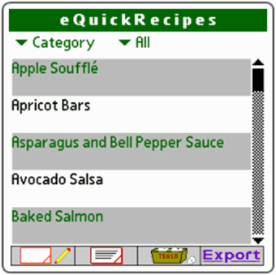 Lakshmi Solutions LLC has updated its eQuickRecipes Deluxe to version 5.0!
eQuickRecipes to store your favorite and most often used cooking recipes. With this application you can easily carry the recipes for your favorite appetizers, dessert, entrée, etc. everywhere you go from your kitchen at home, to a friend's house, to a party or reunion, and all the way to the store!
Features:
The application already contains an initial set of 35 very good recipes to get you started.
Adding more recipes and edit them is a simple two steps process. You can add as many as your device's memory allows it, and categorize them using categories that you define and make sense to you.
The app will calculate the amounts of each ingredient depending on the number of servings you select.
Navigating on the app is easy, just use your finger or stylus (depending on your device) to tap through the screens.
Export your recipes to Memo files and send them to your friends using your mobile device tools (email, text msg, beam, etc).
The Deluxe version includes a PC companion, very similar to the software on the Mobile Device, to facilitate data entry on the PC. From PC companion the user can export the recipes to a word file for printing or to excel as a CSV file. You can also sync your data between your PC and your Mobile Device.
If you have Lakshmi Solutions LLC Shopping List in your device, you can rapidly add ingredients to your shopping list directly from the eQuickRecipes applications. Also look for eDrinksMixn for drinks recipes.
The application contains a Quick Guide describing each of the main features of the app.
Just reading the description of this program reminds me of a small dilema we used to encounter as I was a small child. Sure, it was easy enough to make a recipe if you intended to make it as written, but we often needed more than a reciped called for, as we had a large family. Don't you hate trying to figure out how to make twice as much, three times as much - when you have to do the math with halves, thirds, etc? This program does the math for you! Plus, you can expand and add your own recipes and file them under categories YOU create! The ability to export recipes through text messages, e-mail, beaming, etc is also a nice touch!
Get it here for $9.99 and you also get the PC companion which allows you to print your recipes!!
---
Utilities Bundle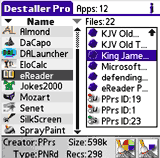 RoGame Software has udpated its to version 4.9!
Utilities Bundle is a compilation of our applications Destaller Pro, SilkScreen, and SprayPaint at a very attractive price. All applications are optimized for Palm OS 5 and work perfectly on the Treo 600 and Treo 650. SilkScreen requires Palm OS 5. As always, you can download and install a DEMO to see whether things run fine on your handheld. Here is a short description of what is included:
These utilities are all bestsellers in their own right, but are for the first time bundled at an extremely attractive price. Download the demo - give it a try. These titles are also available individually.
Features:
Keep Things Running - Destaller Pro is an application oriented uninstaller. Applications store many different files that often cause resets and the necessity to do a hard reset when not removed properly. Destaller removes this danger and headache. In addition Destaller allows you to maximize the memory of your device by allowing to safely remove single files, 'a68k' Files, saved and unsaved preferences and much more.
Work Better - SilkScreen lets you perform all of the functions normally associated with the bottom part of a Palm device - the silkscreen - in the main display area. It also serves as an application launcher and has several other useful features like Virtual Graffiti, so that you can write in the main display area of the display. It does this in a unique manner by reserving small programmable tap areas at the corners and sides of the display screen and thus is immensely useful for devices with either collapsable Graffiti areas like the Tungsten series and devices without such an area like the Treo600.
Look Good - SprayPaint lets you select your own custom colors for things like backgrounds, menu frames, list and button background, texts and hilites and many more. It is a very easy to configure and save application and you won't believe for how long you have been staring at white buttons with white fills, after you have configured your own favourite color scheme. To make it easy there are lots of template schemes already pre-configured, so just dive in!
If you were to purchase these 3 utilities individually from RoGame's Website, the total cost would be $59.70. Why not purchase the bundle and pay only $29.95 and SAVE $29.75? That's a savings of 50%!
Get it here for $29.95!!
WM Software >>
Copyright 1999-2016 TreoCentral. All rights reserved : Terms of Use : Privacy Policy

TREO and TreoCentral are trademarks or registered trademarks of palm, Inc. in the United States and other countries;
the TreoCentral mark and domain name are used under license from palm, Inc.
The views expressed on this website are solely those of the proprietor, or
contributors to the site, and do not necessarily reflect the views of palm, Inc.
Read Merciful by Casey Adolfsson