treocentral.com >> Products & Reviews >> Accessories
Jabra BT4010 Bluetooth Headset
Overview
There are many Bluetooth headsets on the market, as I'm sure you've noticed if you frequent the the TreoCentral store. With so many capable Bluetooth headsets to choose from, more and more, the deciding factor for which headset to choose seems to come down to which headset is actually the easiest to setup and use. Browsing the various new headsets in the TreoCentral store, I happened upon the Jabra BT4010 Bluetooth headset and its description caught my eye. With its intuitive 'Smart Display', the Jabra BT4010 looked like a worthy candidate for a hands-on review. Read on...
---
Contents and Setup
The Jabra BT4010 arrived with the BT4010 headset, 2 ear hooks (different sizes), AC charger and a quickstart manual. After reading through the quickstart manual, I plugged the BT4010 in with the included AC charger and waited for it to charge - which took about 2 hours. The Smart Display below shows the battery meter filling as the battery was charging.
---
Features
The Jabra BT4010 is a no-nonsense device in that the looks are simple, with elegant lines and contoured buttons - nothing flashy about it, which I like! And, unlike many Bluetooth headsets, the BT4010 has no flashing lights which tends to attract attention - again, nice!
The BT4010 features Auto-Pairing, which means that the first time you power your BT4010 on, it automatically goes into pairing mode - a nice change from some of the older models which required you to hold in a button for an extended amount of time. Turn on Bluetooth on your phone and set it to search for devices. Once your phone finds the BT4010, simply enter '0000' and accept and you're paired - simple!
As I mentioned earlier, the BT4010 features Jabra's Smart Display. Smart Display simply means that you can tell at a glance how much battery you have left - in bars (battery status), whether or not you're connected via Bluetooth and if you're currently on a call.
As for call time, a full charge should provide you with up to 6 hours of talk time and a whopping 150 hours of standby time - not bad! As you near less than 10 minutes left of battery time, the battery indicator shows no bars with warning lines emanating around it. This is handy as you don't have to guess how much time is left in most cases. When the headset is powered off, there is no battery indicator shown, of course.
Answering an incoming call is as easy as tapping the answer/end button on the front top of the BT4010. You can even redial the last number you dialed from your phone by double-tapping the answer/end button - sweet! The BT4010 supports voice-dialing depending on your phones capability - though I've never been fond of this feature. Yet, it's there if you choose to use it. You can adjust the call volume by using the volume rocker arm on the side of the headset, as is typical of most headsets today.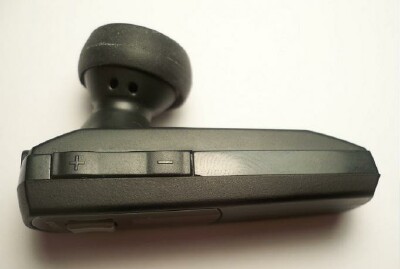 The BT4010 is a small Bluetooth headset, to be sure. It's only slightly larger than the Jabra BT8040, which is one of my all-time favorite headsets - so, I foresee the BT4010 quickly becoming a favorite as well! Weighing in at only 10g or roughly 0.35 ounces, it's comfortable to wear - with or without one of the included ear hooks. The ear hooks, if worn, can be reversed to fit either ear. The BT4010 came with no additional ear gels, but the included ear gel is comfortable and easy on your ears.
The BT4010 is a Bluetooth 2.0 device with EDR and eSCO. This means you can connect to multiple devices and that the BT4010 provides a higher quality audio, as any corrupted data packets are retransmitted - both nice features to have! Bluetooth 2.0 allows for a stated range of about 10 meters or roughly 33 feet, which should be an ample distance as you're not likely to wander farther than that from your phone.
---
Conclusion
I've been using the BT4010 for a few weeks now and can safely say it's one of the best headsets I own. The volume is great. In fact, I found I had to lower the volume while on a call because my wife could actually hear her voice from the earpiece being picked up by the microphone. Either the microphone is 'that' good or the volume is, or both. Either way, it's nice to know there's no problem being heard, lol!
I've tested the range of the BT4010 and can verify that it is easily capable of the stated 10m of a Bluetooth 2.0 device. In fact, I've walked as far as about 55 to 60 feet before starting to lose the connection. I don't talk very much on the phone, so I can't personally vouch for a 6 hour talk time - though I have talked a total of at least 4 hours over time and haven't recharged my headset yet.
Another added bonus of the BT4010 is that it works great for me when I use it with my Playstation 3 while playing online games such as Resistance 2. While playing, I appreciate the small size of the BT4010 even more - as I hate distractions from my gaming!!
It would have been nice if Jabra had included some additional ear gels of various sizes, as not everyone has the same sized ear canals. This is my only gripe if I have to find a fault with the BT4010.
At $59.95, it's not the cheapest Bluetooth headset on the market - but, it's one of the best I've ever used. I've yet to encounter a problem with any Jabra headset I've owned and don't foresee any problems with the BT4010. I look forward to many years of service! Get yours in the TreoCentral Store!
Criteria

Rating

Design
4
Features
5
Usability
5
Cost/Benefit
5
Overall
(not an average)

Pros
Small and lightweight

No-nonsense styling and no flashing lights

Comfortable to wear

Auto-Pairing makes pairing a breeze

Excellent volume and range

6 hour talk time and 150 standby time

Works with my Playstation 3 : )

Cons
Including various sized ear gels would have been a nice touch
Copyright 1999-2016 TreoCentral. All rights reserved : Terms of Use : Privacy Policy

TREO and TreoCentral are trademarks or registered trademarks of palm, Inc. in the United States and other countries;
the TreoCentral mark and domain name are used under license from palm, Inc.
The views expressed on this website are solely those of the proprietor, or
contributors to the site, and do not necessarily reflect the views of palm, Inc.
Read Merciful by Casey Adolfsson