treocentral.com >> Stories >> Business
Deutsche Bank Upgrades PALM Stock to Buy with $10 Target Price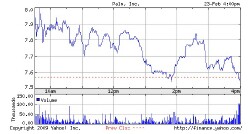 Note: Click on pic for larger view.
For the second time in 2009, Deutsche Bank analyst Jonathan Goldberg, raised his rating on PALM. Just after CES in early January, he upgraded PALM to Hold from Sell. Today, he bumped it up to a Buy and also increased his target on the stock to $10, from $6.
A story by Eric Savitz at Barrons.com quoted Goldberg comments from his research note:
"We see clear signs that [Palm is] capable of executing to plan and shipping the Pre at least on time..."
At the recent Mobile World Congress in Barcelona, "we found a lot of carrier interest in the device as well."
"Palm has been beaten down for so long that even a modest success could generate significant earnings leverage."
Scott Moritz of TheStreet.com noted in his story that "earlier this month, Credit Suisse put an $11 price target on the stock, predicting the phone will further juice the stock price.
PALM closed at $7.55 on Monday with a flurry of activity at the end of the trading day. It is up in after hours trading.
Copyright 1999-2016 TreoCentral. All rights reserved : Terms of Use : Privacy Policy

TREO and TreoCentral are trademarks or registered trademarks of palm, Inc. in the United States and other countries;
the TreoCentral mark and domain name are used under license from palm, Inc.
The views expressed on this website are solely those of the proprietor, or
contributors to the site, and do not necessarily reflect the views of palm, Inc.
Read Merciful by Casey Adolfsson