treocentral.com >> Stories >> Software
Treo Software Roundup - v022709
Palm OS
Hello Mobile fans and welcome to another Palm OS and Windows Mobile software lineup! Let's jump right into it! New this week for Palm OS we have Student Assistant 2020, Job Hunt and Encash! As for Palm OS udpated software we have Agendus for Palm OS Standard Edition/Professional Edition/Premier Edition, Clock Deluxe, PearBible and TouchLauncher. For the Windows Mobile faithful, this week in the new software section we have MobileRemote, Unusual Ringtones, One Click SMS and Historia! As for updated apps, we have Pocket Contacts Synchronizer, Winterface, FitSync® and SMS at Hand!
Palm OS New:
Student Assistant 2020 v2.0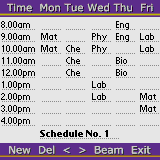 Student Assistant 2020, by ieosoft, is a colorful student planner program. It helps you manage and organize everything including schedule, subjects, homework, tests, projects, library books and misc (like party, holidays, special meeting). Be an organized student with this assistant!
Features:
You can create multiple schedules.
All items are sorted by date.
With Alarm function.
Minimum Requirements:
Requires Palm OS 5.0 or above and 200KB of Available RAM
College students, this sounds like it could be just the thing you're looking for! I graduated in 2006 with a hybrid degree of sorts in computer programming slash Web design degree, and having something like this to keep me organized may have made things a bit easier with all the classes necessary to meet the credit hour requirements! Why not make things easier for yourself and use a program like this??
Get it here for only $7.95!
---
Job Hunt v1.2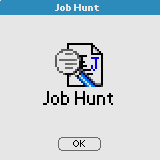 OK, so you've graduated college, with the help of Student Assistant 2020, and are ready to find employment?
That's where Job Hunt, by ieosoft, comes into play!
Job Hunt Features:
It lists all jobs in ascending order.
It allows Export to Memo for all jobs or individual job.
It filters jobs list by the job title.
It records and keeps track each job vacancy offered by companies, the application status, the expected salary, date resume submitted and etc..
It allows recording the company contact person, the contact no., the address, email address and web site.
Notes function allows for additional notes such as the due date for application and etc.
Export to Memopad.
2 table views function.
Minimum Requirements:
Requires PALM OS® 5.0 and 164KB of Available RAM
Finding the right job, especially in todays job market, can be rough! With mass layoffs, company cutbacks and jobs going overseas - it's becoming more and more vital to fine-tune your job search! Perhaps using ieosoft's Job Hunt could help you!
Get it here for just $6.50!
---
Encash v1.0
Encash, by Handcase, is a suite of 8 tools which makes it quick and easy to administer and organize collections of clients. For even the largest companies, Encash serves as a complement mobile aide. Structured in History, Agreement, Refinancing, Discharge, Split, Report, Collection and Agenda.
Features:
Minimum Requirements:
Get it here for $17.00.
---
Palm OS Updated:
Agendus for Palm OS Standard Edition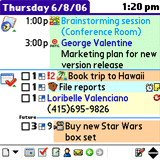 iambic has updated its 3 versions of Agendus for Palm OS!!
The New Agendus 13: Accelerating Activity-Related Information Flow So You Get More Done today, tomorrow and beyond! Your everyday life is anything but ordinary. It's dynamic. It has its share of chaotic moments. And no matter how much you try to plan ahead, demands on your time never seem to let up.
With the release of Version 13, Agendus has become even more finely tuned to accelerate activity-related information flow in a way that makes sense intuitively, can be tailored to meet your particular needs and is fun to use.
Seamless Integration – Agendus Automatically Connects the Dots. What made the Agendus such a favorite since Day 1 is how it works seamlessly with the native Palm OS database. There are no plug-ins required and you can be up and running quickly with no duplication of effort. Furthermore, the Agendus PIM functions (Contacts, Meetings, Tasks, Memos, etc.) are tightly integrated and feed into each other. This is what really makes Agendus a powerful personal productivity assistant.
Agendus is available in 3 different editions, to better match your specific needs: Premier, Professional and Standard! To learn more about what makes each edition unique, visit the Features Comparison page. Ready to buy? Make your pick in the purchase page.
An Intuitive Design that's Easy to Use and Adaptable. Agendus has an intuitive interface and a multitude of customization options, so you can easily set it up to look (and work) the way you want. There are numerous views to choose from. You can add colors, icons and photos. You can also crop photos and edit icons from within Agendus. New for you! There are over a dozen major new features in Version 13, including timesavers like "Smart Agenda" for creating Tasks, Meetings and Memos on-the-fly, and fully editable Meeting and Task templates.
It now provides a better snapshot of what's going on that includes Contacts, Meetings, Tasks so you get a more complete picture.
Since 1996, Agendus for Palm OS has been making a name for itself -- racking up awards and receiving glowing reviews. The number of new users joining the established Agendus community continues to grow as Palm Centro owners and those with the Treo Pro adopt it. Furthermore, the recent release of Agendus for BlackBerry has been well received by "newbies-turned- Agendus converts," and returnees (previous fans of Agendus who switched devices).
Are you ready to accelerate your productivity?
We invite you to test drive Agendus for Palm OS, Version 13 today!
New in Agendus for Palm OS:
New "Smart Agenda" Today View slot enables you to create Tasks, Meetings, and Memos on-the-fly, and is capable of pre-populating key fields of a new activity based on the user input. This same slot also integrates on-the-fly Power Search so you can instantly (and conveniently) look up any Personal Information Manager (PIM)-related data right from the Today View.
In the new Recent Meetings Calendar Mode, check off your meetings as they are completed and review the list later for rescheduling.
With the Agenda Walkthrough Functionality, create any type of checklist you want such as shopping lists, meeting topics, and potential DVD rentals.
View up to 6 upcoming calendar, task, call and alarm related items in the Today View using the new collapsible slots.
Task View Hierarchy Mode: extended to support Outliner / Mini Project Tracker facilities (task completion %, more levels of hierarchy, completion calculation)
Today View: all new collapsible slots allowing for dynamically viewing up to 6 upcoming calendar, task, call and alarm related items
Calendar View - New Recent Meetings Mode: now has date and status filtering options
Meetings: added support for completion and cancellation
Agenda Walkthrough Functionality: allows you to quickly setup and follow topics to cover during a meeting, task or call
View Memory Functionality: allows you to revisit/"browse" through recently used views
Alarms Support for Attention Manager: added integration with the built-in Attention Manager
Features you've come to love:
Keep track of your business and leisure trips with the Trip Wizard.
Access a quick overview of your upcoming annual events in the list view.
Utilize the search field to easily find a contact without scrolling through your entire list.
Customize your Agendus experience by assigning icons to all your calendar, tasks, memo and call entries.
Apply vivid agenda rules to your entries for immediate icon and color customization.
Crop images directly in the Agendus image picker and zero in on important photo details.
Improvements and Functionality Refinements:
Added icon indicator to items with associated voice recording and/or sketch
Toolbar and other buttons: added tooltips appearing on tap, select, and "stay over" navigation
Task view: edit in place can be turned on/off via preference Task group mode: grouping status now retained
Meeting Attendees now saved in native calendar db
Added preference to cancel alarms on tasks and calls when marked complete
Month View standard mode: improved representation of multiday events through the use of colored banners
Month View icon mode: now supports up to 12 icons shown simultaneously (exact number will vary based on Device, Preference and Screen size)
Calendar view year mode: month names are now shortcuts to the related month view
Preferences: Autoupdate now supports "once a day" updates
Still not sure about Agendus? Search for Agendus with your favorite search engine to learn more!
You can get Agendus Standard Edition here for $29.95!
You can also get Agendus Professional Edition here for $39.95 or Agendus Premier Edition here for $59.95!
---
Clock Deluxe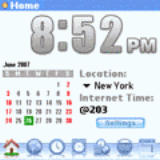 DeluxeWare has updated its Clock Deluxe to version 1.84!
Clock Deluxe is a multi-functional clock which includes Alarm Clock, Multi-zone clocks, Time Calc, World Time Map, Calendar, Timer and Stopwatch. Alarm Clock will always remind you about an important appointment! Calendar makes it possible to form calendar for any year, from 1904 to 2031. World Time Map with the shadow displayed (day/night) will be a reliable companion in a travel informing you of the local time . It can show you what time is it in 550 cities of the world! Clock Deluxe keeps your system time accurate. It synchronizes your Palm clock with Internet atomic time servers.
Features:
User-friendly interface
Home screen with digital clocks
World Time Map: tap a city to view the time there - see if it is dark
Clocks: compare 4 world clocks to your home time, 550 preinstalled cities and Automatic Daylight Saving Time calculation
Time Calculator: when it is 8:00 am in New York, what is the time in London?
Alarms with advanced options: enhanced digital sound, Modify alarm tones digital sounds or Midi, the alarms can be set to a specific day, or range of days
Atomic Time synchronization with auto-update
Stopwatch and timers
Calendar from 1904 to 2031
Low-Res and Hi-Res displays support
Get it here for only $7.95!
---
PearBible (BBE)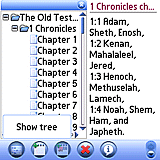 PearMobile LTD has udpated its PearBible (BBE) to version 1.2!
PearBible (BBE) is a pretty electronic version of the Bible that lets you enjoy the truths of God`s Word anywhere you go. You don't need to carry heavy books with you any more, now everything you need is in your PDA! It also includes a few religion holidays. You can export these holidays into the DateBook, when you want to set reminders on them. If you prefer reading in Memo you can export texts of the Bible and descriptions of holidays there as well. Bible in Basic English has all the features of the full version, but takes twice less space. Pay for what you really need!
Features:
Bible in Basic English (BBE) only
Old and New Testaments
More than 1100 chapters
Religion holidays up to 2012
Each holiday has a description
Available exporting chapters and holidays into Memo (Memos) and DateBook (Calendar)
Simple and user-friendly interface
Man, does this ever sound good to me!! Being able to carry an electronic Bible with me everywhere I go? I won't get all religious here, as I don't wish to offend any reader, but for those of you who do read the Bible - having an electronic version with more than 1100 chapters that you can take with you would be AWESOME!!
Get it here for only $3.95!!
---
TouchLauncher version 2.2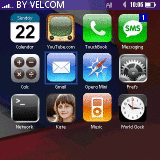 Hey, Ryhor Burakou has udpated his TouchLauncher to version 2.2!!
TouchLauncher is a new launcher for Palm OS 5. It sports a beautiful user interface and combines basic launcher features with new ideas. TouchLauncher can be used to run applications on your device with your fingers, as well as perform other basic tasks with them.
Download the trial version and play with it! The trial version supports launching of 10 first applications in TL database. To launch all your apps, purchase a full version!
Features:
Scroll with your finger. Change pages of applications in TL with your fingers! Tap an empty space on a page and drag it left or right to switch to the next page!
Support for ICONSETS and WALLPAPERS. Iconsets can be created on the desktop and then used in TouchLauncher (a basic iFone iconset is supplied) and wallpapers can be set directly in the program (a sample wallpaper supplied in the archive)
Get the number of unread SMS messages (Treo and Centro). If you have an icon to Messaging application in TL, a red box will display the number of unread messages on your Smartphone (see first screenshot)
Rearrange applications! Yes, you can use the Drag-and-Drop function to take an application icon and put it wherever you like it. It will stay there!
Categorize applications! Press Home or Space on your Treo to quickly change the current category. Or Menu-Y to edit application categories.
Rename applications! Give each application a unique name! (For example, rename "World Clock" to "Clock")
Basic functions (Beam/Send/Delete/Information). Just take an icon with your finger and drag it to the appropriate icon in the bottom bar
Add WebLinks and Contact Links*. Add a web link to TL and quickly access your favorite webpage using Blazer. Add a contact link and quickly open your friend's business card in TouchBook! *TouchBook required.
Start typing on the Treo/Centro keyboards to apply filters and go Web and Device searches!
And more cool stuff!
Last year I reviewed TouchLauncher 1.2! Even in version 1.2 TouchLauncher was an awesome program! Read my entire review and learn more about this great program, then try out the trial version. You have nothing to lose to try it!!
Get it here for a mere $6.99, you won't be disappointed!
WM Software >>
Copyright 1999-2016 TreoCentral. All rights reserved : Terms of Use : Privacy Policy

TREO and TreoCentral are trademarks or registered trademarks of palm, Inc. in the United States and other countries;
the TreoCentral mark and domain name are used under license from palm, Inc.
The views expressed on this website are solely those of the proprietor, or
contributors to the site, and do not necessarily reflect the views of palm, Inc.
Read Merciful by Casey Adolfsson