treocentral.com >> Products & Reviews >> Accessories
Motorola H680 Frost Bluetooth Headset
Overview
If you're into the convenience of wearing a Bluetooth headset (or looking to comply with those hands-free phone laws popping up everywhere) but detest the big, bulky, not so trendy-looking products that abound, your choices are slim. The Motorola H680 Frost headset pulls off being stylish without a huge footprint. The styling may not be for everyone, but boring it is not.
---
What's Included
This is pretty run of the mill for a Bluetooth headset - expect to find the home charger, two ear gels (because the ear canal doesn't adhere to a universal size), the over-the-ear clip and operation manuals. However, the charging unit for this headset is very cleverly designed - more so than any other I have seen. It uses a cradle with magnets that allow you to merely set the headset on the charging points and it snaps into place. No messing with plugging in the headset here - that was so 2008. A very nice touch indeed. It is worth noting here, though, that a car charger is not included, so if you expect to be doing a lot of talking away from your home charger, you might want to pick one up.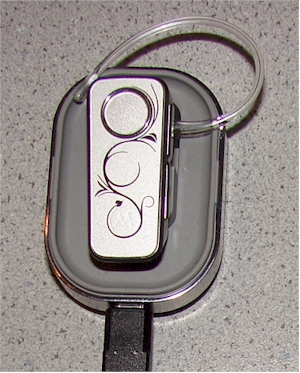 ---
Setup/Operation
Headsets tend to be set up very similarly, so if you've used one in the past, this should be nothing new. There is a call button, two volume keys and and on/off switch on the unit. Much like the ringer switch on the Treo line of phones, the simplicity of having an on/off switch means less fumbling around trying to figure out if the unit is on or off - you have to wonder why other manufacturers do not implemement this feature.
Pairing the phone was quick and painless. Calls transferred quickly and without incident. You will want to look over the included "Features and Function Guide" to familiarize yourself with the different functions of the headset, as each product seems to use a different set of colors, beeps and button presses to achieve its functionality. This is no different here and to get the most out of your headset, it will be time will spent.
---
Performance/Sound Quality
This is really the meat and potatoes of any headset - all of the other conveniences mentioned above mean nothing if it is unusable. Fortunately, Motorola has done a decent job designing this unit and it performs reasonably well.
Almost every headset boasts of a 30 foot range, and almost every headset falls short of this claim. I found that for all practical purposes, you will get your best performance between 1 and 12 feet away from your phone. Go anything beyond 15 feet and the static renders the call unintelligible. Almost the same can be said for the sound volume. In a quiet house, the person calling comes through loud and clear and the caller can hear you fine. Add in some road noise from the car and you will have a harder time hearing the person that you are talking to, and the conversation is more difficult to carry out. A little more volume would go a long way here.
Battery life is definitely a strong suit here. In mixed talking/standy use, I was able to go 3-4 days between charges. The absence of an included car charger does mean that you will be bringing in the headset to charge more often, however, the average user should be satisified with the talk time of the unit.
---
Conclusion
If you are looking for a unique headset that has a smaller feel than the barrage of bluetooth headsets on the market - the Motorola H680 Frost Headset is worth a look. Though the convenient charging cradle and decent performance (coupled with its unique, fashionable design) make it a solid choice, there may be less expensive products to be had with a similar feature set.
Criteria

Rating

Design
5
Usability
4
Comfort
4
Cost/Benefit
4
Overall
(not an average)

Pros
Fantastic charging cradle

Fashionable, modern styling

Sliding On/Off Switch

Cons
Styling will not appeal to everyone

Sound quality is average

Cost
Copyright 1999-2016 TreoCentral. All rights reserved : Terms of Use : Privacy Policy

TREO and TreoCentral are trademarks or registered trademarks of palm, Inc. in the United States and other countries;
the TreoCentral mark and domain name are used under license from palm, Inc.
The views expressed on this website are solely those of the proprietor, or
contributors to the site, and do not necessarily reflect the views of palm, Inc.
Read Merciful by Casey Adolfsson