treocentral.com >> Products & Reviews >> Software
txtForward
Overview
Right off the bat, I don't do a LOT of texting. But, there are times when I receive texts and I'm busy or just don't wish to read text messages at the moment. Then there's times when I'm using another phone and friends text my Centro while I'm carrying my Treo 750. With txtForward, both of these situations are easily handled! txtForward allows forwarding of those missed texts to email! Read on...
---
Features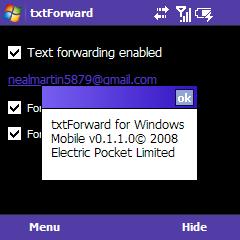 Features:
Keep a backup of sent and received text messages via your email account
Don't lose SMS when changing phone numbers, simply forward to email
No need to have your phone to hand to see who's texting you - just check your inbox
Many more unseen uses!

With txtForward, you can get your SMS (short message service) text messages sent to your email address! Why you ask? Because, as I mentioned above, there are times when you may not have your phone with you and you could miss an important text. Or, you could, like me, have more than one phone and have someone text you to the phone you're not carrying. Once set up, txtForward automatically forwards SMS text messages received on your smartphone to any email address you supply.
---
Uses for txtForward
People who receive a lot of text messages may prefer to backup all their text messages, and then they have them safely stored away for future use. I set mine up so that txtForward sends an email to my Gmail account. This is particularly useful because, with Gmail, your messages can be archived forever. Another useful feature of txtForward is that it can also send SMS messages you send from your smartphone. This way, you can build a complete archive of your conversations.
For other people, like myself, who are more focused on working during the day - txtForward affords them the opportunity to be away from their phones for short periods of time without missing an important text. Or, perhaps their workplace frowns upon texting so they must ignore their incoming messages while at work. But, these people usually have access to their emails. txtForward can make sure they don't miss an incoming SMS message, as they can have the SMS text messages sent to their email inbox. Then, they can read the message without worries.
As I mentioned in my overview, some folks have to juggle a couple of phones, maybe a work phone and a personal phone. With txtForward running on the smartphone you won't miss any SMS text messages sent to one phone while you use the other. This is particularly useful in my case!
---
txtForward in Action
Setting up txtForward was easy, or so I thought. I simply downloaded the file from the TreoCentral store, entered my registration number and set up the email address I wanted my text message details sent to. I had my sister and my brother both send me text message after text message, with none of them ever making it to my mailbox!
After 15 minutes of double and triple-checking the email address I had supplied, I noticed the first checkbox that read "Text forwarding disabled". I read that as it would disable forwarding if I DID check the box. Instead, duh, I checked the box and it then read "Text forwarding enabled". I felt this was a bit misleading and honestly believed the problem was due to a typo in the email address I supplied. This was my guess because when you select Menu, then Change Address, you don't see the address you're typing on the onscreen keyboard - at least until you click on the "EN" at the bottom of the keyboard and reveal the address you're typing. ** I've since determined this scenario may have been caused by an onscreen keyboard program I'm in the process of reviewing, but either way, you can work around the keyboard blocking the text.
After getting the email address set and actually enabling text forwarding, I was indeed able to have my received texts forwarded to my Gmail account. However, I noticed my sent texts weren't being forwarded as I was creating the screenshots for my review. Try as I may, I was never able to get txtForward to forward the texts I sent, so I visited the Electric Pocket Webpage. Here, I scrolled down the page and found this:
You can choose to forward your text messages via Electric Pocket's server or direct from your phone using your own email account. Please note that some email services, like Gmail, won't show messages sent to yourself. In that case, you can either forward via the EP server or create a separate email account to forward them to.
I contacted customer support and learned through some trial and error and with the GREAT help of Steve, who consulted with a few others that while txtForward forwards Received and Sent SMS messages to email on Windows Mobile devices ( WM 5 and 6, Standard and Professional ) - one limitation is that forwarding of Sent SMS messages on Palm Treo 7xx devices doesn't work. This is because Palm used their own Threaded Messaging client. The Treo Pro, Treo 8xx and Treo 500 devices will forward both Received and Sent SMS messages.
I borrowed a friend's Treo Pro and was immediately able to confirm that txtForward works perfectly on the Treo Pro. I've pictured a sample conversation below.
In talking with Steve, he told me:
So the list of devices that work for both Received and Sent SMS forwarding is pretty large..all the HTC, Motorola, Samsung, HP, Ericsson, WM5 and 6 devices etc......the devices that support received forwarding only are just the Palm Treo 7xx ones.
So, the large majority of Windows Mobile devices can use txtForward and enjoy its features!
---
Conclusion
I'm sure there are other uses for txtForward, ingenious uses in fact. I can tell you from my experience that txtForward does exactly what it was designed to do, and does it well! My phone's battery died and I left it charging overnight. When I unplugged it and powered it on and turned on my phone service, I got several beeps indicating I had several missed text messages. These messages hadn't been forwarded to my email, of course, because my phone itself had been turned off and, therefore, txtForward hadn't been able to forward these messages.
You can download txtForward here and run it in demo mode for 10 messages - which should be enough for you to decide if txtForward is right for you. If you're like me and really appreciate how txfForward works, the registration fee is only $19.95. Check it out today!
Criteria

Rating

Features
4
Usability
5
Product Support
5
Cost/Benefit
5
Overall
(not an average)

Pros
forward sent and received texts via email

archive entire conversations

ability to access received texts to your other phone

Cons
forwarding of sent messages not available on select Treo models

slightly confusing to set up
Copyright 1999-2016 TreoCentral. All rights reserved : Terms of Use : Privacy Policy

TREO and TreoCentral are trademarks or registered trademarks of palm, Inc. in the United States and other countries;
the TreoCentral mark and domain name are used under license from palm, Inc.
The views expressed on this website are solely those of the proprietor, or
contributors to the site, and do not necessarily reflect the views of palm, Inc.
Read Merciful by Casey Adolfsson