treocentral.com >> Stories >> Business
Palm Pre landing in a Fertile Market...
Overview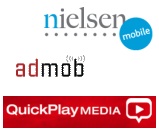 For those of us on Pre-Watch, the highly anticipated smartphone can't get here soon enough. When it finally does arrive (sometime before the end of June 2009), it will find itself in a very fertile market with lots of growth potential beyond Palm aficionados and gadget geeks (hey, I'm one!).
There have been some recent published reports that support this thought.
Contentinople's Aditya Kishore posted a piece on Friday that had some interesting stats:
Nielsen Mobile:
Nielsen Mobile found that unique mobile Internet users grew 30 percent over 2008, from 37 million in January to 48.2 million in December.
According to Nielsen, there were 145 million mobile media consumers, with 127 million using SMS, 70 million downloading mobile content, 48 million using the mobile Internet, and 12 million using mobile video in the U.S.
QuickPlay Media:
Mobile vendor QuickPlay Media, in its 2009 independent Market Tools study found that awareness of mobile media is growing, with 46 percent of respondents aware that their carrier offers a mobile TV and/or video service, up from 35 percent seen in the 2008 survey.

Smartphones are important drivers, with 41 percent of respondents in the QuickPlay study recognizing that they would be more likely to watch mobile video if they owned a multimedia-enabled PDA or smart phone.
38 percent said that if they were considering changing wireless carriers, their ability to offer the latest multimedia-enabled PDA/smart phone would impact their decision to choose that carrier.
Also, a story posted by Jason Ankeny at FierceWireless.com, contained some more interesting numbers:
AdMob:
AdMob, the world's largest and highest quality mobile advertising marketplace, serving more than 4.1 billion mobile banner and text ads per month, recently highlighted smartphone growth in its February 2009 Mobile Metrics Report.
Despite challenging economic conditions, smartphones continued to gain significant market share worldwide over the past six months, rising from 26 percent to 33 percent of requests in February 2009.
Worldwide the top five smartphones are the iPhone, Nokia N70, BlackBerry 8300, Nokia N80, and Nokia N73.
The top five US smartphones are the iPhone, BlackBerry Curve, BlackBerry Pearl, Palm Centro , and HTC Dream (G1). Android accounts for 5 percent of the US smartphone market.
iPhone generated 33 percent of smartphone traffic worldwide and 50 percent in the US.
97 percent of BlackBerry requests came from their OS Version 4.2 or higher. These devices will all have access to BlackBerry App World when it goes live.
Note: The full report is available at admob.com/metrics.
---
The demand is there. The willingness to switch carriers is more likely now than ever before. So if Palm can actually deliver the goods (on time, fully working, in volumes to match demand), and if Sprint can astound the wireless world with quality service and competitive pricing, the timing could actually work out. That's a lot of "ifs" though. One thing that's really obvious is that there are a lot of vendors eyeing this space. Execution is key.
Copyright 1999-2016 TreoCentral. All rights reserved : Terms of Use : Privacy Policy

TREO and TreoCentral are trademarks or registered trademarks of palm, Inc. in the United States and other countries;
the TreoCentral mark and domain name are used under license from palm, Inc.
The views expressed on this website are solely those of the proprietor, or
contributors to the site, and do not necessarily reflect the views of palm, Inc.
Read Merciful by Casey Adolfsson