treocentral.com >> Stories >> Commentary
Treo/Centro Sightings
Overview
Ah, yes, let the Palm smartphone sightings continue! I get a thrill each time I see a Treo or Centro or hear of someone else spotting one. Seems we had a Sprint Treo Pro pop up on the latest episode of "Heroes" on NBC (I haven't had a chance to watch it yet!), and the device was at first thought to be a Palm Pre by some forum members. A big Thanks to forum member wjclint for starting the thread! He says:
It is used by "Rebel" in the train station to cause a diversion by wirelessly hacking into the train station's alarm system so he and Tracy can escape. They only show the top half of the device, but I don't know of any other sprint phones that look like that.
Thanks to cary328is bigredgpk who both posted screen shots, showing that the mystery device was indeed a Sprint Treo Pro.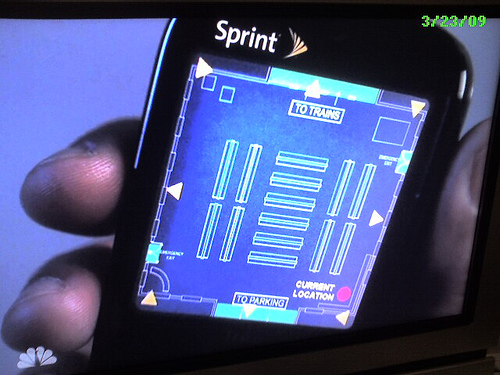 How cool! I can't wait to watch that episode! Wirelessy hacked into a train station's alarm system, huh? Now that sounds like something that Jack Bauer on "24" should be doing. Tsk, tsk, Jack. You shoulda' gotten yourself a Treo Pro this season. I'm still crossing my fingers that you'll drop that Samsung Instinct and switch over to the Palm Pre on Sprint when it's released!
I wouldn't be at all surprised to see a Palm Pre start showing up on some of our favorite shows soon. When they do, we'll surely have the screenshots here for you to drool over!
---
Thanks to Jeff and Rich who both wrote in to let us know that there are some Palm Centros being used on this season's "Celebrity Apprentice" on NBC! Country star Clint Black has been using a Red Centro, and TV Host/Producer Melissa Rivers has been using a Pink Centro.
Below are some screenshots of Clint Black's Red Centro being used, passed around, and held upside down. ;-)
That's R&B singerBrian McKnight taking the Centro from Clint in the vehicle. Looks like Clint is making use of a Bluetooth headset in the last pic. Wonder what brand it is?
Below are some screengrabs of Melissa's Pink Centro being used by Melissa, Claudia Jordan, a model on "Deal or No Deal", poker champion Annie Duke, and Playmate of the Year, Brande Roderick.

We're sure getting a nice eyeful of Centros in this show! Very nice!!
Keep the Treo/Centro sightings coming folks! We've got a contest coming up soon that will be closely connected with Treo/Centro sightings, so keep those eagle eyes open! ;-) We'll fill you in on all the details soon!
Copyright 1999-2016 TreoCentral. All rights reserved : Terms of Use : Privacy Policy

TREO and TreoCentral are trademarks or registered trademarks of palm, Inc. in the United States and other countries;
the TreoCentral mark and domain name are used under license from palm, Inc.
The views expressed on this website are solely those of the proprietor, or
contributors to the site, and do not necessarily reflect the views of palm, Inc.
Read Merciful by Casey Adolfsson