treocentral.com >> Products & Reviews >> Accessories
Jabra's BT530 headset is simply irresistible
Overview
Back last summer, when I got my hands on an Aliph Jawbone 2, I really thought I had reached the top of Bluetooth Everest. There couldn't possibly be a headset that would charm me like that one did... sexy designer looks, awesome "NoiseAssassin" technology, plus it was already considered a status symbol. There was just one problem. The more I used it, the more I hated using it.
Surprised? Well just think about it this way. When you are reviewing something, you pretty much take it for several test drives and then put pen to paper, so to speak. For me, throughout the summer and fall, I found myself either struggling to get it on my ear or more often than not, hitting the wrong button thus inadvertently hanging up on the caller. Plus the "benefit" of having hidden buttons was lost on me, quite literally. Turning it on and off was too much work.
That's why I was curious to try out the Jabra BT530. The company claimed it had "Noise Blackout" technology for reducing unwanted background noise without any compromise to natural voice quality. Clearly, they were positioning it to compete with the Aliph Jawbone 2, so what the heck?
---
Getting Started:
The first major difference between the Aliph Jawbone 2 and the Jabra BT530 is its straightforward packaging. Nothing fancy per se. The headset itself was mounted on a little plastic stand and enclosed in a plastic case (think square dome where you just need to gently remove the base from the top to get at the headset).
That's what you see in the display window. Below it is a square box containing all the extra "goodies": 8 ear gels in three different sizes, 2 ear hooks in two different sizes, an AC charger, a USB charger and a mini quick-start manual which is ideal for those who don't read manuals.
The design on the packaging was attractive and really emphasized this headset's key feature: Noise Blackout ™. Jabra made sure you knew from the packaging that this was one of their SMART series products, which uses cutting-edge technologies to "set you free and bring you closer to perfect sound, comfort and connection." On the other side of the box, it touts SMART BENEFITS that include:
Noise Blackout™ with Dual Microphones
Crystal clear sound and voice (DSP)
Ultimate comfort Eargel™
Ear hook
Up to 5.5 hours talk time
Up to 250 hours standby time
The packaging tells a great story. I guess Jabra has a leg up when it comes to point of sale materials.
Charging it up for initial use was easy. The AC charger that comes with it is one of those skinny ones that doesn't take up too much space. It also can be charged via a USB port or using one of my favorites, the Belkin Mini Surge Protector with USB Charger.
My first thrill was to find that turning it on involved simply sliding a button that was located on the underside of the headset. Yes! No more holding down buttons wondering if it is on or not.
Pairing was a snap too. The very first time you turn the headset on it automatically goes into pairing mode. So all I had to do is make sure my Centro's Bluetooth Wireless Technology was set to "On." Once my Centro saw the BT530, it was very easy to complete the process doing the usual: hitting OK and typing in the generic pin.
---
Design/Comfort:
Before delving into using the BT530, I will highlight some of its design and comfort features.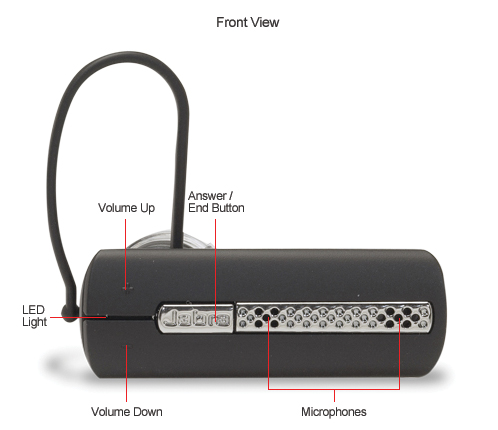 First, the Jabra embossed button is the key to answering and ending calls. You're on or off. It's very straightforward.
Just behind it are two buttons. The plus sign ( ) is for volume up. The minus sign (-) is for volume down. Again, it's very straightforward.
Hidden in front of the Jabra button is a dotted grill-like area that contains duel microphones. We'll talk about these later because as my colleague Dieter would say, they are part of the secret sauce (AKA what makes the Noise Blackout technology work).
The LED light, located between the volume buttons, is very non-obtrusive.
Let's talk about those Eargels. Apparently the version included with the BT530 are actually 3rd generation, so you could say that Jabra has done its homework and has come up with viable options for ensuring comfort.
The BT530 can be used with or without an ear hook. Theirs is quite soft and flexible. But since I had such a bad experience with the Jawbone's ear hook, I figured I'd try Eargel only. I was thrilled to find the default gel had a raised tip that extended comfortably into my ear without slipping.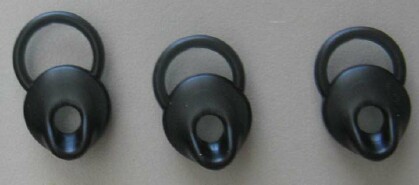 Many of the Eargels that Jabra provides have a soft loop on top, which is supposed to be helpful for holding it in place. Like I said, I did fine with the default gel.
---
The Jeep Test:
Using the BT530 around the house was enjoyable. I especially appreciated how easy it was to put it on to answer a call. Most other Bluetooth headsets, Aliph Jawbone included, involve fumbling around that's very frustrating.
Of course, no test incomplete without a spin in my Jeep. I had to test with the top up since it is still kind of cold and rainy here in Northern California. If you thought wind noise was bad with the top down, imagine how it is with a soft top rattling. I think you get the picture.
So I called my brother who now is used to being my guinea pig for these types of road tests. He said he could hear me fine though he could tell I was in my Jeep. Basically, the Noise Blackout lessened the Jeep effect, but didn't eliminate it entirely.
On my side, I was thrilled to be able to simply push the volume up and down without a struggle. And, I didn't accidentally hang up.
---
More on Noise Blackout...
If you've had lousy Jabra experiences in the past, set those aside and try taking another look. Apparently, the Jabra BT530 is the first Bluetooth headset to have this Noise Blackout™ technology incorporated. The "secret sauce" is a combination of the dual microphones I mentioned, coupled with advanced DSP technology, that identify the source of sound - and then do some kind of magic to enhance your voice, while reducing/obliterating background noise.
My suggestion is that you do a little homework and check it out for yourself. The folks at Jabra have done an excellent job on their website demonstrating the Noise Blackout technology.
---
Conclusion
The Jabra BT530 may not have a sexy name like the Aliph Jawbone. And it certainly doesn't claim to have been designed by someone as famous as Yves Behar. Rather, the Jabra BT30 is more like an Acura. It's functional, comfortable, and handles the job of reducing background noise quite well. Plus it costs $30 less than that BMW-like Jawbone 2. In my eyes (and ears), the BT530 is simply irresistible! Furthermore, I am glad that Jabra has created a product that can hold its own against the Aliph Jawbone 2. For the consumer, the battle between these two companies can only lead to more innovations - and a greatly improved experience for those on either side of the call.
Criteria

Rating

Design/Comfort
5
Features/Sound Quality
4
Usability
5
Cost/Benefit
5
Overall
(not an average)

Pros
Easy to use (put on and operate)

Extremely comfortable to wear

Does a great job canceling out background noise

The price is right!!

Cons
May be too tiny for its own good (i.e. easily lost)

Not exactly a fashion statement
Copyright 1999-2016 TreoCentral. All rights reserved : Terms of Use : Privacy Policy

TREO and TreoCentral are trademarks or registered trademarks of palm, Inc. in the United States and other countries;
the TreoCentral mark and domain name are used under license from palm, Inc.
The views expressed on this website are solely those of the proprietor, or
contributors to the site, and do not necessarily reflect the views of palm, Inc.
Read Merciful by Casey Adolfsson