treocentral.com >> Stories >> Software
Spb Mobile Shell 3.0
Overview
April 21, 2009 - The world's number one bestselling application of 2008 among all mobile platforms (according to Handango Yardstick) has been updated to version 3.0!
Spb Mobile Shell 3.0, by Spb Mobile, is the next-generation user interface for Windows phones. Not only was it declared the number one best seller by Handango Yardstick, but it was recognized as the best mobile program of 2007 by SIA (Security Industry Association) - not bad!
Spb Mobile Shell is like 2 apps in one - with a home scenario as well as an office scenario. From the Spb Mobile Website:
The application offers distinctive 'professional' and 'lifestyle' desktops, integration of picture contacts with Facebook, account-sensitive email indicators, handsome time and weather screens, widgets, responsive kinetic scrolling, signature 3D animation engine, and other appealing assets that change the way a Windows phone is used altogether.
Reading the user manual, I found this:
Spb Mobile Shell introduces the next generation of a user interface while keeping all the advantages of a Windows Mobile device. Spb Mobile Shell 3.0 brings the perfect usability balance to Windows Mobile touch screen devices. You will be able, while only using one hand, to get information, launch programs, make calls and navigate your device in a simple and flexible manner. Enjoy your Windows Mobile phone!
Below are some screenshots of the widgets in Mobile Shell 3.0.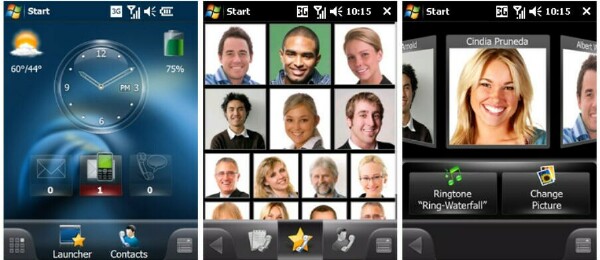 Man, they sure make this app sound good! One feature I found very interesting is that the lists in Spb Mobile Shell are kinetic! According to the user manual, the scrolling the lists of Spb Mobile Shell with flicking gestures feel like moving a wheel and more natural than the conventional approach of scroll bars. This feature is fully implemented in all of Spb Mobile Shell panels and lists. This type of flicking gesture sounds like it'd be very similar to the flicking gestures on an iPhone - where you can touch the screen and 'flick' the list and it scrolls up or down, which is a great effect! The use of widgets is also a great inclusion, as it's nice to have a single point of interaction for manipulating your data. The widgets in Windows Vista, for example, are a great addition to the OS! Some uses for widgets include Media Player, Profiles, Weather, Clock with world time, Wireless Manager and Calendar with 2 weeks agenda view.
Spb Mobile Shell 3.0 Main Features:
Professional and Lifestyle home screens (for work and for play)
Widgets
Widget-based photo contacts with Facebook integration
3D carousel and hardware accelerator support
Ringtones, Contacts, Profiles, and Wireless management
Many integrated tools such as Weather, World Time, etc.
Highly customizable for the needs of phone makers and mobile operators
Want to dramatically improve the standard user interface and add features that most users expect from a modern PDA phone? Look no further! Spb Mobile Shell 3.0 is available in the TreoCentral store for $29.95 for Windows Mobile 5.0, Windows Mobile 6 or Windows Mobile 6.1 devices! Want to try it before you buy it? You can download the trial version and decide if Spb Mobile Shell 3.0 is for you!
Check it out!
Copyright 1999-2016 TreoCentral. All rights reserved : Terms of Use : Privacy Policy

TREO and TreoCentral are trademarks or registered trademarks of palm, Inc. in the United States and other countries;
the TreoCentral mark and domain name are used under license from palm, Inc.
The views expressed on this website are solely those of the proprietor, or
contributors to the site, and do not necessarily reflect the views of palm, Inc.
Read Merciful by Casey Adolfsson