treocentral.com >> Products & Reviews >> Accessories
iharmonix Platinum i-Series Stereo Earphones for Palm Pre/Treo Pro
Overview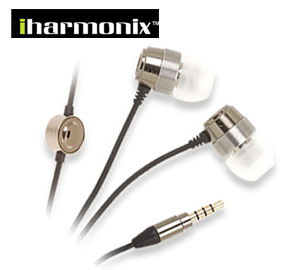 Owning quite a few 'gadgets', aka cell phones, I also have quite the few wireless speakers, headsets and earphones! While I enjoy Bluetooth devices, sometimes I just wanna 'connect' with my phone while I'm on a call or listening to music, ya know? Well, looking for a new set of earphones for my Treo Pro and my iPhone/iPod, I found the iharmonix Platinum i-Series Stereo Earphones. Read on for my review of these awesome earphones!
Brief Features of the iharmonix Earphones:
Inline microphone for hands-free calling
Multi function button for send/end and pause music
Gold plated 3.5mm audio / voice DC jack
Advanced sonic accuracy
11mm driver unit
Super bass
Brushed stainless steel casing
Polished gun metal alloy finish
Includes soft ear gels in 3 sizes for a comfortable fit
Deluxe stylish design
---
In the Box
The iharmonix i-Series earphones come in a round, clear plastic circle attached to cardboard backing, a cool color combination that catches the eye. Inside the box were the earphones, a soft touch carry pouch, warranty card with brief instructions on using the earphones and 3 pairs of soft ear gels. There is 1 pair of large gels, 1 pair of medium gels and 1 pair of small gels. I prefer the small.
Any time there's a storage pouch or box, I'm always glad to see them, as some items come with a LOT of accessories!
---
Using the Earphones
I love the fact that iharmonix included 3 different sizes of ear buds, as not everyone has the same size ear canals, something a lot of manufacturers still don't realize!! I find either the large for a very snug fit is nice or at other times I prefer the smallest buds, as they easily fit into my ear without feeling crammed. Be warned though, these earphones are heavy for their size. Being made of metal, they do tend to come out of your ears if you move around a lot, such as would be the case if you were moving faster than a walk, which basically rules out jogging with these earphones unless you find another way to secure them to your ears.
Another thing I liked immediately about the iharmonix earphones is that they fit my iPod Touch perfectly, something I really, really enjoy! As owners of earlier generation iPods may be familiar, it's not always easy finding a pair of earphones that fit the iPod just right. I've tried many a pair that the plug was either a bit loose, or just wouldn't stay connected flush and the sound would cut out oft times. Of course, the earphones fit my Treo Pro perfectly, too! Also, since the earphones are compatible with the upcoming Palm Pre, I can use them when I get my hands on one of those sweet smartphones too!
I was eager to test the earphones out to see how good my music would sound! Well, the sound quality is unsurpassed for the size of the earphones! I guess you could pay MUCH more for a pair of earphones that are larger and give more bass response, but why when this awesome pair brings your music so alive! As for bass reflex, being so small, of course the iharmonix can't deliver the powerful bass of much larger earphones. But, the sound is Very good! Some earphones this size produce a sound that sounds 'tinny' - the iharmonix is a good compromise, delivering ample bass and clear treble for a nice mix!
iharmonix placed the microphone as an inline, multi-function button, which is placed perfectly for picking up your voice while on a call. The button also serves as a send/end button as well as to pausing/resuming your music. I suppose it could be the quality of the inline mic, but I'm telling you, I've never had a voice commanded dial go as smoothly as I did with my iharmonix Platinum i-Series earphones! It practically shocked me when I held my side button, said "call home" and it dialed on the very first attempt! That's unheard of, at least for a southerner like me, LoL! A great feature of the earphones is that when you're listening to music and a call comes in, the music is paused as you tap the multi-function button to answer the call. The music will also resume when your call is ended. Pretty sweet! You can also use the button to pause and resume music at any time, not just while on a call.
You'll probably also like the black, Soft Touch carrying case that is included. You can store the earphones and extra gels you're not using so they don't get misplaced. Man alive, it's easy to lose ear gels, ear hooks, etc. if you don't have a place to put them! I'm sure some of you are familiar with what I'm talking about LOL!
---
Conclusion
As I mentioned earlier, the inline microphone makes for good, clear conversations. My mother remarked how clearly she could hear me and I told her how small the earphones were and let her try them out. She loved them! I'm sure the gold plating goes a long way toward delivering the crystal clear conversations possible, as the gold plating ensures one of the cleanest connections available. Mom also mentioned how much she liked the gun metal alloy finish in contrast to the black and silver AND the white ear gels! The iharmonix i-Series earphones are quite distinctive looking to be sure!
Yes, the earphones just look great and sometimes that's important. I've used some earphones around the house that I'd REALLY have to think twice about wearing out into the public eye, LoL! You know the kind I mean. Big, bulky and oddly colored? Ugh! Then there's the 'toy' looking type. The kind that looks cheap and look like they'd be part of a Barbie earphone mock-up. But, some of them are just soooo comfy! The iharmonix aren't bulky and the color scheme is great AND of course, the sound is top-notch to boot! It's a win-win situation all around!! Head over to the TreoCentral store and check out the iharmonix Platinum i-Series Stereo Earphones today.
Criteria

Rating

Design
5
Comfort
4
Usability
5
Features
5
Overall
(not an average)

Pros
Sleek, gorgeous design

Excellent sound

Top-notch mic for crystal clear conversations

Multi-function mic/button for voice calls and pausing/playing music

Cons
a tad heavy and could dislodge from your ears
Copyright 1999-2016 TreoCentral. All rights reserved : Terms of Use : Privacy Policy

TREO and TreoCentral are trademarks or registered trademarks of palm, Inc. in the United States and other countries;
the TreoCentral mark and domain name are used under license from palm, Inc.
The views expressed on this website are solely those of the proprietor, or
contributors to the site, and do not necessarily reflect the views of palm, Inc.
Read Merciful by Casey Adolfsson