treocentral.com >> Products & Reviews >> Accessories
blueparrott Roadwarrior B250
Overview
The blueparrott Roadwarrior™ B250 wireless Headset from VXI Corporation is marketed to Truck Drivers and others who work in noisy environments. And let me tell you, it DOES block background noise! It is amazing. Even if you're not a truck driver, you know how noisy it can be even in a small sized car or truck. I drive a little VW Beetle, but with the windows down and going down the highway, there's plenty of noise. I used my trusty Palm Centro to test the blueparrott Roadwarrior™ B250.
---
In the box
The Roadwarrior™ B250 wireless headset comes in a clear plastic clamshell with a clear plastic insert molded to fit all the components. Inside we have the actual headset with leatherette ear cushion and a spare foam ear cushion inside a small plastic baggie, a power cord, auxiliary power cord, a bright yellow tech support note with phone number, quick operation tips card, warranty info, a full sheet warning of the dangers of excessive volume levels and a very clever user guide. I love the fact that the user guide saves paper by being one sheet folded into a perfect square with numbered steps printed on each square. The directions are easy to follow. You can also read the online User Guide in .pdf format.
---
Using the headset
I wasn't sure how I'd like an over-the-ear headset, but the Roadwarrior B250 looked enticing and the description sure sounded good. Awe, and isn't the little blue parrott emblem cute? I love it! I'm always happy to try out a new Bluetooth headset anyway. Plus, I want to be sure to drive with both hands on the wheel instead of fumbling around with my Palm smartphone in my car. I see so many people on the roads weaving around due to the cell phone plastered to the side of their face with one of their hands. And don't even get me started on the nut jobs that drive around texting while driving. Sheesh! Just how important is that text that it can't wait until you are not in a moving vehicle to send it? Try a Bluetooth headset and chat all you want while you're driving. End of rant. ;-)
Headset Controls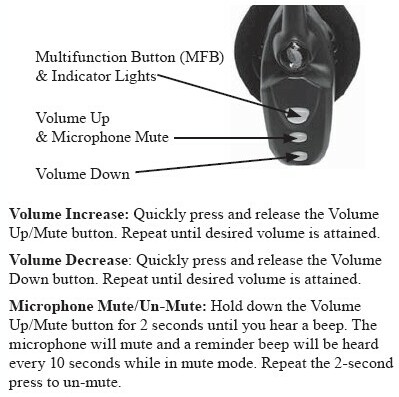 So anyway, the B250 needs to be charged for 12 full hours before its first use. There are 3 buttons on the headset: the MFB with its indicator lights and a volume up (also the speaker mute button) and a volume down. Once you synch the headset to your cell phone, you can answer your phone with the headset with the touch of a button (the "MFB" or multifunction button, that is.) The MFB is used to turn the headset on and off, answer a call, make a call, and hang up the phone. Its indicator lights show if the battery is charged, if it needs charging, if a call is incoming and if the headset is in use.
Check out the features on the B250:
Premium microphone
Superior speaker volume
Comfortable – wear all day
Professional grade noise canceling microphone blocks background noise
Adjustable headband ensures personal fit
Concave ear cushion for comfort and improved sound
Left or right side microphone placement
Multifunction button & indicator lights
Volume adjustments & microphone mute
Includes wall and auto auxiliary charging cords
Include both foam and leatherette ear cushions
Flexible "gooseneck" boom adjusts precisely and easily
1 year warranty
Can be paired with up to eight devices, including computers
Last number redial
Reject a call
voice dial
transfer audio
talk time duration 10 hours on a 12 hour charge
standby time duration: up to 100 hours on a 12 hr charge
---
Sound Quality
I have a friend who owns a 50cc motor scooter and we took the blue parrot for a "test drive." She called me with her cell phone while wearing the blue parrot headset (DO NOT TRY THIS AT HOME!). Her voice came through crystal clear with NO background noise at all! I could not even hear the wind whipping around her head or the drone of her little engine! I guess that shouldn't be surprising since the B250 is loved by many truckers. We all know how loud those huge growling machines can be.
In a more normal setting, the headset works beautifully. The sound is unbelievable on both ends of the phone. It is easy to use. The gooseneck microphone can be swiveled or repositioned however best suits your needs. I like to swing it up over my head when I'm driving and not using it.
As if this weren't enough, the blueparrott is comfortable enough to wear all day. You even forget you have it on! That's a big deal to me because I don't like pain. And let me tell you, I have worn some pretty uncomfortable headsets. If a headset doesn't come with different sized earbuds, its either very comfortable or a torture device.
The B250 will synch with any Bluetooth enabled cell phone or computer and can be paired with up to eight devices at a time. And you get 10 hours of talk time out of a full charge. Plus, you get a range of more than 66 feet. Not bad.
---
Conclusion
The blueparrott Roadwarrior™ B250 wireless Headset, sounds great, is easy to use and is comfortable. The only downside I found with the blueparrot is that you cannot use it while it is charging. Also, it would be helpful for me to have some sort of case to carry it in (inside my purse) but I don't suppose this poses a problem with many truckers.
The blueparrott Roadwarrior™ B250 is currently sold out on the VXI website, but you can get one at amazon.com for $89.99. And the B250 is available at leading Truck Stops, including any Love's location, and etailers nationwide.
Criteria

Rating

Design/Comfort
5
Usability
5
Features
4
Cost/Benefit
5
Overall
(not an average)

Pros
Crystal clear sound/deletes all background noise

Easy to use

Comfortable

Comes with everything you need, including 2 types of ear cushions

Can use with up to 8 devices

Voice dial

Adjustable microphone

Can be worn left or right

Cons
Cannot use while it is charging

No storage case
Copyright 1999-2016 TreoCentral. All rights reserved : Terms of Use : Privacy Policy

TREO and TreoCentral are trademarks or registered trademarks of palm, Inc. in the United States and other countries;
the TreoCentral mark and domain name are used under license from palm, Inc.
The views expressed on this website are solely those of the proprietor, or
contributors to the site, and do not necessarily reflect the views of palm, Inc.
Read Merciful by Casey Adolfsson