treocentral.com >> Products & Reviews >> Software
eReader on the Centro - A "Kindle-Lite" Experience
Introduction
Amazon's Kindle has a lot going for it, including a hefty price tag ($359). It has a sizable screen (6" diagonal e-ink) and overall dimensions (8" x 5.3" x 0.36") that more closely resemble a business paperback like Stephen Covey's "The 7 Habits of Highly Effective People," but much thicker.

The Palm Centro is quite tiny, comparably speaking, with a screen size of 2.25" diagonal and overall dimensions of 4.22" x 2.11" x 0.73". It wasn't born to be a device for reading electronic books, but can do that function in a pinch thanks to software from Fictionwise (now part of Barnes & Noble) called eReader Pro for Palm OS which can be downloaded for free. By setting up an account at eReader.com, you can gain access to all kinds of contemporary fiction, non-fiction books and magazines with pricing that ranges from free for many classics, to New York Times Bestsellers at $9.95, to many recent releases like "In-N-Out Burger" by Stacy Perman, which sells for $22.45.

The eReader viewer (eReader Pro for Palm OS) is a fairly intuitive program for viewing eReader electronic books (eBooks) on the Palm Centro or other Palm OS based handhelds. Part of its "Pro-ness" is the added support for additional fonts, color themes, reference books, and formatting options. According to the eReader.com website, these are features that will need a registration code to keep activated after an initial trial period.

Function not Fancy! For testing purposes, my game plan was to test the no frills eReader (Note: Fancy fonts retail at $14.95).
---
Getting Started
After setting up an eReader account, downloading the eReader viewer app was a very straightforward process. You can obtain it either at the TreoCentral software store or on the eReader.com home page, where you will see the link for the download on the upper left column.
The PRC file takes up 652K of memory and since I had room, I let it reside on my Centro.
The real fun begins once you get some books downloaded. I decided to browse what was available in eReader's "Free eBook" section and was thrilled to find "The Call of the Wild" by Jack London. That was a book I always meant to read but never had the chance. Since it was a mere 107KB in size, I added it to my Shopping Cart and proceeded to the Check Out.
eReader has created a "Bookshelf" for you which has all the books you've obtained (Free or bought) from them. When you click the "Download" button, your selection will be deposited on your computer's desktop where you can load it using the normal "Install Handheld Files" procedure.
When eReader is launched, it will default to the last book you were reading. In this case, it opened "The Call of the Wild" since that was the only book available.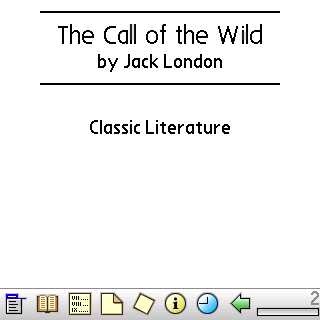 The process was quick and painless.
---
Practical Use - Down time at a Doctor's Office
Normally, I am not the type of person who enjoys reading books off a screen. I like the whole process of page turning, underlining and scribbling notes wherever I see fit (Yeah, I'm kind of a terror when it comes to real books). So I wasn't sure when I'd actually have the opportunity to try out the eReader viewer. Nothing like a wait in a doctor's office that has bunches of magazines but nothing of interest to create the perfect eBook moment (or minutes as the case was since I sat there for nearly 20 waiting my turn).
So I tapped the eReader icon and got started. Page 1 was a promo for Fictionwise. I quickly figured out that to turn pages, I just needed to press the right side of my Centro's D-Pad. I quickly advanced through the title page, the copyright notification page, and landed on page 4, the true beginning.
"Buck did not read newspapers or he would have known that trouble was brewing..."
What a great opening!
I studied the screen to see if I needed to scroll down to read more. There was no indication, so I tried pressing on the right D-Pad again and found the sentence continued smoothly. I smiled at how easy and painless this was. There are 13 lines per page, and with London's writing prodding me on, I found myself 25 pages into the story by the time it was my turn to see the doctor.
For sure, you get a great sense of accomplishment having knocked down so many "pages" in such a short period of time. The little screen didn't bother me at all. I'd say the only frustrating thing I ran into during my first tryout was the screen blanking out on me. More on that later.
---
Stepping Back: A Closer Look at Features
When I returned to my eBook, I decided I should look at what the icons on the bottom of the screen were all about. From left to right, there are eight icons followed by an indicator of what page you are on: Menu, Open, Table of Contents, Bookmarks, Notes, Info, Time/Battery indicator, and a Back key.
Menu functions the same as hitting the regular menu key on the Centro. It brings up options across the top of the screen: Book, Go, Options.
Open is a listing of books available. On this screen you can scroll through and tap on Open, Info or Cancel.
Note, all the options presented are touchscreen sensitive, so I found myself just tapping the screen to maneuver. Besides, the D-Pad didn't seem to work too well here.
Contents lets you skip chapters by using the Go To button. There are seven chapters to "The Call of the Wild." Tapping Info gives you an idea of how many pages are in the chapter. There are 49 in the first chapter of "Call," so that meant I read half a chapter while I waited.
Bookmarks and Notes work hand in hand. In fact, I found this to be much better than my old underlining and scribbling technique.
You can copy/paste quotes easily. All I did was highlight a section using a stylus. A screen popped up that offered the following options:
Look Up
Find
Highlight
Add Note
Copy Quote
Preferences...
So I tapped Copy Quote and then opened the Note page. I tapped the Add button and then pasted it in using Menu-P command. The Note page had already auto-filled what page the quote came from.
That was really fun and easy. The Highlight function was nifty too. I used the stylus to identify the words I wanted to stand out, and then tapped Highlight. They now appear in a purple color.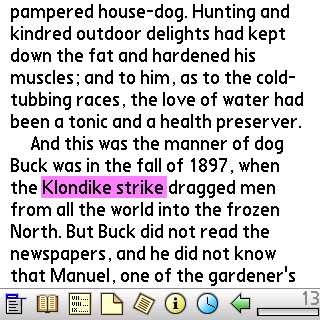 The Find function, which can be triggered by using Menu-F (It is part of the submenu that appears Go on the top of the screen), is actually quite speedy. To test it, I advanced 30 or so pages into the eBook and then asked for it to find "Klondike." It first went to the Klondike word I highlighted. When I did "Find Again," it skipped up to page 205. Awesome!
I decided to bookmark it. eReader auto-filled p205 Chapter V for me. I added the word "Klondike" for reference.
There are a few other menu things I'd like to point out. The "Info" button tells you the title, current page you are on, the total number of pages and lets you set a category for your eBook. I decided to create a new one since Business and Personal were too vague. London's work is a classic, so "Classics" it is.
To the right of the Info icon is the icon for battery. Since the eBook commands the whole screen, you really have no idea how much life you have left in your battery. It would be a shame to have sucked it down to zero and then not be able to take a call or log something onto your calendar. This handy icon provides a great way to check.
---
That Screen Dimming Thing
As mentioned above, I found the auto-screen dimming on my Centro to be the most frustrating part of using the eReader. So I set off to solve that problem. Bailing out of the app, I went to my Centro's menu and loaded Preferences (AKA Prefs). Under the General category I hit Power. I studied my options closely and determined that I needed to adjust the Auto-off to increase it from 30 seconds to at least a minute (note: there are 2 minutes and 3 minutes options). I figured I would try that while simultaneously lowering the brightness of the screen. The tradeoff seemed to work fine.
---
Conclusion
I was really impressed with eReader for Palm OS. It breathes new life into my Centro and let's me participate in a growing market (eBooks) while avoiding the cash outlay of a Kindle. An investment in a microSD card would be mandatory if you want to carry a lot of books or periodicals. But if you are into keeping things simple, the eReader for Palm OS is awesome and will definitely help you make the most of "dead time" (like waiting for the doctor). Plus, the joy of rediscovering classics like the works of Jack London is truly priceless!

###

Note: Sam, one of our readers, has kindly let us know that if you use the autoscroll feature, the screen will not blank on you. The screen will stay on until you stop the scrolling feature (it will then time-out at whatever the default interval you have set in preferences) or the battery gets too low and the device powers off. The autoscroll feature is quite easy to get used to, and you'll find yourself reading faster and faster before too long. Thanks Sam!





Criteria

Rating

Design
3
Usability
3
User Interface
3
Cost/Benefit
3
Overall
(not an average)

Pros
Nice app that gives your Centro something else to do

Lets you cost-effectively try out the world of eBooks

Tailored nicely for use with the Centro D-Pad

Cons
Eyes beware! You ARE reading on a small screen

Screen Preferences do not include adjustments to Auto-off status

Actually need the stylus to make some features work
Copyright 1999-2016 TreoCentral. All rights reserved : Terms of Use : Privacy Policy

TREO and TreoCentral are trademarks or registered trademarks of palm, Inc. in the United States and other countries;
the TreoCentral mark and domain name are used under license from palm, Inc.
The views expressed on this website are solely those of the proprietor, or
contributors to the site, and do not necessarily reflect the views of palm, Inc.
Read Merciful by Casey Adolfsson