treocentral.com >> Products & Reviews >> Accessories
Samsung SBH600 Bluetooth Stereo Headset
Overview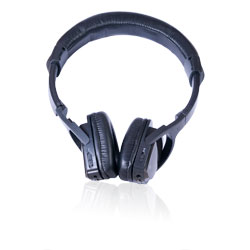 Earbuds are great for portability, but let's face it: for sound quality, they're no match for a full-size headset. A good headset couples over the ears to seal out ambient sound, and the headphones are large enough to get some real amplification and noise reduction circuitry in there, which is especially important with wireless models.
Since I'm still rockin' the Centro, with its annoying 2.5mm headset jack, I've wanted a decent A2DP stereo headset for quite a while. Most of the models I've reviewed a earbud-based, and in since they try to cram quite a bit of electronics in a small package, they're almost always uncomfortably heavy. Behind-the-ear one-piece headsets suffer from the same problem, only more so. They're generally terrible when it comes to proper weight distribution.
So I was excited to get my hands on the Samsung SBH600 Stereo Headset, a padded over-the-head model that looked like serious business right from the beginning. But looks can be deceiving, so let's take a test drive.
---
What's Included
The SBH600 isn't missing much, except for a car charger and a USB charger. These chargers are becoming endangered species in Bluetooth headset packages, probably to maintain a reasonable profit margin, but in a product as pricey as this one, it's a little hard to accept. In the box you get:
The SBH600 headset
A travel adapter
A pouch
A 3.5mm male-to-male line-in cable
A User's Guide
The 3.5mm line-in cable is a terrific inclusion. I can use the headset wirelessly for my Centro or wired when I'm sitting at my laptop.
---
Design and Comfort
One of the nicest things about full-size headsets is the easy access they give you to the controls. The right earpiece has a nice, large talk/end button along the outer rim, and the left earpiece has a similarly designed play/pause button. It takes a couple of usages to remember their position, but afterward it's very intuitive. In addition to the talk button, the right side has a volume rocker along the bottom edge. The left side mirrors this with a track navigation button.
The headband, or what Samsung calls the "neckband" for some reason, keeps the headset securely fastened to your head. Without bending the headband outward, the headset can be a tight fit for an average-size head, but a few days of wear will break it in naturally for a very comfortable fit.
As mentioned, the SBH600 makes a great wired headset. It's a lot less cumbersome to attach the audio cable as needed than have it permanently attached to the headphone like standard wired headset. I wish more non-Bluetooth headsets were designed along the same lines.
---
Voice and Music Quality
The sound quality of the SBH600 is almost perfect. I actually thought it was perfect, until a couple of friends I called asked me to speak up. One of them told me I sounded like I was talking from a distance. A voice mail test indicated that I simply needed to pump up the volume a little, and afterwards, the complaints disappeared. The only problem on my end was that I had to listen to callers at a higher volume that I would have preferred, but nothing uncomfortably loud. The noise reduction and echo cancellation worked flawlessly.
Wired or wireless, this headset is incredible for music playback. I've found myself listening to more music on my laptop while working, only realizing later that the increase in listening was due to the terrific experience I had with these headphones. While I failed to detect any 3D Sound enhancement that Samsung alleges, the bass enhancement is definitely in evidence, providing a very robust sound.
---
Conclusion
I absolutely love the SBH600. With Bluetooth headsets, you very often don't get what you pay for. Many premium-priced products don't provide premium performance. The SBH600, on the other hand, is worth every penny. Steal this headset! Well, OK, buy it, but know that it's a steal. It's now the default pair of earphones that go in my bag.
Criteria

Rating

Design/Comfort
5
Features
5
Sound Quality
5
Cost/Benefit
4
Overall
(not an average)

Pros
First-rate sound quality

3.5mm jack and cable for wired usage

Well-placed buttons

Embedded microphone for voice

Cons
Expensive

Microphone requires volume boost
Copyright 1999-2016 TreoCentral. All rights reserved : Terms of Use : Privacy Policy

TREO and TreoCentral are trademarks or registered trademarks of palm, Inc. in the United States and other countries;
the TreoCentral mark and domain name are used under license from palm, Inc.
The views expressed on this website are solely those of the proprietor, or
contributors to the site, and do not necessarily reflect the views of palm, Inc.
Read Merciful by Casey Adolfsson