treocentral.com >> Products & Reviews >> Accessories
Voyager PRO: Weighing the Trade-offs for Superb Sound
What the Voyager PRO Does Well...

So let's talk about some of the things Plantronics does right with the Voyager PRO.

Pairing: First of all, pairing was a snap. Seriously! Getting it to talk to the Palm Centro was extremely simple and quick. I also tried it with the Palm Pre and was equally impressed.

Battery Status Warnings: Next, and Plantronics deserves big points for this, they designed-in a way so you can easily tell how much juice is left in the headset. The spec says its Talk Time is up to 6 hours and Standby Time is up to 5 days/120 hours. But how the heck do you know when it needs a recharge besides that awkward moment when you go to jump on your wireless (perhaps to comply with the law) and find it non-responsive? So here's the deal... The Voyager PRO uses a combination of LED and Tone to keep you in the know.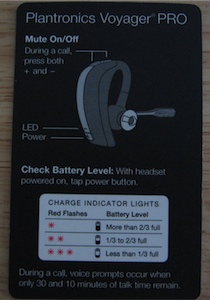 Wallet-size "Reminder" Card: The Voyager PRO has this really cool information card that fits nicely in your wallet. One side guides you through pairing. The other side reminds you of what the buttons do (Mute On/Off on the top, LED on the side and Power indicator). It also covers what the battery status flashes mean. This is awesome and something that would have been really helpful with the Jawbone.

So far, so good, right?

The Weigh-in: The Plantronics marketing materials claim the Voyager PRO is comfortable. Many reviewers, like CNET's Nicole Lee , have also said it is comfortable. That may be true, but not for someone with small ears. Packing that much technology into the Voyager PRO adds a whopping 8 grams compared to the Aliph Jawbone 2: 18 grams (17.5 rounded up) vs. 10 grams. The difference is HUGE! When I tested it, I was so uncomfortable that I wasn't able to fully enjoy all that sound/wind engineering. Word to the wise... keep weight in mind when you shop for a Bluetooth headset.



Jeep Test: Using the Voyager PRO in the harshest of conditions (65 mph over the San Rafael Bridge with the top down), I found that it was adequate but not outstanding.

Conclusion: The Voyager PRO does a lot of things right and is a truly a competitive offering. Just make sure weigh your options carefully.



Criteria

Rating

Cost/Benefit
5
Protection
4
Usability
4
Design
4
Overall
(not an average)
Copyright 1999-2016 TreoCentral. All rights reserved : Terms of Use : Privacy Policy

TREO and TreoCentral are trademarks or registered trademarks of palm, Inc. in the United States and other countries;
the TreoCentral mark and domain name are used under license from palm, Inc.
The views expressed on this website are solely those of the proprietor, or
contributors to the site, and do not necessarily reflect the views of palm, Inc.
Read Merciful by Casey Adolfsson