treocentral.com >> Stories >> Commentary
ZDNet's Take on Top 11 Smartphones


ZDNet's Matthew Miller wrote a story about the top 10 smartphone that are out there for you to consider now that the "holiday" releases have happened.

The 10 turned to 11 as he received a ton of pushback due to the HTC DROID Incredible being left off the list.

Coming in at Number 8, is the Palm Pre 2.

The Palm Pre and webOS were announced back at CES in January 2009 and we have had a couple iterations of the same form factor. The hardware has been rather poor quality so far while the webOS operating system is fantastic. The upcoming Palm Pre 2 looks to continue with the same form factor (3.1 inch display and slide-up portrait QWERTY keyboard), with a couple internal improvements. The Pre 2 has a 1 GHz processor and 5 megapixel camera with flash.

It remains to be seen whether or not Palm has worked out the quality issues with the keyboard and hardware, but I have to rank this new device in the top 10 because I think the webOS operating system may just be the best available today.

Applications are being released on a fairly regular basis too so I don't think there is much worry about application support for the platform any longer. There is no price yet for the Palm Pre 2, but will launch on Verizon and will likely be at the $199.99 level too.

He also made the following comment:

HP (ex Palm) and their webOS is one of the most enjoyable mobile platforms I have ever used, but they are having trouble getting good hardware out on carriers.

Lastly, if you check out the poll, the Palm Pre 2 got a lot of votes. However, as noted in the comments, it isn't clear how many folks voted.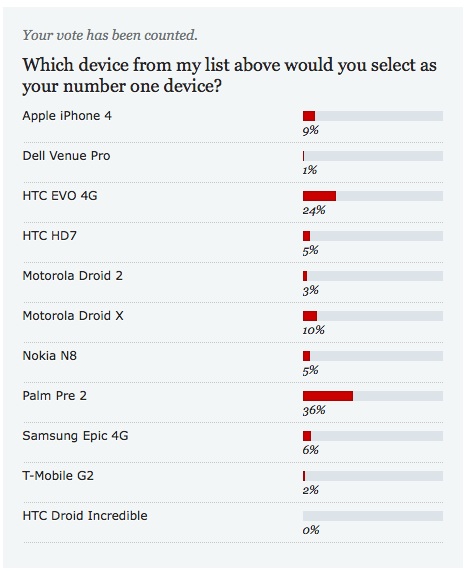 ###




Copyright 1999-2016 TreoCentral. All rights reserved : Terms of Use : Privacy Policy

TREO and TreoCentral are trademarks or registered trademarks of palm, Inc. in the United States and other countries;
the TreoCentral mark and domain name are used under license from palm, Inc.
The views expressed on this website are solely those of the proprietor, or
contributors to the site, and do not necessarily reflect the views of palm, Inc.
Read Merciful by Casey Adolfsson