treocentral.com >> Stories >> Hardware
10% off Treo and Centro Accessories for Cyber Monday
10% off!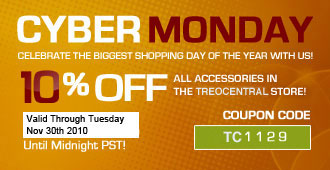 It's Cyber Monday! To mark the biggest online shopping day of the year, the TreoCentral Accessory Store is offering everybody 10% off everything in the store.
Use Coupon Code TC1129 to get 10% off all Treo and Centro accessories in the TreoCentral Store. Valid until midnight PST on Tuesday, November 30th.
Get the Batteries, Cases, and Screen protectors you need to keep your Treo fresh. Be sure to check out the wide selection of Centro Accessories as well.
Copyright 1999-2016 TreoCentral. All rights reserved : Terms of Use : Privacy Policy

TREO and TreoCentral are trademarks or registered trademarks of palm, Inc. in the United States and other countries;
the TreoCentral mark and domain name are used under license from palm, Inc.
The views expressed on this website are solely those of the proprietor, or
contributors to the site, and do not necessarily reflect the views of palm, Inc.
Read Merciful by Casey Adolfsson