treocentral.com >> Stories >> Business
Trend: From e-Commerce to m-Commerce



According to research from Yahoo! and Nielsen, those folks in the U.S. who are using the Web from their mobile device expect shopping-related activities via their mobile to pick up and, in many circumstances, be more popular on mobile than they currently are on PCs.

Some notable findings:

>> Dining-related activities are expected to become more popular on the m-commerce channel. Already, mobile internet users conducting dining research and shopping activities most often use mobile location-based services when doing so, taking advantage of the GPS on mobile devices to find a place to eat while they are out and about.

>> Travel-related activities may occur more on mobile devices than PCs, indicating users are now thinking beyond the research and purchase phase to their need to stay connected and informed while their trip is under way.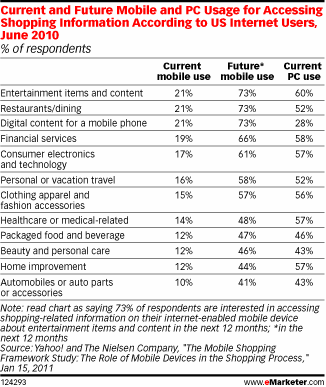 Source: eMarketer.com




Copyright 1999-2016 TreoCentral. All rights reserved : Terms of Use : Privacy Policy

TREO and TreoCentral are trademarks or registered trademarks of palm, Inc. in the United States and other countries;
the TreoCentral mark and domain name are used under license from palm, Inc.
The views expressed on this website are solely those of the proprietor, or
contributors to the site, and do not necessarily reflect the views of palm, Inc.
Read Merciful by Casey Adolfsson