treocentral.com >> Stories >> Software
GSM Mail comes to Sprint Treo 600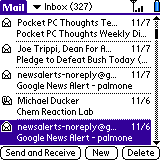 PalmOne today released a beta of their excellent GSM mail app for Sprint Treo 600 devices. This is the same app that was leaked on several forums online recently. You can download it here. A list of support questions related to the Mail application can be found here.

"palmOne is pleased to announce the beta version of our POP3 Mail application for Treo 600 (Sprint PCS). This software allows you to send and receive POP3 email on the Sprint PCS Treo 600 smartphone."

Currently this software is in beta, a final version will be available in early 2004. Sprint Treo owners know that PalmOne did not include a free POP3 mail client with their device, instead users are directed to download and pay for Sprint PCS's Business connect. In the upcoming GSM Treo 600 review we will take a indepth look at this program.


The Handspring Mail app is a full featured POP3 mail client that allows auto delivery (see right), attachments, and more. Its user interface is like that of TreoMail, or SnapperMail.

Update: There appears to be a small bug with this version of mail. When setting up accounts, one can only select to create an account with AT&T Worldnet, BellSouth, Comcast, Earthlink, SBC, or Yahoo. On the GSM version there is also an Other setting. However, one can still use any pop server, as Brooose writes "You can set up email accounts that are not on the drop down list. In the initial setup, pretend it is a yahoo account. Once it is set up, from the main menu, select edit account. Choose the yahoo account and edit. You can then rename it and manually configure the incoming and outgoing servers."




Copyright 1999-2016 TreoCentral. All rights reserved : Terms of Use : Privacy Policy

TREO and TreoCentral are trademarks or registered trademarks of palm, Inc. in the United States and other countries;
the TreoCentral mark and domain name are used under license from palm, Inc.
The views expressed on this website are solely those of the proprietor, or
contributors to the site, and do not necessarily reflect the views of palm, Inc.
Read Merciful by Casey Adolfsson