treocentral.com >> Stories >> Software
Ringo for Treo 600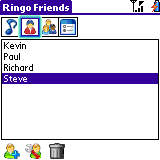 In a thread posted to our forums today, Electric Pocket announced a public beta of Ringo for Treo 600. Beofre, Ringo was a popular utility that managed phone calls and ringtones on the Treo 270; the new version adds support for the Treo 600.

Their expansive product page has the download for the beta, and full detail of what the application does. The basic feature set is below, but for more information I recommend that you visit their website.

Ringo for Treo 600 offers:
*Assign individual ringtones and pictures to friends
*Assign ringtones and pictures to groups based on address book categories
*Manage Treo 600 ringtones easily
*Compose new personal ringtones
*Purchase and download polyphonic ringtones "over the air"
*Facilitates polyphonic ringtone download via WAP push


Other products already offer similar features to what Ringo does, most notably the $16.95 application Lightwav, by Toysoft.



Copyright 1999-2016 TreoCentral. All rights reserved : Terms of Use : Privacy Policy

TREO and TreoCentral are trademarks or registered trademarks of palm, Inc. in the United States and other countries;
the TreoCentral mark and domain name are used under license from palm, Inc.
The views expressed on this website are solely those of the proprietor, or
contributors to the site, and do not necessarily reflect the views of palm, Inc.
Read Merciful by Casey Adolfsson