treocentral.com >> Products & Reviews >> Software
The Missing Sync for Palm OS
Overview
There was a time when the Palm Desktop on the Mac was better than the PC version. Now PalmSource has dropped Mac support in future versions of the Palm OS and has left Mac support up to its licensees. PalmOne has stated it is commited to supporting the Mac, but until Palm OS 6 PDAs start arriving, it is unknown what level of commitment the company has.

As a Mac user since 2001, the weakened support over the years has caused me to HotSync less and less and rely more on my iPod for carrying around Contacts and Calendar information. The Treo has made me use a PDA more, and Missing Sync has made me look forward to syncing once again.

Installation

Missing Sync requires Mac OS X 10.2.8 or later, but 10.3.4 or later is recommended. My testing for this review was done using a 1.5 GHz PowerBook G4 running Mac OS X 10.3.6.

Installation is very straightforward. After being prompted for an administrator password, the installer asks if you want Missing Sync to be added to the Dock. After a few moments of copying files, the installer then prompts you to restart your Mac.


The first time Missing Sync is launched, a registration window appears so you can register the product. Registration is mandatory and requires an Internet connection to complete the process. The software appears to be tied to the Mac as the ethernet address is displayed in the registration window. I've never been a fan of mandatory registration, but Mark/Space does let you deauthorize a computer so you can switch over to a new Mac, similar to how Apple's iTunes Music Store purchases work for authorized computers.

You will also need to specify your Security password that you use on the Treo the first time you sync. I found this a little bizarre, but you won't see this message again if you check the Add to Keychain box.

Conduit Setup

Missing Sync works with almost any of the conduits available for the Mac. I use iSync to synchronize iCal and Address Book on Mac OS X with my Treo so didn't have to do anything extra when I moved from Palm Desktop to using Missing Sync, but users that just purchased a Treo will need to download the free iSync Palm Conduit from Apple. Missing Sync also works with the Microsoft Entourage conduit that comes with Microsoft Office 2004.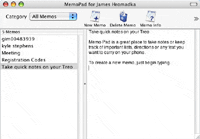 When in Missing Sync, the Conduits tab is where you manage installed Conduits. You can click the checkbox to enable/disable a conduit for the next sync and use the Profile feature to make custom conduit groups. For example, selecting the Backup profile disables all but the Backup Conduit so you can quickly backup your Treo's data before leaving your Mac.

Since I use iSync, I hated having to use Palm Desktop just to read Memos on the Mac. Missing Sync includes a MemoPad conduit that you can use to read Memos so Palm Desktop is not needed anymore. MemoPad is a simple application that seems like more of an afterthought. You can't customize the toolbar and changing the category of a Memo requires clicking the Memo info icon. It's better than nothing, but I would rather have had Missing Sync work with Stickies instead.

Installing Applications >>



Copyright 1999-2016 TreoCentral. All rights reserved : Terms of Use : Privacy Policy

TREO and TreoCentral are trademarks or registered trademarks of palm, Inc. in the United States and other countries;
the TreoCentral mark and domain name are used under license from palm, Inc.
The views expressed on this website are solely those of the proprietor, or
contributors to the site, and do not necessarily reflect the views of palm, Inc.
Read Merciful by Casey Adolfsson