treocentral.com >> Products & Reviews >> Software
Kinoma Player & Producer
User Opinions
No reader opinions available.
Details
| | |
| --- | --- |
| > | Name Kinoma Player & Producer |
| > | Company Kinoma |
| > | Coupon Use "TreoCentral5" when ordering to save $5 until 12/24/04 |
| > | Desktop Platform Mac or Windows |
| > | Fact Sheet & User Opinions |
Availability
Pricing
Overview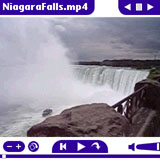 Along with the revolutionary iPod, Apple has used its iTunes program to introduce AAC to the world. Finally there is a program that not only plays AAC songs on Palm Powered devices but also plays MPEG-4 video as well. Together, Kinoma Producer & Kinoma Player EX are a good way to make your video files Treo-friendly and enjoy them when you travel.

Note: Although I used the Treo 650 for this review, the 600 is also supported. Also, Treo screenshots have been resized from 320x320 to 160x160 for web viewing.


Kinoma Producer



First thing I needed was some movies. The primary purpose of the program is to reencode movies and audio files into a format suitable for the Treo. Both the Windows and Mac versions of Producer can import unprotected MPEG-1, MPEG-2, MPEG-4, MS-DVR, QuickTime, WMV, WMA, AVI, DV, DivX, MP3, AIFF, AU, and the Windows version can also convert many other DirectShow compatible formats. There are dropdown boxes for specifying which handheld you own. There are different settings for the Treo 600 and Treo 650, and even support for Handspring Visor models.


I wanted to test the Treo 650's capabilities, so I picked a few video files I had on my computer:

1984.mov -- the famous SuperBowl commercial

Britney Spears' Toxic music video -- karaeoke version (no I don't know all the words!)

NiagaraFalls.AVI -- a video I took with my Canon S50 digital camera while on vacation

A couple AAC songs from iTunes

You can either drag the files into the window when on the Files tab or click the Add Files button and browse to them directly. Producer will then display a thumbnail of the first frame of movies or a speaker icon for songs, along with the file name and length of time for each file.

Next specify where you want the new files to go. As these files can be quite large, I chose to export to HotSync with a destination of the SD card. Click Convert Files to complete the process. The conversion didn't take long at all, and the newly created files are much smaller in size than the originals. The 1984 commercial was 13.1MB before and 2 MB after; U2's "Mysterious Ways" AAC file was 4.8MB before and 1.5MB after conversion.


The best part about the files is that they are standard .mp4 files that can be played using Kinoma Player on the Treo or any desktop application (i.e. QuickTime) that can play MPEG-4 files.

If you go into the Audio & Video or Layout tabs, there are some advanced options, such as .mov or a proprietary Kinoma Movie format. Normal movie file defaults for the Treo 650 are MPEG-4 format at 15 FPS and 240 kbps bit rate. Normal audio file defaults are AAC Mono at 44.1 kHz with 48 kbps bitrate. You can customize these settings, but I was quite satisfied with the results when i played them on the Treo. A smaller bit rate will generate a smaller file but at a lower quality.

Kinoma Player EX >>



Copyright 1999-2016 TreoCentral. All rights reserved : Terms of Use : Privacy Policy

TREO and TreoCentral are trademarks or registered trademarks of palm, Inc. in the United States and other countries;
the TreoCentral mark and domain name are used under license from palm, Inc.
The views expressed on this website are solely those of the proprietor, or
contributors to the site, and do not necessarily reflect the views of palm, Inc.
Read Merciful by Casey Adolfsson