treocentral.com >> Products & Reviews >> Accessories
Piel Frama Flip Case
User Opinions
No reader opinions available.
Details
Availability
Pricing
Overview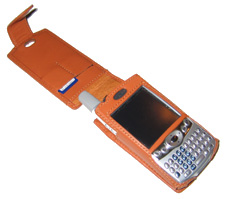 Maybe it's because I'm from Texas, but I have always preferred leather cases. I still have a Vaja case from my Visor days and love the attention to detail that the company used in designing the case. Piel Frama is another company that pays attention to its leather selection and focuses on designing a high-quality case for a discriminating business user.

This review is for the Treo 600 case. One for the Treo 650 is also available.


The Leather


The Spanish leather used in the case is very high quality. I found an interesting link that goes into details on the manufacturing process that Piel Frama uses. The inside of the case is engraved with a message saying "The product you have just acquired has been hand-made by Piel Frama leather craftsmen, so each piece is unique." The leather is soft, and all three versions of the case look great.

The lid of the case can hold a business card or two and also has slots for two SD expansion cards and is quite sturdy. It has a small flap that closes over the bottom of the Treo using a magnet. I have always preferred a magnet closure to a snap one because it takes much less effort to open & close the lid.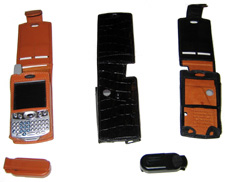 There are several colors available, including Black,Tan, and Crocodile. Since I couldn't see its nose, what was the difference between crocodile and alligator leather? Yes, it is regular cowskin that is just styled like a crocodile, but most product descriptions say "Alligator" so I wanted to see if Piel Frama got it right. One must investigate such matters when paying a premium ($30 more) for the styling.

A Google later, I found that Piel Frama's case indeed does look like crocodile leather. So how does it compare with the less expensive stylings? I personally liked the Crocodile case more. It looks much snazzier, and I got several compliments on it when I had it out during meetings. The other cases look almost plain after using it for a few days. The Tan case is unique in being the only one I have seen with a matching colored beltclip. If you can afford it, go for the Crocodile version, and save Black and Tan for the pub.


Usability


The Flip lid case snugly secures the Treo when it's inserted. Here is a list of Treo parts that are exposed:

Front - screen, keyboard, LED, ear speaker, navigational buttons

Top - All

Side - Volume

Back - Speaker, Reset hole

Bottom - Headphone, HotSync, Mic


The most obvious omission is that the camera lens is covered. At first I thought this was a comment on the Treo 600's photography abilities, but then I realized that the lid would get in the way anyway. Speaking of the lid, there is a hole cutout near the bottom of it whose purpose I still have not figured out. It does allow one access to the Treo's spacebar when closed (lot of good it will do you!). I would have rather the hole be at the top (maybe it was upside down!) so I could speak on the phone with the lid closed. A mesh screen covers the speaker, which I thought was a nice detail.

The beltclip nub is removeable by using any flathead screwdriver or the included key, which has Piel Frama's logo. Also included are some cheap plastic inserts that you can put in the screw hole, but honestly the nub does not stick out enough to really bother.

While the nub is metal, the beltclip itself is plastic and seems pretty generic. Since it is plastic against metal, the beltclip could wear over time.

Conclusion >>



Copyright 1999-2016 TreoCentral. All rights reserved : Terms of Use : Privacy Policy

TREO and TreoCentral are trademarks or registered trademarks of palm, Inc. in the United States and other countries;
the TreoCentral mark and domain name are used under license from palm, Inc.
The views expressed on this website are solely those of the proprietor, or
contributors to the site, and do not necessarily reflect the views of palm, Inc.
Read Merciful by Casey Adolfsson