treocentral.com >> Products & Reviews >> Accessories
F650 Flip Case
Overview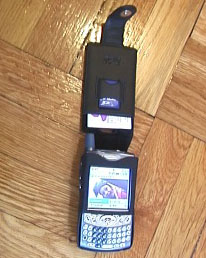 This is a great case—a form-fitting holder that allows easy access to all features of the Treo 650 with a simple flip of the cover. Used to carry the Treo in a pocket or bag, this may be the best case I've tried so far. The case also works with an optional belt clip.

Features

The F650 is a form fitting case for the Treo with a flip lid that latches in the back of the case with a magnetic snap closure. With the case closed, the accessible features are the essentials: the handset speaker, speaker, microphone, earphone jack, and volume rocker. The camera, silence switch, IR and HotSync ports are not. When the flip lid is opened, everything is available for use.

On the back of the case is a hole for a screw that, when attached, snaps into the optional belt clip. Just press the top of the clip and the case with Treo slides out.

The case has a handy slot for an SD card as well as a pouch designed to hold a few business cards, though in practical terms is just a little too tight for easy use.

Design


The flip lid is top notch and should protect the screen from many mishaps. What I've also noticed is that with a flip lid like this, you can safely turn off the annoying keyguard. While the Treo is in the case, buttons never get pressed accidentally.

When the flip lid is open, the keyboard is exposed, another huge plus. There's no plastic membrane to get in the way. Flip the lid behind the Treo and you can easily use the camera on the back. For many people, the case will have just the right combination of exposed elements with the case closed; such users should also appreciate the easy access to the rest just by flipping the lid back.

The case does suffer from a problem with slipping when the HotSync cable is plugged into the bottom of the case, the unit slides a bit out the top. A minor annoyance, but I wish there were some material on the inside of the case that made the Treo less prone to slippage.

One very pleasant surprise is that the phone felt great against the ear with the case closed. The leather forms a smooth curve over the top – a marked improvement over the 'naked' Treo. There are cutouts for both the handset speaker and microphone.

Workmanship

The leather and stitching are top notch and the black leather material lovely and supple. It feels great in the hand. However, there is a serious issue with the clip mechanism.

When I first examined the case, I feared that it might be possible for some industrious and unscrupulous individual to yank the case and Treo away from the clip. On the third day of testing, my hypothesis was unfortunately confirmed, though the individual turned out to be me.


I hate the idea of wearing a six hundred dollar piece of electronics on my belt. Perhaps it is thought that the belt clip will only be used indoors. However, in the real world, people do wear these sorts of devices outdoors. On my trial run, I descended the steps to the subway and, feeling self conscious that the unit was so exposed, attempted to pull my jacket over the unit. I failed. Something got tangled and I pushed on the clip mechanism. The snap broke off, taking a small triangular piece of plastic from the case itself with it. And most distressingly, the Treo went down.

The Treo took no damage from its fall to the concrete subway floor because it was well protected by the F650.


Conclusion >>



Copyright 1999-2016 TreoCentral. All rights reserved : Terms of Use : Privacy Policy

TREO and TreoCentral are trademarks or registered trademarks of palm, Inc. in the United States and other countries;
the TreoCentral mark and domain name are used under license from palm, Inc.
The views expressed on this website are solely those of the proprietor, or
contributors to the site, and do not necessarily reflect the views of palm, Inc.
Read Merciful by Casey Adolfsson