treocentral.com >> Products & Reviews >> Accessories
Motorola HS 810 Headset
Overview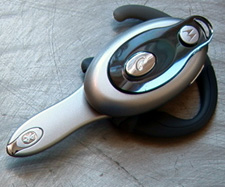 Motorola is known for making excellent electronics products. Its walkie-talkies are the standard in the move industry because of their reliability and clarity.

The HS 810 appears to be another solid offering. Its design especially elegant, a simple flip of the microphone opens the earpiece and turns on the unit. However, in testing the product, sound issues arose that bear consideration.


Setup


Pairing the Motorola HS 810 and the Treo is pretty painless. After the initial charge of a mere 2 hours, press the main multifunction button on the face of the unit for three seconds and then open the headset. Put the Treo into pairing mode, and when the headset is discovered, enter the pass code of four zeros and the headset is up and running.

It is a good time to note that the charger itself is light and compact. The plug itself flips back to lie flush with the charger. Alas, the charger will still take up two spots in a standard power strip.


Design


The Motorola HS 810 is perhaps the best design I have seen. The ear boom folds up over the earpiece, creating an extremely small package to carry. Opening the ear boom turns on the unit and closing it turns it off &emdash; a perfect design feature.

The headset is also extremely comfortable. A mere 20 grams, the headset rests lightly on the ear. The ear loop interior is a very soft, flexible plastic reinforced with a harder plastic that can be squeezed to help the ear loop hold it's shape around your ear. The ear loop is also attached with a very strong hinge -- no worries about accidental breakage. To switch the ear loop for the left ear is a simple operation. By following the instruction manual (very clearly written and illustrated), you remove the central hinge and reverse the loop.


The speaker itself is intended to rest against the ear, not in it. This is a very comfortable design, and Motorola has designed a small soft plastic speaker shroud to help filter out unwanted noise. The shroud can be removed.

On the face of the unit is an easy to press multi-function button that allows one to answer or hang up a call. As a multifunction button, depending on the situation, you can redial, hold, toggle, reject and transfer calls to the handset. I sometimes had trouble getting the earpiece to take over a call and had to manually press the multi-function button to use the earpiece when dialing out. With other headsets, the transfer had been automatic.

The two other buttons on the headphone are for volume. They both have an arrow symbol pointing up, and the manual refers to one of the button as the top/increase volume button and the other the bottom/decrease volume button. The top is considered the button facing away from your head. These buttons can be swapped for left handed users following the directions in the manual. There is a beep in the ear when the volume is changed, although it is a little loud.

So the HS 810 is well designed, has a great manual, is easy to charge and use -- what's not to like?


Sound quality



There are several problems with the sound on the HS 810. The first is that it tends to breakup regularly creating a constant crackle on both ends of the call. On the headset speaker, the tonal qualities are good, but receivers report very heavy bass with little treble response.

However, there is certain clarity to some conversations because the headset does seem to do an admirable job filtering out background noise. However, I asked a friend to both use the headset and ask the other person how the sound quality was. The conversation went something like this:

"My friend wants to know how I sound?"
"What?"
"My friend wants to know how this sounds."
"What?"

And so on.

The headset, like many I've tested has sound issues and is terribly inconsistent in quality of response, even if you're not moving. Much of this may be due to the Bluetooth on the Treo, the other person's cell phone, and innumerable other factors not limited to wireless interference. Ultimately with the Bluetooth headsets, it seems to be impossible to tell what combination of factors contributes to sound quality issues. The bottom line is that the Motorola HS 810 headset does not achieve consistent sound quality when used with the Treo.

Conclusion >>



Copyright 1999-2016 TreoCentral. All rights reserved : Terms of Use : Privacy Policy

TREO and TreoCentral are trademarks or registered trademarks of palm, Inc. in the United States and other countries;
the TreoCentral mark and domain name are used under license from palm, Inc.
The views expressed on this website are solely those of the proprietor, or
contributors to the site, and do not necessarily reflect the views of palm, Inc.
Read Merciful by Casey Adolfsson