treocentral.com >> Products & Reviews >> Accessories
Vaja i-Volution T66 Flip Case
User Opinions
No reader opinions available.
Details
Availability
Pricing
Overview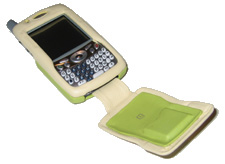 Vaja has always been one of the premier case manufacturers for handheld products. When I used the Handspring Visor Prism, the case I used every day was a Vaja case. The company has recently released a flip lid case for the Treo 650 called the i-Volution T66. Will it be as good as Vaja's past offerings?


Features


The T66 is one of only a handful of cases whose flip lid hinge is on the bottom of the device. The lid does not flip completely behind the case, so it will hang down below the chin when talking on the phone. No snaps to fiddle with here—the lid, like my favorite Prism case, has two magnets sewn inside that securely closes the case.


The lid also can hold an extra SD card for the Treo. Unlike other cases that just have a plain slit, the SD holder is spring-loaded so that the card clicks securely into place. Just like the Treo itself, push the SD card in to eject the card from the slot. For the road warrior that needs even more storage, Vaja also sells individual SD holders that hold either two or four SD cards. These holders also use the spring-loaded design. I was really impressed by this feature.

When the lid is closed, only the HotSync port and mic are covered. All other ports are readily available. The ear speaker has a screen over it, and where there are port openings, the leather is sewn around the opening so that no bare leather is exposed.

The swivel beltclip is optional and uses a strong nub that is sewn into the upper backside of the case so that it hangs vertically on your side. The clip is nicely curved and provides a nice, sturdy hold for the Treo.

Vaja's cases come in a wide variety of colors in either solid color or two-tone. All cases are custom made, so it can take up to thirty days to receive the case.


Usability


When I first got the T66 case, I thought the bottom flip lid was unusual, but then I realized that it is the only real option for users that want to be able to take photos without having to remove the Treo from its case. The lid does not fold completely behind the Treo, which may bother some users.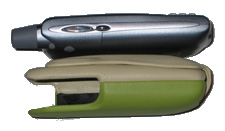 It takes some time to get used to having the cover open while talking on the phone, unless of you are using a headset and keep the Treo on your belt anyway. The magnets inside the lid are very strong—almost too strong to be able to open with one hand.

I found the best way to open the case one-handed was to use my thumb to press the top corner of the lid enough so that my middle finger could then push the lid out enough for it to fall. You will need to have the lid down when speaking on the handset because the mic is covered by the flap, making your voice muffled if you try to use the case with the lid closed.

The review unit I received did not have a beltclip, but it uses the same type that comes with the Vaja T65 case. The beltclip on the T65 is very sturdy and easy to connect/disconnect the Treo. It is one of the better beltclips I have used.

The case itself is thick and very protective. This adds extra weight and depth, making the T66 one of the thickest flip lid cases I have used. The Argentinean leather is soft, looks great, and there are enough color combinations available to match any user's taste.

Conclusion >>



Copyright 1999-2016 TreoCentral. All rights reserved : Terms of Use : Privacy Policy

TREO and TreoCentral are trademarks or registered trademarks of palm, Inc. in the United States and other countries;
the TreoCentral mark and domain name are used under license from palm, Inc.
The views expressed on this website are solely those of the proprietor, or
contributors to the site, and do not necessarily reflect the views of palm, Inc.
Read Merciful by Casey Adolfsson