treocentral.com >> Products & Reviews >> Accessories
Sena MagnetFlipper Case
Overview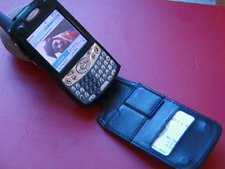 The Sena is one cool looking case. Navy blue stripes race down the sides of the center flap. The word Sena elegantly etched in the top of the flip lid. The rest of the case is a glossy black leather. I was most looking forward to the Sena Flip case because of the combination of features, usability, and protection. The case lived up to some expectations, but was surprisingly disappointing in other areas.

This review covers both the belt clip and clip-less versions of the flip cases. They are exactly the same except the irremovable nub on the back of the belt clip version.


Design

The Sena Flip Case, unlike other flip cases, has the hinge for the flip cover at the bottom of the case. The Treo slides into the top of the case and a small flap of leather clips over the top to a snap in the back to hold the Treo snuggly in the case. The flip lid itself closes by using two magnets on the top of the case. The lid flips shut and magnetically 'snaps' shut.

There are cutouts for everything. Side rocker switch, speaker, microphone, even the little LED status indicator at the top of the phone. When the case is closed, you lose access to the HotSync port, speaker, and microphone, though the headset jack is still available. Also, the snap across the top obscures the IR port, although it can easily be undone if you want to beam.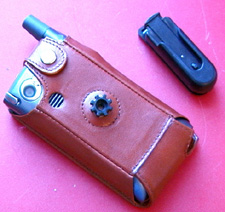 The color and style options are numerous. I received an elegant tan leather case and the black with blue trim case for review. The case also comes in solid black or a dark red color. The final option is a Black case with red trim on the flip itself.

You can get the Sena case with or without a beltclip, with is made of simple plastic. The clip version of the case comes with a ratchet type clip. On the back of the case is an extremely well secured plastic eight-spoke wheel. This slides into the included clip. Worn on the belt, the clip has eight positions from straight up to upside down and of course in between. The clip is of average profile. It does not ride snug up against the hip.


Functionality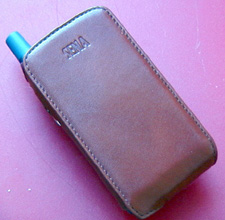 The Good: As far as protection goes, this is one solid case. It fits snuggly around the Treo, and the top snap flap holds it securely in the case. The flip lid is very meaty. Well reinforced, it snaps securely into place with the magnets at the top of the case.

There are two slots for extra SD cards and a slot for a few business cards, all on the inside cover. It is very easy to use the organizer functions with the flip lid open with your thumbs in position over the keyboard.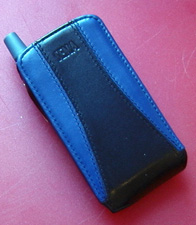 The Bad: However, when you close the case, you cannot talk on the phone. Other flip cases like the F650 and B650 for that matter offer this functionality by keeping a cut out for the top speaker and microphone while the case is closed. Also, the camera is never protected. Furthermore, the top snap flap, though adding great security, does bulk up the case a bit in the back.

The Ugly: It is cumbersome to use the phone with this case. The flip lid kind of just dangles in space, like and old fashioned flip phone. You can kind of steady it with your fingers, but it is annoying. Furthermore, you shouldn't bend the flip lid back behind the case as this is the equivalent of breaking the spine on a book. The case will never quite hit the magnets in the closed position again. Trust me, I have the case to prove it. What is extremely odd is that this is the only Sena case in which the flip is not at the top. From IPAQs to IPODs to AXIMs to the Blackberry, and even the Palms — all Sena flip lids go to the top. It is only the Treo that flips inconveniently to the bottom.

Conclusion >>



Copyright 1999-2016 TreoCentral. All rights reserved : Terms of Use : Privacy Policy

TREO and TreoCentral are trademarks or registered trademarks of palm, Inc. in the United States and other countries;
the TreoCentral mark and domain name are used under license from palm, Inc.
The views expressed on this website are solely those of the proprietor, or
contributors to the site, and do not necessarily reflect the views of palm, Inc.
Read Merciful by Casey Adolfsson