treocentral.com >> Products & Reviews >> Accessories
Sydney Harbour Form Fit Case
Overview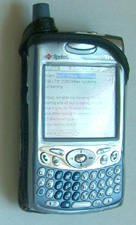 The Sydney Harbour has two distinctive design features. The first is that it is a form fit case with all functions available and a recessed plastic screen for the screen. The second is how the case wraps around the antenna of the Treo.


Design

Minimalist design informs the Sydney Harbour case. The case seems to offer the bare necessities of protection within the design. Here are the salient points:

The screen is protected by recessed plastic

The Keyboard is exposed

The plastic wraps around the sides of the case

The back is a thick piece of leather with a belt clip

The camera lens is not covered

A loop wraps around the antenna to hold the unit in place

All ports and switches are available at all times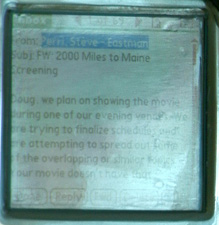 As the front and sides of the case are clear plastic, the case is pretty much invisible, kind of like Wonder Woman's plane I suppose. The only giveaway is the black leather strip that runs from the back of the case to the front to loop around the antenna to hold it in place. In the back of the case, the thick leather piece is an extremely strong belt clip nub.

The belt clip seems to be a standard affair but has a ratcheting design. This is extremely useful when you need to swivel the Treo out of the way while sitting down.


Functionality


The main draw to this case is the recessed plastic that protects the screen. The good news it that it is thick and protective, much more than a screen protector, though certainly won't take any strong blow. The bad news is some of what you'd expect from placing a thick piece of plastic over the screen. The touch screen is not nearly as responsive as it should be. Also, it creates inaccuracy with the tapping, especially at the edges of the plastic.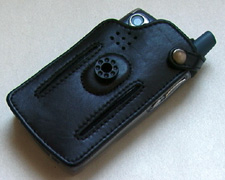 Although the plastic is recessed so as to fit precisely into the screen space, it still does not nest perfectly in the space. When I tried to calibrate the screen through the plastic I failed. The Treo went into and endless loop 'tap the target in the center.' If you're a five way navigator person, than this will not be a problem.

The Treo screen does tend to distort slightly at the edges where the plastic has to make the jump from flat screen upwards to the edge of the case. I found this extremely annoying. Yes, the Treo was readable and functional, though the distortion was too distracting. Apart from that, the rest of the case functions admirably. The Treo is snugly in place, protected on all sides and with every function available.


Conclusion >>



Copyright 1999-2016 TreoCentral. All rights reserved : Terms of Use : Privacy Policy

TREO and TreoCentral are trademarks or registered trademarks of palm, Inc. in the United States and other countries;
the TreoCentral mark and domain name are used under license from palm, Inc.
The views expressed on this website are solely those of the proprietor, or
contributors to the site, and do not necessarily reflect the views of palm, Inc.
Read Merciful by Casey Adolfsson