treocentral.com >> Products & Reviews >> Software
NoviiRemote Blaster
Overview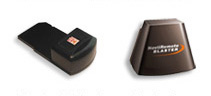 In my home, I have my entertainment center setup just right — for me. My family, on the other hand, has trouble switching between my two remotes. I have a TiVo remote that can handle turning on/off an RCA television and changing channels on my Series 2 TiVo. I also have a Bose remote that handles the all-in-one stereo system, including audio. It is annoying having to use the Bose remote to adjust the volume, so I have considered getting one of the Logitech Harmony remotes. When I found out about the noviiRemote Blaster, I had to try it out, especially since the cost is so much less than standalone universal remotes.


Setup


An attractive-looking package contains the NoviiRemote Blaster card, a base stand to put it in when not in use, an installation CD and documentation. It was the first time I have seen the packaging for a Palm-related product mention that it can be installed onto Linux, which is nice. Of course it also works with Mac and Windows machines. Windows users get an installer application, while Mac and Linux users just need to install the NRBhelp.pdb and NRBlaster-CHD.prc files from the aptly named Mac_and_Linux folder.

The product documentation is stellar. There is a quick-start section for manual haters like myself, and more detailed instructions for those that need to know more.

A HotSync later, I was ready to get started. A new category (I hate when applications do this) called NoviiMedia is created, and the application name on the Treo is NR Blaster. When the card is inserted, it obscures the Treo's volume switch, so adjust it accordingly before inserting the card.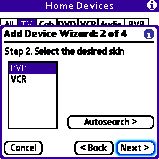 Next you setup your devices. There are separate views for TV, Cable/Satellite, DVD/CD, VCR, Audio, and PVR. Tap the Setup button and then select Add to begin a wizard that walks you through configuring your device. You can either manually enter your model and device information or have NR Blaster Autosearch for the correct one.

I was able to control my RCA television and TiVo, but my Bose Lifestyle system stumped NR Blaster. It doesn't seem to play well with all-in-one systems. Rats! Although my dreams of an all-in-one remote were crushed, the NR Blaster software is pretty easy to use. I remember a Springboard module that required training for each button's function and was more expensive. Being able to autoscan to setup a remote is something I usually see in much more expensive universal remotes, and I commend Novii for making setup so easy.


Usability



Now it was time to kick back and watch some TV. Most users will want to tap the on-screen controls with their fingernails, so I recommend using a screen protector. Although the NR Blaster does not exactly copy the TiVo remote's interface, it does make most of its buttons available. My biggest bugaboo was that the instant-replay and skip-to-end buttons did not work. The buttons are there, but I could not get them to work. NR Blaster separates the TiVo remote into two screens, and these buttons and the channel/volume buttons for the TiVo are on the second page. Switch pages using the red arrow at the bottom-right of the screen. You can customize buttons somewhat, so you can reassign non-useful things on the front page like the power button to something else.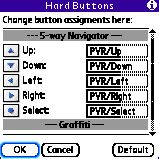 You can also reassign your Treo's hard buttons (though not its keyboard) to perform certain remote actions by going into the Options | Hard Buttons menu. When you enter this screen, pressing any of the Treo's navigation or application buttons will bring up a dialogue box letting you assign a remote action. Note that if you change the application buttons, NR Blaster will call them Address or ToDo buttons because it is treating the Treo as a normal Palm device.

Unless I am watching sports, I typically watch only recorded shows, so reassigning the hard buttons lets me do almost everything I need on my TiVo without touching the screen. The remote worked at least thirty-five feet away; I could stand in the back of my dining room and still change channels.

While perusing the readme.txt file, I found this statement: "A future version of NoviiRemote Blaster will permit customizing the interface and other options. Please visit our web site www.novii.tv to find out about the latest version of NoviiRemote Blaster software." There is a NoviiRemote Deluxe product that Novii offers, so it seems the company will make this available to its Blaster customers at some point.

Conclusion >>



Copyright 1999-2016 TreoCentral. All rights reserved : Terms of Use : Privacy Policy

TREO and TreoCentral are trademarks or registered trademarks of palm, Inc. in the United States and other countries;
the TreoCentral mark and domain name are used under license from palm, Inc.
The views expressed on this website are solely those of the proprietor, or
contributors to the site, and do not necessarily reflect the views of palm, Inc.
Read Merciful by Casey Adolfsson