treocentral.com >> Products & Reviews >> Software
Pocket Tunes
Overview
"You get what you pay for." I have never ran into a situation where this axiom was not true. The Treo 650 includes RealPlayer, which is Ok, if you a like puke-green interface and only require simple playlists and MP3 support. Pocket Tunes gives you control over the interface, lets you open songs based on Artist, Album, etc, and supports most audio formats. There's really no comparison between the two products.

There are two versions of Pocket Tunes available: a Basic version ($14.95) with MP3 support, and a Deluxe version ($34.95) that adds WMA and streaming audio support. This page outlines all the features and differences between the two versions.

Here are the main features of Pocket Tunes. Some are for only the Deluxe version.
Access millions of songs and audio books from popular online music stores

Easily play music stored on your device's storage card, internal memory, or hard disk.

Integrates with Windows Media Player, Real Rhapsody, and many other music players on your PC to allow you to quickly and easily copy music to your device

Sorts your music by album, artist, genre, and playlist to allow you to quickly find what you're in the mood for

Plays MP3, WMA (not Lossless or Professional), WAV, and Ogg Vorbis files.

Use your Treo while music is playing in the background

Listen to Internet radio from ShoutCast or Live365 radio stations

Choose from dozens of skins (many of them are free) to make Pocket Tunes your own

Features like crossfade, gapless playback, a high-fidelity equalizer, etc.


Compatibility


Given Napster's going legit and the popularity of the iTunes Music Store, there are few options for playing purchased music on a smartphone. You still can't play purchased iTunes songs on your Treo, but Pocket Tunes does support WMA files from music stores that have the PlaysForSure logo. I did not test this feature since I do not use those services, but it is a welcome feature nonetheless.

As for personal music, MP3, WAV, and Ogg Vorbis files are supported by both versions of Pocket Tunes. I really like the plugin functionality of Pocket Tunes. I don't play WAV or OGG files, so that's 120KB less space I needed. Pocket Tunes is almost 850KB, though you can run it off your SD card if you like. I prefer to keep the app on my Treo and all the music on the SD expansion card in the "/Audio" folder. If you plan on transferring audio files often, I recommend getting an SD reader so that you can transfer your files faster.

The one feature I really miss in Pocket Tunes is AAC support. I don't expect it to play iTunes-purchased songs since no non-Apple products can currently do that, but I have a lot of personal music ripped into AAC format that I cannot play in Pocket Tunes. If this is a requirement for you, AeroPlayer and Kinoma Player both have this option.


Streaming Audio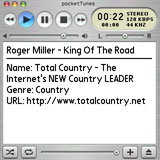 One of the coolest features of Pocket Tunes is MPEG streaming audio support. If your wireless carrier offers high-speed access, you can turn your Treo into a radio using music fromShoutcast or Live365. There are ways to create your own streaming server, but I did not mess with that. If you do not have high-speed mobile access (like myself), you can still use your computer as a tether and connect to the Internet via USB or Bluetooth, then stream your music. Using Bluetooth brought me plenty of the dreaded "Buffering" messages, bringing back nightmares of using the computer version of RealPlayer, so I had to test using USB.

To connect to an Internet stream, go into Pocket Tunes and click the Choose Songs icon (usually an Eject button). Select Internet Audio from the dropdown box at the top-right corner, then select New. If you use Shoutcast, it will be the link that the "Tune In" boxes have. I listened Total Country for my test music. The URLs can be quite long—thank goodness for the Treo's keyboard! Once you start playing the station, the Treo will connect if necessary and start playing music. Now your Treo has an unlimited song library!


Usability


One of the best aspects of Pocket Tunes is that it is skinnable. Don't like the interface? There's plenty of replacements out there. I use an iTunes skin and love it. You can use the Treo's navigator buttons to play/pause, skip tracks, and adjust the volume. I love how robust the Playlists can be. Being able to choose songs by Artist, Album, or Genre when creating a playlist or playing from your library make Pocket Tunes just as useable as the audio players you would use on your desktop computer. Playlists can also be stored on your SD expansion card, making it easy to have multiple SD cards with specific songs and playlists for each.


Music can be played in the background, and you can assign one of the Treo's hardware buttons (not the side one though) to quickly bring up a console to pause, skip, adjust volume, or open Pocket Tunes.

One fun thing you can do is load up both RealPlayer and Pocket Tunes and play different songs from both programs at the same time. Who says there's no multitasking on the Palm OS! There is also a graphic equalizer, crossfade feature, and Volume Boost, though that can cause distortion in songs.

Conclusion >>



Copyright 1999-2016 TreoCentral. All rights reserved : Terms of Use : Privacy Policy

TREO and TreoCentral are trademarks or registered trademarks of palm, Inc. in the United States and other countries;
the TreoCentral mark and domain name are used under license from palm, Inc.
The views expressed on this website are solely those of the proprietor, or
contributors to the site, and do not necessarily reflect the views of palm, Inc.
Read Merciful by Casey Adolfsson