treocentral.com >> Products & Reviews >> Accessories
mobiBlue Leather Flip Case
Overview
Most flip lid cases fold back over the top of the unit. A few cases, such as the Sena MagnetFlipper, flip down. The mobiBlue Leather Flip Case is one of those rare cases.


Design


I really like the simple brown leather of the case, though the lighter stitching does not seem necessary—I would have preferred a simple dark stitching. The most distinguishing feature of this case is that the Treo fits in a 'U' shaped bracket to eliminate other holding mechanisms that might get in the way of various functions.

The top clasp is of the magnetic snap variety, yet the snap part of the mechanism is created in reverse with the protruding portion on the back of the case. It is also a little larger than normal and creates a nice solid grip when the case is closed.

The case includes a cut out for the camera, as well as smaller holes for the microphone, external speaker, and earphone. In addition, there is a slot for a memory card and a few business cards.


Functionality


The most difficult feature is the flip down case. Most of the time, the flap dangles in front of the mouth like a flip down phone. I find it much less obtrusive to use a flap that flips up, and it appears that most people do because the majority of the cases out there conform to this standard. The mobiBlue flip can be bent backwards behind the Treo, and because the clasp is so strong, still clasps easily when brought back the other way. Still, I am not thrilled with this type of case design.

My first encounter with the 'U' bracket was one of suspicion. I tried to slide the Treo into it, and it didn't work. So I picked up another case to try out and put the mobiBlue aside for a few days. Upon reconsidering my approach, (I would never think of reading a manual for a case) I wiggled the Treo into the 'U' bracket.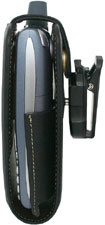 My main concern was that the Treo would easily slide out of the bracket under normal use. I will report that under most conditions the Treo does stay still though I did notice that was not as secure as I would have liked. Sometimes I put enough stress on the phone so that the Treo would wiggle loose. Certainly while attaching the charging cable, the Treo was sometimes pushed out of the bracket.

One of the advantages of the bracket design is to allow access to the ports at the bottom of the Treo. There are two problems with this. First of all, the case still needs to be open and therefore take up more room on an already crowded desk; secondly, I found that it was difficult to maneuver the bottom part of the bracket out of the way to insert the USB cable or separate power charger.

I had other problems with the case as well. The small holes for the headset speaker, to allow the use of the phone with the case closed, were too small and muffled the sound. The F650 case has a large cutout for the entire speaker. The back speaker was also taken down a few decibels, more of a problem because the Treo is supposed to be usable in this case at all times.

There is a slot for a memory card that works fine, yet like most cases, the business card slot is too tight to be of practical use. In addition, the headphone jack is not available with the case closed. An additional cut out of some sort could have accommodated this option.

There is a very secure removable screw for the belt clip option. The case itself is very stiff and sturdy enough to allow protection for the Treo.


Conclusion >>



Copyright 1999-2016 TreoCentral. All rights reserved : Terms of Use : Privacy Policy

TREO and TreoCentral are trademarks or registered trademarks of palm, Inc. in the United States and other countries;
the TreoCentral mark and domain name are used under license from palm, Inc.
The views expressed on this website are solely those of the proprietor, or
contributors to the site, and do not necessarily reflect the views of palm, Inc.
Read Merciful by Casey Adolfsson